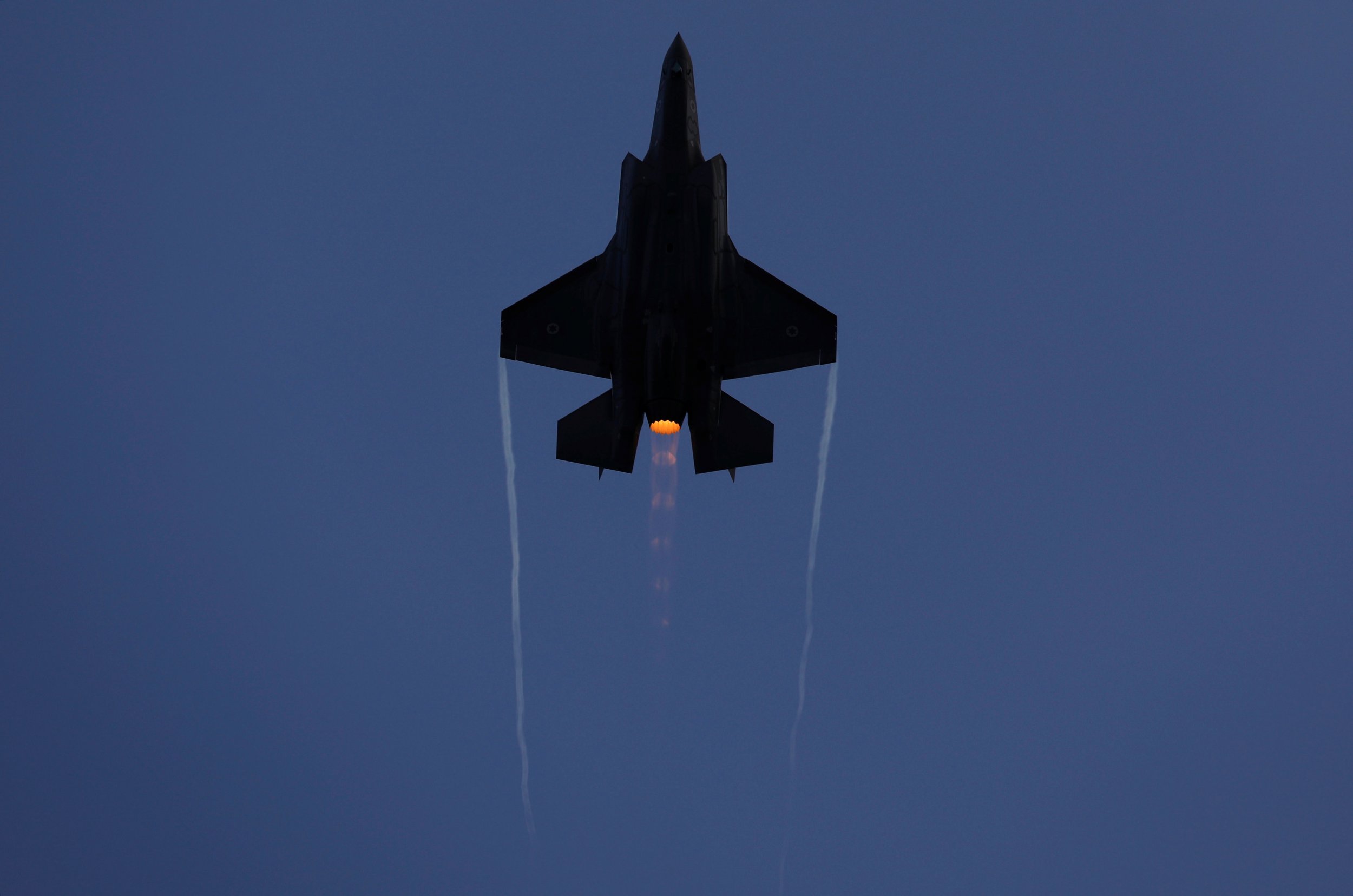 The German Air Force this month sent the U.S. military a written request for classified data on the Lockheed Martin Corp F-35 fighter jet as it gears up to replace its current fleet of fighter jets from 2025 to 2035.
The letter, sent by the Air Force's planning command and seen by Reuters, makes clear that the German government has not yet authorized a procurement program and is not committed to any particular aircraft to replace its current warplanes.
It said the defense ministry would carry out "an in-depth evaluation of market available solutions, including the F-35, later this year," with a formal "letter of request" to be issued in coming months.
Germany's interest in the F-35—the Pentagon's most advanced warplane and its costliest procurement program—may surprise some, given that it is part of the four-nation consortium that developed the fourth-generation Eurofighter Typhoon, which continues to compete for new orders.
The Eurofighter is built by Airbus as well as Britain's BAE Systems and Leonardo of Italy.
Germany will need to replace its current fleet of fourth-generation warplanes—Tornadoes in use since 1981 and Eurofighters—between 2025 and 2035. The F-35 is considered a fifth-generation fighter given stealth capabilities that allow it to evade enemy radars.
Berlin's letter also comes amid growing tensions between the West and Russia over Moscow's support for separatists in eastern Ukraine, with NATO officials saying that Russian naval activity now exceeds levels seen even during the Cold War.
Britain, the Netherlands, Norway, Turkey and Italy—key NATO allies of Germany—are already buying the F-35 fighter jet to replace their current aircraft, and other European countries such as Switzerland, Belgium and Finland are also looking at purchasing the fifth-generation warplane.
Germany's gesture may be aimed at strengthening its hand in negotiations with its European partners over the scale and timing of development of a next generation of European fighters. Any moves to buy a U.S. built warplane could run into political resistance in Germany, which has strong labor unions.
But military sources say buying the F-35 could make sense for Germany given steady declines in the cost of the U.S. jets, and technical challenges with the Eurofighter.
Eight-hour briefing
In the letter, the Air Force said a small team of air force officers was gathering data to prepare for a detailed analysis of alternatives for a new warplane.
The group was working closely with the ministry's "Task Force Future Air Combat System," which aims to make a recommendation for a political decision in mid-2018, the letter said.
"In order to understand (the) F-35's cutting-edge technologies, the German Air Force is requesting a classified brief of the F-35's capabilities in general and especially concerning sensor suites, information management and operational capabilities," the letter said.
The letter said a video conference suggested by U.S. officials in Bonn would help speed up the process.
A source familiar with U.S. weapons programs said the classified briefing requested by Germany would likely last around eight hours.
Since Germany is not part of the international consortium that funded development of the stealthy new fighter, the request for classified information must first be approved by the U.S. government, but U.S. officials said they did not expect any problems securing the needed marketing license.
The Pentagon's F-35 program office said it had received the letter and was "working to support the German Air Force request."
Lockheed referred questions to the State Department, which oversees foreign military sales, and the Pentagon. Spokesman Michael Rein said it would be inappropriate for Lockheed to comment since any potential sales would be negotiated between the two governments.
The F-35 is in operational use by the U.S. Marine Corps and the U.S. Air Force, which last month carried out its first operational deployment of a small number of jets to Estonia for training with other U.S. and NATO military aircraft.
The U.S. Air Force this month also announced this month that it plans to bring the F-35 to the Paris Air Show in June.