Trump Sent Piece of Berlin Wall in Protest Over His Border Plans: 'No Wall Lasts Forever'
A group in Berlin has sent Donald Trump a piece of the barrier that divided East and West for nearly three decades as a dig at the president's southern U.S. border plans.
A 2.7-tonne section of the Berlin Wall is being delivered to the White House as part of "The Wall Against Walls" initiative by the Berlin-based pro-democracy nonprofit group Die Offene Gesellschaft (The Open Society).
Signed by "Citizens of Berlin," the wall bears the message: "We would like to give you one of the last pieces of the failed Berlin Wall to commemorate the United States' dedication to building a world without walls."
"Germany is united again and in Berlin only a few scattered pieces remind us that no wall lasts forever," the message painted on the slab reads.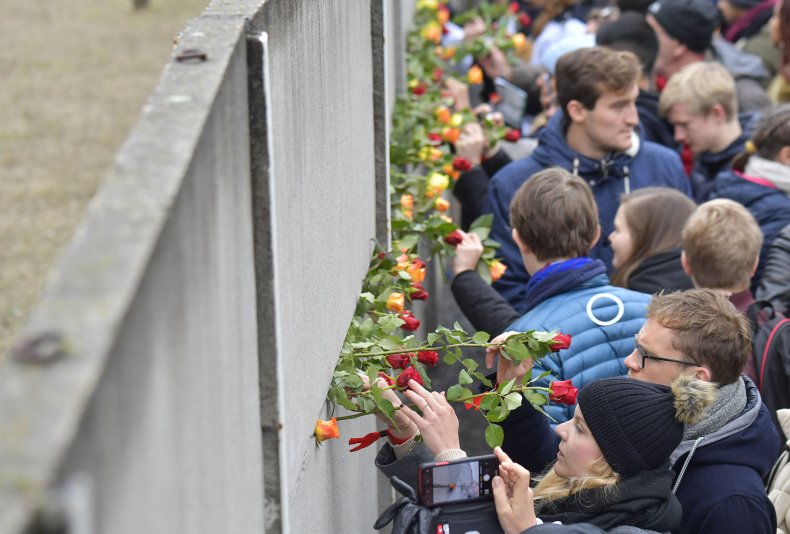 Earlier this week, the group told the White House it was delivering the slab on Saturday evening, November 9, marking exactly when the Berlin wall fell. However Fox News reported that it is unlikely the Trump administration will accept it.
Paid for by private donations, the group got hold of the slab which weighs more than five grand pianos, from a dealer in the German capital. It was then flown to New York and taken to Washington, D.C. by truck.
The stunt is intended as a criticism of Trump's immigration policy to build a "big, beautiful" border wall which he said was a matter of national security. He used an emergency declaration to obtain the funds after Congress denied funding for wall construction to the administration.
The German group has called on people to go to its website to sign their name below an image of the slab, in protest at Trump's wall pledge.
Die Offene Gesellshaft managing director Philip Husemann told Quartz.com: "If the President accepts the letter, it's his. But gifts to a sitting president always belong to the United States and not to the individual in office. It belongs to the people.
"So we hope this letter will end up in a public place where all citizens can read it. After all, the main message is a big 'thank you' from the Berliners to the United States and its people."
The wall's message also pays tribute to the U.S. contribution to the promotion of freedom.
"For decades the United States played a major role in bringing this wall down. From John F. Kennedy to Ronald Reagan, the Presidents of the USA fought against it," Husemann said.