Germany, On Cusp of Reopening, Scrambles to Contain Fresh Coronavirus Outbreaks
Just days before Germany planned to ease social distancing restrictions for COVID-19, a severe outbreak of the virus at a meat processing plant has led one state to delay loosening those guidelines.
Social distancing restrictions are to be lifted on May 11 for most parts of the country, but not in the state of North Rhine-Westphalia (NRW). In the city of Coesfeld, 200 employees were tested for coronavirus on Thursday, and 151 of them tested positive.
Germany has an "emergency mechanism" in loosening restrictions, which is triggered when there are 50 new cases per 100,000 people in a district or city. The Coesfeld positive tests made it 61 new cases per 100,000 inhabitants, which led the state to delaying its restriction easement by at least one week.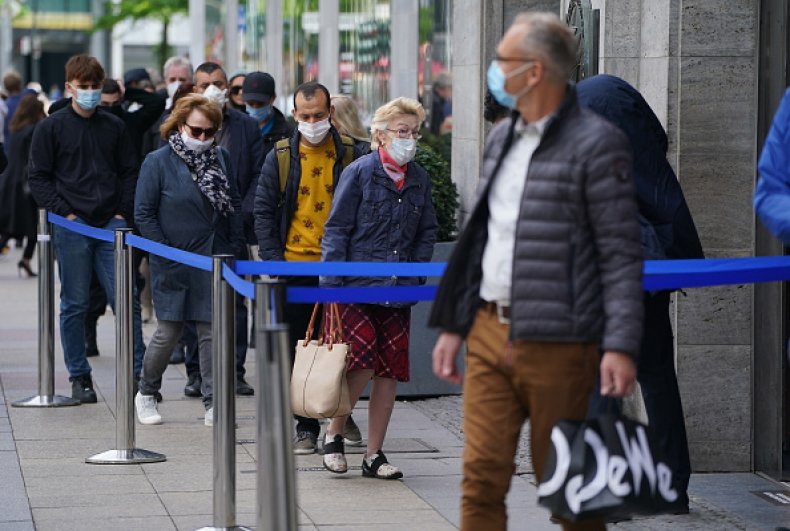 NRW Health Minister Karl-Josef Laumann said most of the 151 plant employees who tested positive for coronavirus are from Romania and Bulgaria who shared close quarters together, which likely led to the massive outbreak. He said 13 workers have been hospitalized while the rest have been sent to isolate with mild symptoms.
This particular plant has shut down until further notice, and others in the state will be tested, Laumann said.
Despite the "emergency brake" triggered by the sudden outbreak, all schools and day care facilities will be allowed to reopen on May 11.
At another plant in NRW, in the town of Oer-Erkenschwick in the Ruhr region, 33 workers came out positive for COVID-19 out of 1,250 employees who were tested.
There are 35 slaughterhouses in NRW that employ between 17,000-20,000 employees, and all will be tested, Laumann said in a DW.com report.
Earlier in the week at a plant in Bad Bramstedt, which is in the district of Segeberg, 109 employees also tested positive for the virus. As was the case in Coesfeld, the employees lived in tight quarters and shared housing.
Segeberg will also delay the easing of social distancing restrictions, the report stated.
Health officials in the Schleswig-Holstein state have called for all slaughterhouse workers in their state to be tested.
The coronavirus was first detected in Wuhan, China in late 2019 and then quickly spread around the globe. There have now been more than 4 million positive cases and 275,000 deaths around the globe. There have been more than 170,000 cases in Germany, with 7,500 deaths.
The United States leads all countries in positive tests (1.3 million) and deaths (78,500). Many states have begin easing social distancing guidelines, allowing many businesses called "non-essential" to reopen for the public, including hair salons and gyms.