As Germany Eases Lockdown Restrictions, Coronavirus Infection Rate Rises
After Germany declared the coronavirus pandemic "under control" and moved to ease lockdown restrictions, the European country's infection rate has now risen.
Earlier this month, Germany's Health Minister Jens Spahn said that the outbreak was "under control" and some stringent social distancing measures have been eased over the past few days. Some shops have been allowed to reopen and some students have returned to school for the first time in weeks. Other large businesses, such as the car manufacturer Volkswagen, have resumed some production.
But data reported late on Monday showed that the infection rate in the country has now risen to 1.0, up from 0.9, German broadcaster Deutsche Welle reported. The infection rate had been hovering around 0.7 in mid-April. Germany's Chancellor Angela Merkel has previously warmed that an infection rate of 1.1 could overwhelm the country's health care system within months.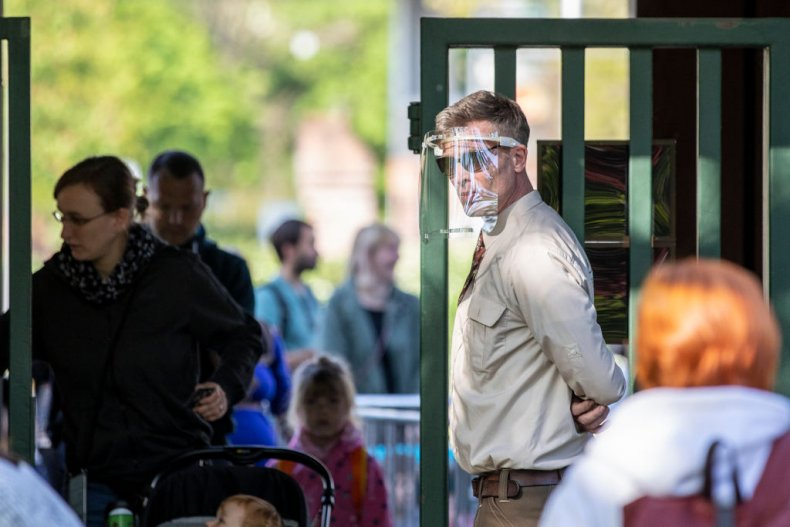 "Even if we assume that one person infects 1.1 others, we would reach the limits of what our health system and intensive care beds can manage in October," Merkel, who was trained as a scientist before entering politics, explained earlier in April.
"If we assume a rate of 1.2 ... we would reach the health system's limit in July. And with a rate of 1.3 - it doesn't sound like much - we would get there in June already," the chancellor added.
The infection rate signifies the average number of people infected after one person catches the novel coronavirus. When the infection rate stands at 1.0, that means each infected person infects an average of one other person. Social distancing measures helped Germany lower its infection rate substantially while flattening it's overall curve of new infections. But as more people begin to venture out, there is concern that the outbreak could again worsen.
"We do not want to have more COVID-19 cases again," Lothar Wieler, president of the Robert Koch Institute (RKI) for disease control, said Tuesday in Berlin, The Local reported. RKI released the data showing that the infection rate had risen 1.0.
"Let us continue to stay at home as much as possible, keep observing the restrictions and keep a distance of 1.5 meters (4.9 feet) from one another," Wieler urged the German public.
"We all need to take care that we don't end up with more infections," he added, noting that the European county's handling of the crisis had thus far been viewed as a "success" which should be "defended."
As of Tuesday, Germany had confirmed that more than 158,000 people had been infected with the coronavirus, according to a tracker updated by Johns Hopkins University. Of those infected, 6,126 had died while over 114,000 have already recovered.