Germany Fears Putin's Successor
A member of Germany's federal parliament said in an interview published Wednesday that his country is "afraid" of who could replace Russian President Vladimir Putin should he be removed from power.
Alexander Müller, a member of the Free Democratic Party and the Defense Committee of the Bundestag, made the comments to the Kyiv Post while discussing the war in Ukraine.
Müller described what he felt is the general sentiment in his country toward the war, which hit its one-year mark on February 24. Germany was an early ally of Ukrainian President Volodymyr Zelensky in the conflict and quickly provided financial aid, as well as basic equipment like helmets.
As the war continued, Germany began delivering heavy weapons to Kyiv, such as rocket launchers, anti-aircraft guns and air defense systems. After some initial hesitancy, Germany announced in January that it would answer Zelensky's call and provide Leopard 2 tanks.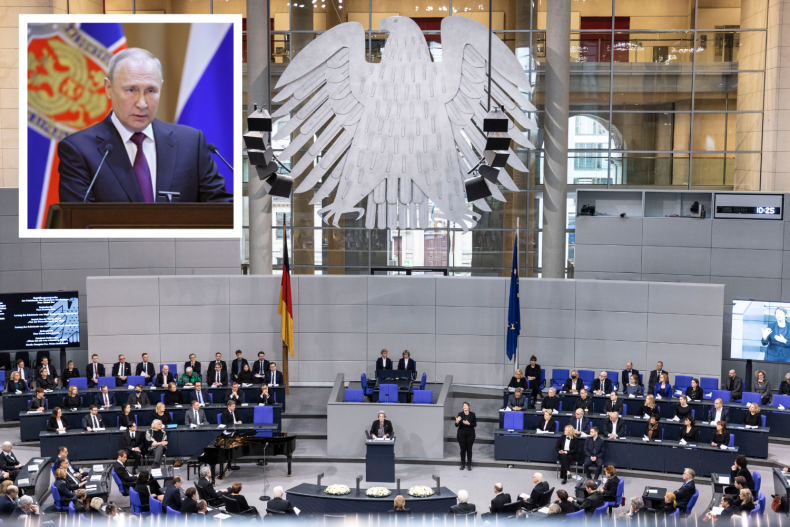 "Currently our support is very big," Müller said. "But we are also afraid of what comes after Putin. If Putin loses power suddenly, those who come after him would not be any better."
"I think when Ukraine wins, something will happen in Russia, but we don't know what exactly," Müller said, adding that the Russian Federation could possibly dissolve if it loses the war. "There could be separatist regions, which might secede from Russia. Nobody knows."
Müller also brought up a few possible successors for Putin, naming former Russian President Dmitry Medvedev, Wagner Group boss Yevgeny Prigozhin and Chief of the General Staff of the Russian Federation Valery Gerasimov.
"They are all worse," Müller said. "We cannot see things changing for the better in Russia. So we are afraid of what comes after Putin."
The Kremlin has not commented on any possible successor for Putin, though the Russian president broached the topic during a question-and-answer session on state TV in June 2021, when he said the next leader would be elected.
"A time will come when, I hope, I can say that such and such a person is worthy in my opinion of leading such a wonderful country like Russia, our homeland," Putin said, according to Reuters.
As for how the war in Ukraine might possibly end, Müller told the Kyiv Post that he hopes Putin doesn't "come to the floor and says: 'Let's end this war, let's just freeze where we are.'"
"[T]his would be a really toxic gift. Because many in Germany would be happy to end the war, not understanding what it means to stop at this point and in this situation and give him what he has already taken in an act of war," Müller said. "That would be a big problem—because this would be a bad peace."
Newsweek reached out to the Russian Foreign Ministry and Müller for comment.