Germany Finally Turns on Russia as Putin Miscalculates Europe's Anger
German Chancellor Olaf Scholz said his country is committing 100 billion euros to a special fund for its armed forces—the latest in a series of major shifts in German defense and security policy this weekend in response to Russia's invasion of Ukraine.
Germany has long resisted pressure from the U.S. and other nations to raise its defense spending to two percent of GDP in the light of the country's 20th century history and militaristic past.
The country's entire defense budget in 2021 was 47 billion euros, according to Reuters.
However, Scholz told a special session of the Bundestag in Berlin on Sunday morning that "it's clear we need to invest significantly more in the security of our country, in order to protect our freedom and our democracy," according to The Associated Press.
Scholz also announced that Germany will build two liquefied natural gas (LNG) terminals and raise its natural gas reserves to cut its dependence on Russian gas after Russia's invasion of Ukraine.
"We will do more to ensure secure energy supply for our country," he told lawmakers. "We must change course to overcome our dependence on imports from individual energy suppliers."
CNN's Jim Sciutto called the moves the "most direct evidence of Putin's miscalculation" as Russia's attack on its neighbor "may both strengthen and even expand NATO" and also "reduce European dependence on Russian natural gas."
It came after Germany on Saturday said it will send 1,000 anti-tank weapons and 500 "Stinger" surface-to-air missiles to Ukraine "as quickly as possible" after previously resisting Kyiv's calls for defensive weaponry.
"The Russian invasion of Ukraine marks a turning point. It threatens our entire post-war order," Scholz said in a statement. "In this situation, it is our duty to help Ukraine, to the best of our ability, to defend itself against Vladimir Putin's invading army."
In a tweet on Sunday morning, Scholz added: "Putin's war must not open old wounds. The reconciliation between Germany and Russia is an important chapter in history.
"We stand by the side of #Ukraine. And at the side of the Russians who courageously stand up for peace, freedom and human rights."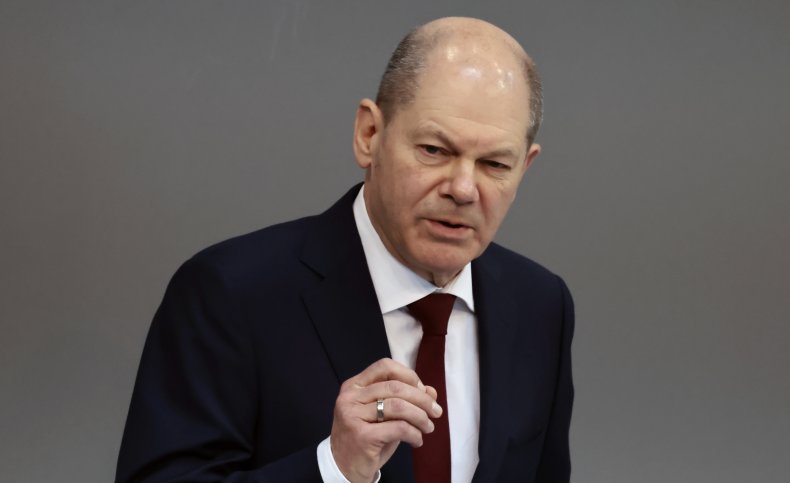 Germany had long stuck to a policy of not exporting deadly weapons to conflict zones, including Ukraine—which officials had said they would stick to as recently as Friday.
However, Germany has come under fire from Ukrainian officials and other allies who said it has not acted decisively enough to help Ukraine.
Ukrainian President Volodymyr Zelenskyy welcomed the news of weapons shipments. "Keep it up, Chancellor @OlafScholz! Anti-war coalition in action!" Zelenskyy wrote in a tweet.
Germany this week also halted the $11 billion Nord Stream 2 gas pipeline project with Russia. There is currently no indication when work will restart.
Update 2/27/22, 8:48 a.m. ET: This article has been updated with additional information.