Germany Flooding Map, Update As Death Toll Soars Amid Heaviest Rainfall in a Century
Record rainfall in Germany has led to the country experiencing some of its worst flooding in decades, as at least 81 people have been confirmed dead and more than 1,000 people are still unaccounted for due to the extreme conditions.
The flooding, which occurred in western parts of Germany with the states of Rhineland-Palatinate and North Rhine-Westphalia the worst hit, also struck areas of Belgium and the Netherlands where river banks burst after heavy rain equivalent to around two months' worth hit parts of Europe on Thursday.
Around 1,300 people are still missing in the Ahrweiler district south of Cologne in Germany, as family members are unable to call their loved ones reportedly due to mobile phone networks collapsing during the flooding.
Reuters reported that several areas experienced major damage during the extreme weather on Thursday, as images showed towns completely flooded and bridges partly destroyed.
Early on Friday morning, houses collapsed in the town of Erftstadt located near Cologne, as rescue crews attempted to save residents who had returned to their homes despite the warnings of additional flooding.
Around 15,000 police officers, soldiers and emergency rescue workers, who were attempting to reach residents trapped in their home via boats, were deployed but were hampered by the conditions.
The BBC reported that the village of Schuld, which has a population of around 700, was almost entirely destroyed, while further heavy rain is forecast for Friday in the region.
The rain is already at record levels, as Andreas Friedrich, a German weather service spokesman, told CNN: "In some areas we have not seen this much rainfall in 100 years."
He added: "In some areas we've seen more than double the amount of rainfall which has caused flooding and unfortunately some building structures to collapse."
German Chancellor Angela Merkel said the victims of the flooding would have the government's full support, while Interior Minister Horst Seehofer told magazine Der Spiegel that financial support would be provided as soon as possible.
"I fear we will only see the full extent of this tragedy in the coming days," Merkel said during a meeting with U.S. President Joe Biden in Washington D.C. on Thursday.
Merkel, who expressed her "deepest condolences" to the victims, confirmed that the government would provide support for reconstruction of the affected areas, saying that they will "not leave you alone in this difficult, terrible hour."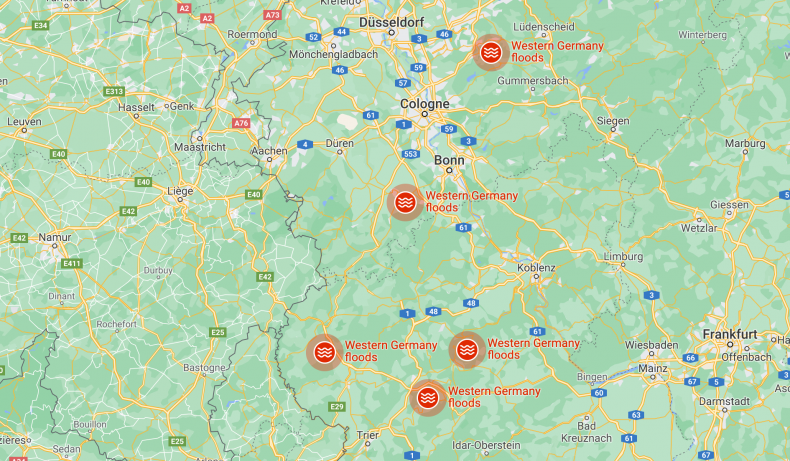 Standing next to Merkel at the press conference, Biden also offered his support, saying: "I want to express to you and to the people of Germany my sincere condolences and the condolences of the American people for the devastating loss of life and destruction due to the flooding over the past 24 hours in Germany and neighboring countries."
Malu Dreyer, the governor of Rhineland-Palatinate state, told the regional parliament on Thursday: "There are people dead, there are people missing, there are many who are still in danger [...] We have never seen such a disaster. It's really devastating."
During a visit to affected areas on Thursday, Armin Laschet, the governor of North Rhine-Westphalia, blamed climate change for causing the flooding and heavy rainfall.
"We will be faced with such events over and over, and that means we need to speed up climate protection measures... because climate change isn't confined to one state," he said.
Seehofer said that Germany "must prepare much better" in the future for weather-related disasters, adding that "this extreme weather is a consequence of climate change."
The death toll from flooding in Belgium has been confirmed at least 14, according to Reuters, as thousands of people were told to evacuate their homes in the country as the extreme weather hit on Thursday, causing cars to be swept across the street.