Germany, France and Italy Condemn Anti-Semitic Protesters After Violent Clashes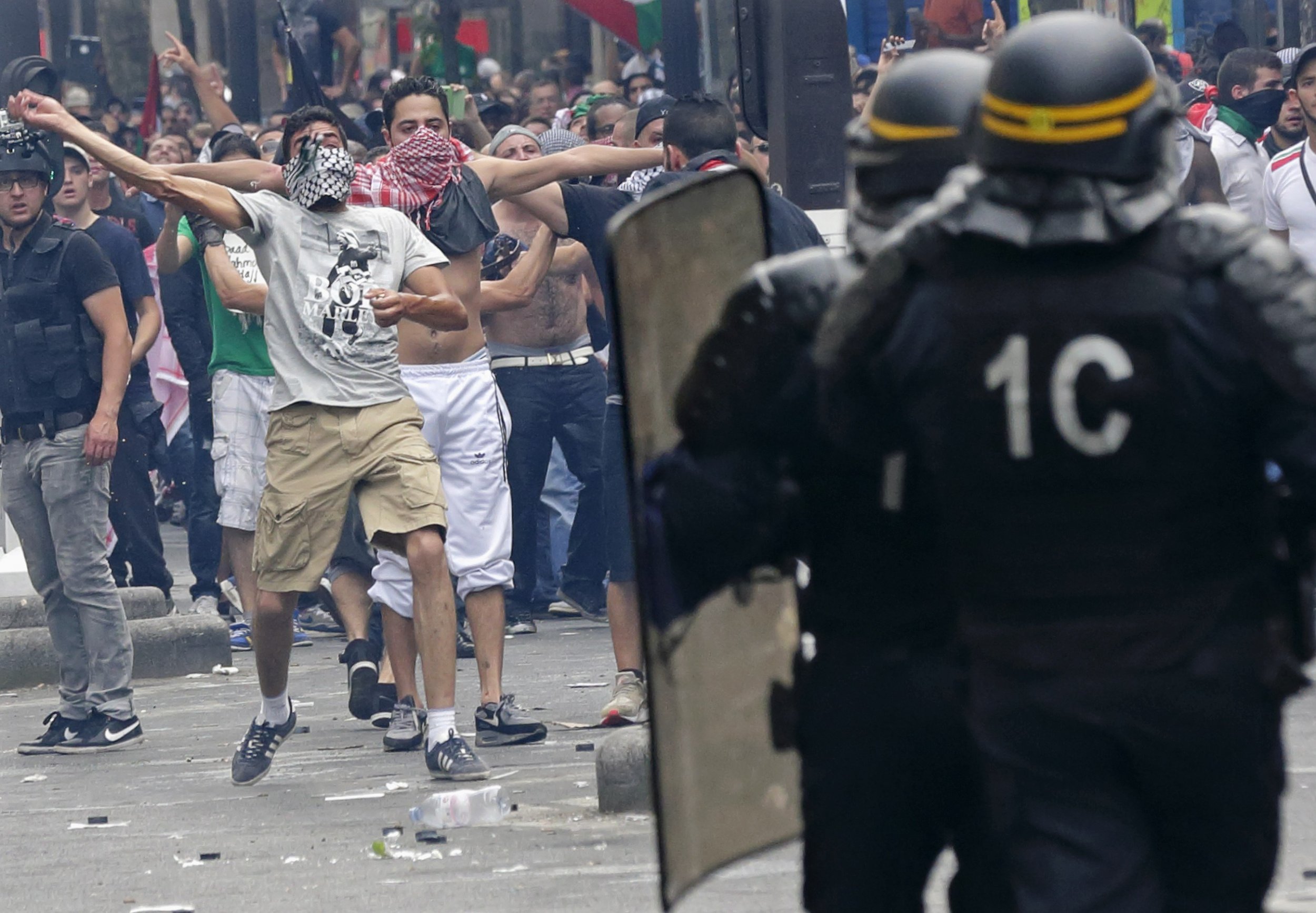 The foreign ministers of Germany, France and Italy issued a joint statement from Brussels today condemning reported anti-semitic "acts and statements" witnessed in the recent wave of anti-Israel demonstrations across Europe.
Germany's Frank-Walter Steinmeier, France's Laurent Fabius and Italy's Federica Mogherini met in the EU capital today after several pro-Palestinian protests turned violent, as chants praising the Nazi extermination of Jews were heard in Berlin and Paris.
"Anti-Semitic agitation, hate speech against Jews, attacks against people of Jewish belief and against synagogues cannot be tolerated in our societies in Europe," the ministers' statement reads.
"We strongly condemn the outrageous anti-semitic statements, demonstrations and attacks in our countries in recent days," the joint statement said.
On Tuesday Police in Berlin banned protesters from chanting slogans perceived to be references to the killing of Jews during the Holocaust.
Reports and video footage of a pro-Palestinian protest in Berlin shows a crowd of protesters chanting "Jew, cowardly pig, come on out and fight".
Eight synagogues in France have been targeted over the last week, Jewish groups said, while in Berlin several Jewish businesses were targeted including a kosher grocers and a pharmacy.
"The police were apparently not expecting this, whereas at neo-Nazi rallies they are primed to intervene to stop anti-semitic chanting," Newsweek's correspondent in Germany, Rose Jacobs reports.
"This week the police prohibited the phrase and will actively stop protesters from using it," she adds. "There is nonetheless rising concern over these remarks and the tone more generally."
Read next: Welcome to the German Century
Over the weekend violent outbursts of anti-semitism were also reported in Paris, with several shops and two synagogues being attacked on Sunday.
Speaking to Newsweek from Paris, Anne-Elisabeth Moutet said the situation was a serious cause for concern.
"It has become acceptable to use anti-semitic rhetoric in France again. It is illegal, but it is skirting the law," she says. "The government is not condoning it, nor has it become mainstream but it is bleeding over into the extreme fringes of politics."
The violence has been followed by chants attacking non-Israeli Jews. The Conseil Représentatif des Institutions Juives de France, the umbrella organisation representing Jewish people in France, reported widespread chants of "Death to the Jews" during the Paris protests.
Other European capitals have also seen flashes of Anti-Semitism among Pro-Palestinian protesters, including Zurich, Istanbul and Belfast.
The Jewish Community Security Trust has called the trend of anti-semitic violence "simply unacceptable".
Speaking to Newsweek Mark Gardner of the CST said: "There is a real danger of exporting the Israeli-Palestinian conflict to Europe."
"It is serious concern to the Jewish community and it ought to be central to the concerns of western politicians," he added.
Newsweek contacted the UK Palestinian Solidarity Campaign for their view on the protests, but they were not immediately available for comment.