German Security Guard Tells Women to Put Their Bikini Tops Back on—Others Take Theirs Off in Solidarity
It's not just temperatures that are flaring across Germany but tempers too. A dispute in Munich over topless sunbathing ended with all the women present proving they had some skin in the game.
The row erupted on the banks of the Isar in southern Germany, The Local reported, after one security guard ordered a group of women who were bathing topless to put their bikinis back on. It soon emerged that it was the security guard who had left himself exposed. Showing their disdain for his decision other women out sunbathing took their tops off as well.
One of the German Spartacuses explained the women had banded together in removing their bikini tops "out of solidarity"—but the incident was not over. The dispute was taken to Munich's city council where a motion was introduced to change municipal laws on bathing costumes.
Once he was fully abreast of the issue, local Green Party member Dominik Krause was unequivocal: "For me, it's incomprehensible if men can lie in the sun topless but not women."
Ultimately the motion was pointedly worded so as to allow topless bathing. "The bathing costume statutes of the state capital Munich will be amended to the effect that bathing costumes must completely cover the primary sex organs," it read.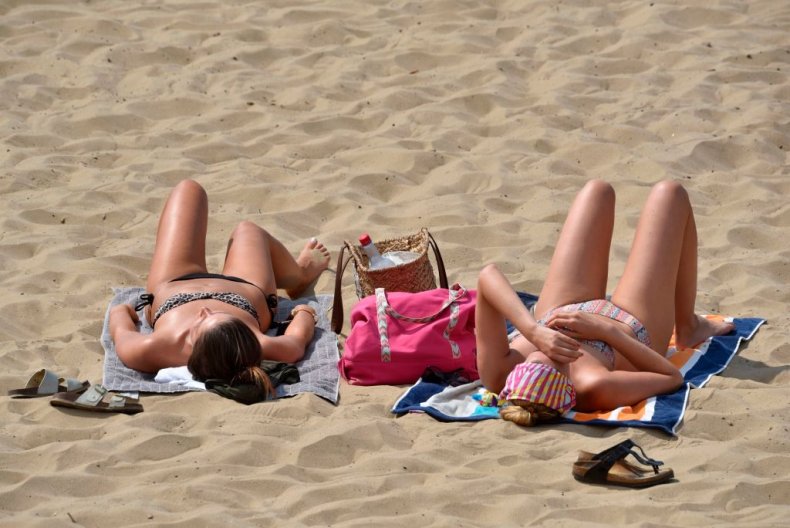 Central Europe has been hit by a heatwave in recent days. According to the BBC on Wednesday, Germany along with Poland and the Czech Republic all recorded their hottest temperatures this June. In Munich the mercury rose to 89 degrees.
In Germany the high temperatures have caused problems across the country. Drivers have been urged to drive slowly on the country's highways, known as the Autobahn, in case the roads buckle in the extreme heat.
On Germany's northern coast, the heat has warped the railway line on a popular tourist route near Rostock near the Baltic. To repair the damage a track-laying-company has been sent in to make repairs.
The heat has also provoked further debates about public nudity in the European nation after a man was stopped riding a moped in Brandenburg completely naked. Police later clarified that the man had not broken the law, as it is not illegal in that jurisdiction to go nude in public unless someone makes a complaint.
Public nudity is such a part of life in Germany that it has its own word: "Freikörperkultur," which means free body culture. The roots of Germany's nudist culture lie in the late-19th-century, CNN reports. The practice was believed to be a cure for TB and rheumatism, which were common at the time.