As Germany Offers Air Base for Afghan Refugees, U.S. Agrees to Evacuate German Citizens
The United States received permission from Germany to use Ramstein Air Base in western Germany as a temporary intermediate stop to transport Afghan refugees, Germany's foreign minister announced.
In a statement released Friday, Foreign Minister Heiko Maas said that Germany and its international partners are focused on a goal to evacuate as many people from Kabul "as is possible under the very difficult circumstances," the Associated Press reported.
Western countries, including Germany, have deployed military aircraft to Afghanistan to rescue German nationals and Afghans who assisted in their military missions before the Taliban seized the country in a stunning takeover.
"We agree with all our partners on the ground that no place on our planes should remain empty," Maas said in the statement.
U.S. flights will also help evacuate Germans and others identified by German authorities to Ramstein. Maas added that Germany will also rescue people from other countries using its aircraft.
For more reporting from the Associated Press, see below.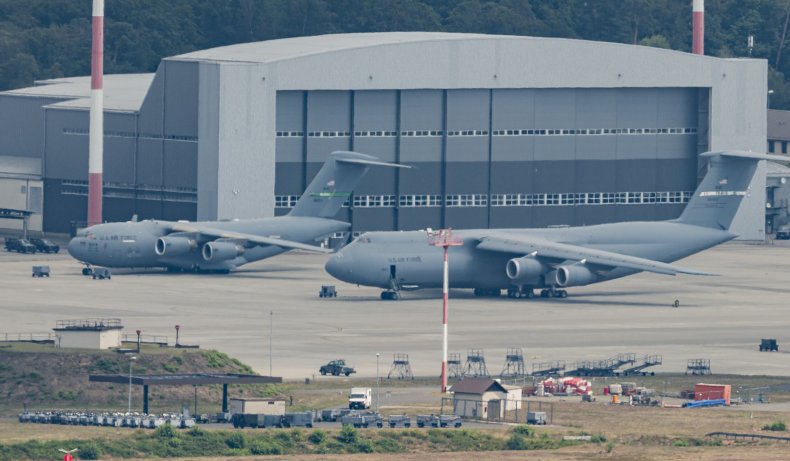 Macron "welcomes" Afghan refugees
French President Emmanuel Macron sent a message of "welcome" in a tweet on Friday to Afghans evacuated to France, following the arrival from Kabul of a third group of more than 200 people, mostly Afghans.
He also noted that health rules are not being forgotten, posting photos of Afghans surrounded by doctors and a man getting a COVID-19 test, obligatory for all arrivals.
All people coming to France from Afghanistan must observe a 10-day quarantine under pandemic restrictions because their country is on the French red list of color-coded risks for coronavirus, with red the highest, the Foreign Ministry noted Thursday.
To ensure that France and other nations can continue evacuations, Macron insisted in a phone call with President Joe Biden of the "absolute need for rapid and concrete coordination among allies," according to a French statement Friday about the conversation the day before.
The U.S. military is in charge of the evacuations at Kabul airport, meaning that other countries must go through them to evacuate their own citizens and Afghans considered at risk in their homeland following the Taliban takeover of the country on Sunday.
Retired general: Retreat should have been during winter
A retired Italian general who commanded Italy's initial contingent in western Afghanistan in 2001 says NATO's retreat should have been planned for winter, after the end of the Taliban's so-called "fighting season.''
General Giorgio Battisti, in an interview on Sky TG24 TV Friday, also said the U.S. air base at Bagram should have been left operating during withdrawal to help evacuate civilians.
"Probably, in my modest opinion, it was necessary to spread out the final withdrawal, assuming one wanted to completely leave Afghanistan,'' Battisti said.
He contended that militarily it would have been better to pull out after the end of the traditional "fighting season,'' which lasts from spring through much of autumn.
Instead, "they left in the middle of 'fighting season,' left, like thieves in the night, this immense base of Bagram," the general said.
Noting that Bagram is some 40 kilometers (25 miles) from Kabul, he suggested it could have served as a "second escape valve" for thousands of citizens now clamoring to get into the one operational airport at Kabul or for those who can't make it through Taliban checkpoints along the way.
Britain's foreign minister defends decision
Britain's embattled foreign minister has defended his decision not to call while on vacation his Afghan counterpart about the evacuation of translators who had helped British forces.
Dominic Raab has come under increasing pressure to resign for failing to follow the advice of officials in his department to make a call to Hanif Atmar on Aug. 13, while he was vacationing on the Greek island of Crete.
Two days later, the Taliban took over Afghanistan, 20 years after they had been ousted from power, and Raab headed back to the U.K. after cutting his vacation short to deal with the crisis.
Raab on Friday posted a statement on Twitter to counter what he described as "inaccurate media reporting over recent days." He said he prioritized "security" at Kabul airport and "delegated" the call to a junior minister in his department.
Raab said Atmar wasn't able to take that call because of "the rapidly deteriorating situation."
Poland to evacuate 300 Afghans
Poland's prime minister says his government has taken on the responsibility as a NATO member to organize the evacuation of some 300 Afghans who have cooperated with the military alliance.
Mateusz Morawiecki said Friday on Facebook that following his talks with NATO Secretary-General Jens Stoltenberg, Poland will be evacuating from Kabul 300 Afghans who "in recent years cooperated with" NATO. He did not elaborate what that cooperation entailed.
They will be brought to Poland and then on to other NATO countries, which Morawiecki did not name.
Morawiecki said that Poland is taking seriously its obligations within the alliance and that the evacuation was "not the last word" from Poland in the NATO response to the crisis in Afghanistan. Poland has been a NATO member since 1999.
In three previous flights, Poland has evacuated some 130 Afghans and another 100 are waiting at the Kabul airport, according to Michal Dworczyk, a top aide to Morawiecki. They were first flown on Polish military planes to Uzbekistan and then on national carrier LOT planes to Warsaw.
Sweden working on evacuation solutions
Sweden's Foreign Minister Ann Linde said that her ministry is aware of the "great difficulties in getting to the airport and through the gates" amid the chaos at the airport in the Afghan capital.
Linde was writing on Twitter on Friday about plans to evacuate Swedes and local hires in Kabul from the country following the Taliban takeover.
"All countries are experiencing this problem and we are working on possible solutions at the airport in cooperation with other countries," Linde wrote.
She said her Foreign Ministry had staff at the Kabul airport with "resources needed for further evacuation work," and added that "transport capacity is available."
Linde stressed that "it is important to follow the information and always put safety first."
Chaos hindering Spain's efforts
Spain's defense minister says the country's military transport planes are leaving Kabul partly empty because chaos at the city's airport is preventing Afghans from evacuating.
Defense Minister Margarita Robles said Friday that one Afghan family taken out by Spain had left behind a daughter they lost in the airport crush.
She told Spanish public radio RNE that an ideal solution would be to set up corridors into the airport, but that's impossible because "nobody's in control of the situation."
She said that after Afghan President Ashraf Ghani left the country, the airport's air traffic controllers and security staff walked out, rendering it inoperative until U.S. forces took it over.
She said the U.S. has given assurances that its forces won't leave the airport until the last person awaiting evacuation is out.
Crowds make finding and extracting difficult
A Polish diplomat says the most difficult thing in evacuating Afghans is finding and extracting them from pressing crowds at the Kabul airport. Poland has so far evacuated a few hundred people in three flights.
Deputy Foreign Minister Marcin Przydacz said Friday that sometimes consulate staff can identify the individuals in the crowd but that it was difficult for them to make their way through to the gate to be pulled into the airport.
"There are thousands of totally determined people in the crowd, in extremely difficult conditions pressing on the walls and gates of the airport," Przydacz told reporters.
"From this desperate crowd, sometimes understandably aggressive crowd, our people are trying to extract those who are on our list," Przydacz said.
"The transport logistics goes very smoothly but the greatest challenge now is how to find these people. Even if we know where they are, and sometimes our consuls can see them 40-50 meters (yards) away, they have no possibility of getting closer," Przydacz said.
"These people must first of all, on their own, get as close as they can to the entrance to have not only eye contact but real contact with the consul, because very often these people are simply pulled by the hand, jerked from the crowd with the help of the soldiers," Przydacz said.
A former ambassador to Afghanistan, Piotr Lukasiewicz, has appealed to Prime Minister Mateusz Morawiecki on social media to send more evacuation planes to Kabul.
U.S. evacuated 3,000 on Thursday
The United States says it evacuated approximately 3,000 people from Kabul via military transport aircraft on August 19.
In a Friday statement, the White House said multiple C-17 flights from Hamid Karzai International Airport evacuated nearly 350 U.S. citizens, as well as family members of U.S. citizens, asylum applicants and their families, and vulnerable Afghans.
"We have evacuated approximately 9,000 people since August 14. Since the end of July, we have evacuated approximately 14,000 people," it said.
It added that in the last 24 hours, the U.S. military facilitated the departure of 11 charter flights, and that those numbers were not included in the other totals.
Denmark wants Afghan interpreters to reach out
The Danish Defense Ministry is urging interpreters who have worked with them and need evacuation from Kabul to urgently make contact.
In a message sent by Twitter on Friday, it urged the interpreters to contact an included email address, saying: "Urgent – Urgent Contact Danish Authorities NOW."
The tweet ended with "We will do our best to assist."