Germany Ordering Five Warships in Face of Russian Military Aggression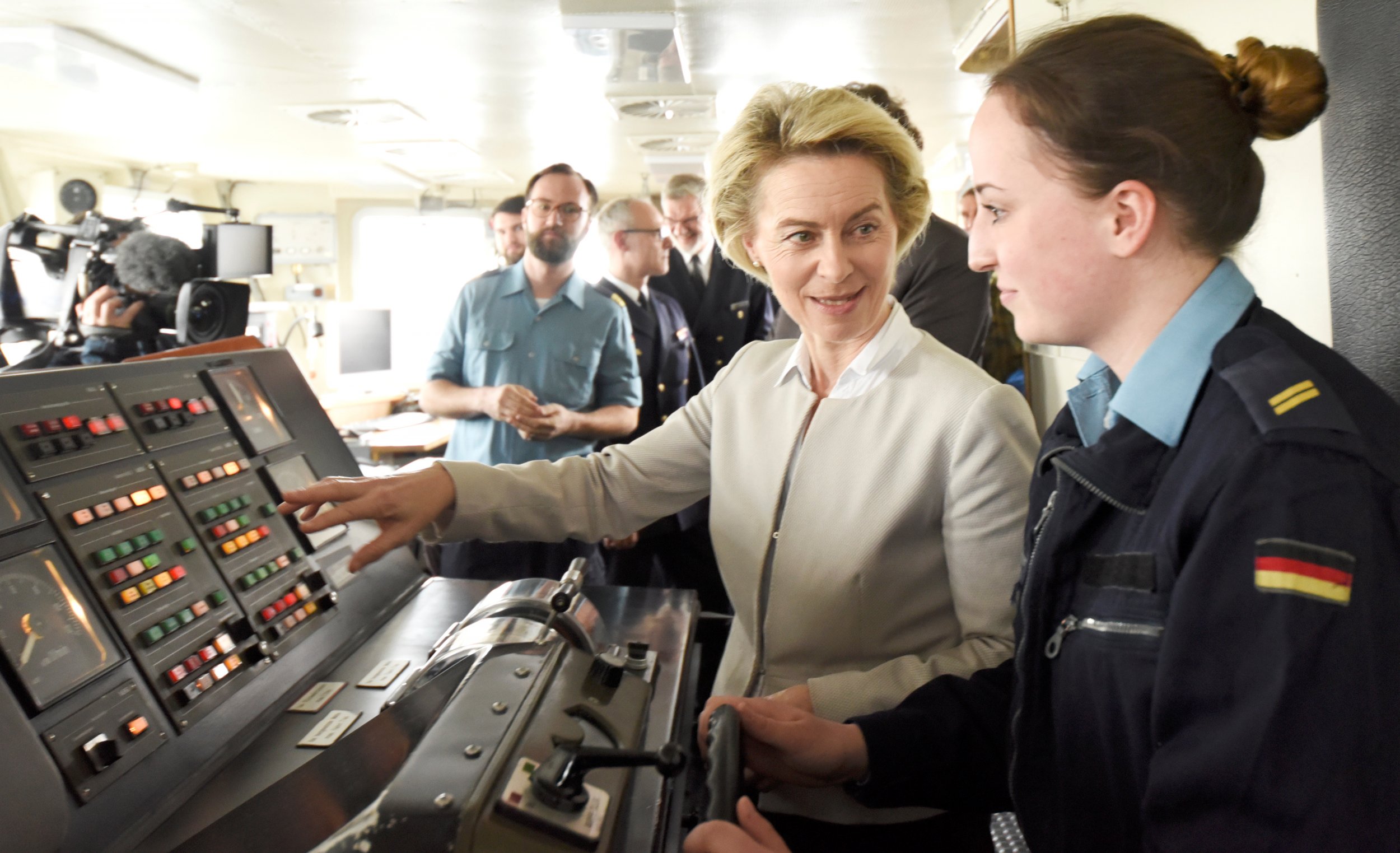 Germany is on the verge of striking a $2 billion deal for five new Braunschweig-class corvettes that would improve its capabilities and help meet NATO defense spending commitments.
Parliament approved the funds for the vessels in June, and the German navy expects to receive the ships by 2025. They will each be equipped with a 76 mm main gun and surface-to-air and anti-ship missiles, as well as mines.
The navy already has five ships of the same class, but the German defense procurement agency, BAAINBw, said in a statement announcing the deal that the new arrivals would help Germany meet its pledge to NATO. In 2014, all members of the alliance agreed to increase military spending to 2 percent of gross domestic product.
Since Russia's annexation of Crimea in 2014, a handful of Europe's militaries have brought an end to years of spending cuts to upgrade their defenses. Germany, whose World War II legacy and confidence in allied U.S. military investment has long reduced enthusiasm for expanding the military, has been hard-pressed to join the trend.
Alex Pape, principal analyst, naval ship and sonar programmes at IHS Jane's 360, says the resurgence of Russia's military in annexing Crimea—and particularly its increased presence in the Baltic Sea—informed Germany's desire to replenish capabilities in its northern waters.
"During the Cold War, the German navy had a strong focus on the Baltic Sea," he says, noting that Germany operated around 40 missile boats in the region, as well as submarines and other vessels. "The aim was to make Russian access as difficult as possible."
The missile boats have since been decommissioned, the last in 2015. Although 15 Braunschweig-class corvettes were meant to replace them, only five were acquired before this latest deal. The five new corvettes will not be the only new arrivals: The order comes as Germany continues work on four much larger frigate warships that, despite continued delays since 2007, Germany's Defense Ministry told Reuters in May it expects in its ranks soon.
Across the board, Germany's military branches have looked at upgrades since 2014. In 2016, Germany's defense spending still barely cleared 1 percent of its GDP; as the biggest economy in Europe, Germany's proportional spending increases mean even a gradual uptick can make visible differences in real terms.
President Donald Trump has been among the most outspoken commentators in calling on Berlin to increase spending, though Germany had committed to doing so prior to the start of his presidential campaign. The German army is now in the process of expanding its tank force by 40 percent, costing the state more than $800 million by 2023, the National Interest reports.
Last year, Berlin announced it is expanding the armed forces by almost 7,000 soldiers over the next six years.
What is more, Germany in February struck a deal to host a brigade from both the Czech Republic and Romania. Germany will integrate their capabilities into a multinational framework that Foreign Policy has likened to an initial step toward a European Army. Romania's 81st Mechanized Brigade and the Czech Republic's 4th Rapid Deployment Brigade follow the example of the Netherlands's integration of two Dutch brigades within Germany's Rapid Response Forces Division.