Germany recalled a platoon from a NATO mission in Lithuania after reports of racist and antisemitic behavior as well as sexual assault, German news magazine Der Spiegel reported Monday.
German Defense Minister Annegret Kramp-Karrenbauer posted an announcement on Twitter about the decision, saying the misconduct would be "punished with all severity."
"The misconduct of some soldiers in Lithuania is a slap in the face of everyone who works day after day in the Budeswehr [Germany military] to serve the security of our country," Kramp-Karrenbauer tweeted.
The NATO Enhanced Forward Presence (eFP) mission has deployed troops to the Baltic states and Poland after Russia's annexation of the Crimean Peninsula from Ukraine in 2014 to deter Russia from further actions.
Kramp-Karrenbauer said the entire platoon would be withdrawn immediately, and the troops will be in Germany on Thursday.
Four German soldiers serving in the eFP mission were initially pulled as part of the investigation, Der Spiegel reported. The soldiers are suspected of singing antisemitic and right-wing songs in a hotel in late April, in addition to video recording an incident of sexual assault against another soldier.
Separate allegations were also brought forward of sexual and racial abuse within the platoon, Der Spiegel reported. A female solider said she suffered from sexual harassment including other soldiers etching the word "whore" on her weapon. A soldier with Afghan heritage is said to have suffered racial abuse and there have also been allegations of derogatory comments toward Jews. It was also reported several people sang to commemorate Adolf Hitler's birthday on April 20.
According to Lithuania National Television and Radio (LRT), Lithuania's Defense Minister Arvydas Anušauskas told reporters the investigation is being carried out by Germany, and Lithuania is not involved.
"We are not being informed about the details of the investigation. The Lithuanian military is not involved in the investigation, nor can it be," Anušauskas said Tuesday.
Germany's Inspector General Eberhard Zorn apologized to his Lithuanian counterpart for the incident, a German military spokesperson said.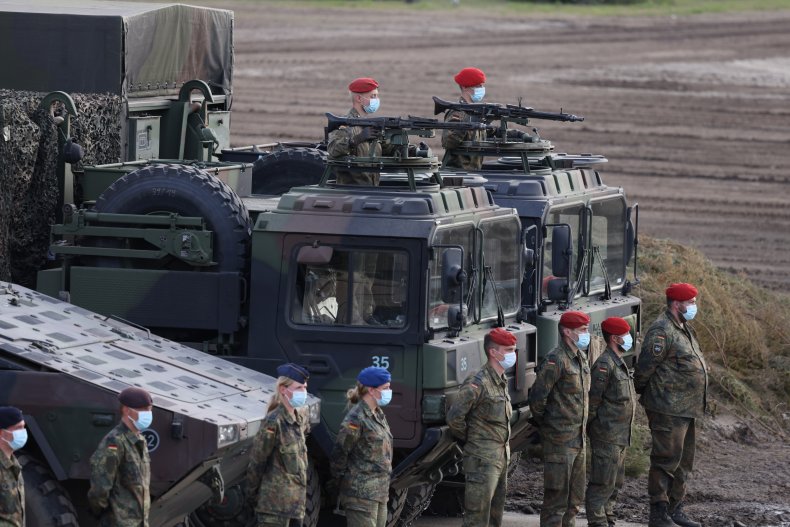 "The reputation of our armed forces is of very high value to our country. It is therefore protected by severe sanctions under disciplinary as well as criminal law," the German Embassy in Vilnius said in a statement to LRT.
According to the BBC, the German government has taken action against suspected extremism in both military and police forces in recent years.
Kramp-Karrenbauer ordered the partial dissolution of the Kommando Spezialkräfte [Special Forces Command, KSK] after 20 members were suspected of right-wing extremism. She told German media on Tuesday the KSK would not be fully disbanded.
Last week, the state of Hesse dissolved a police force after it was found a number of officers were involved in right-wing extremist chats. A local official confirmed a total of 49 current police force members were in the chats, BBC reported.