Germany Sees New Coronavirus Cases Nearly Triple As Infection Rate Rises After Lockdown Restrictions Eased
Germany has seen a dramatic surge in new cases of the coronavirus between Monday and Tuesday, with the number nearly tripling as the European nation has experienced an increase in its infection rate while easing lockdown restrictions.
On Monday, the Robert Koch Institute (RKI), a German federal government agency and research institute, reported just 357 new confirmed cases. One day later, the institute reported 933, a significant jump in 24 hours. However, that number is still lower than highs of more than 1,200 reported for three days last week.
"The rise of the [reproduction rate] makes it necessary to carefully observe the developments in the coming days," the RKI wrote in its daily brief included with the data. But the institute noted that it was still too soon to determine whether the virus was once again spreading rapidly. Newsweek reached out to the RKI for further comment but did not hear back before publication.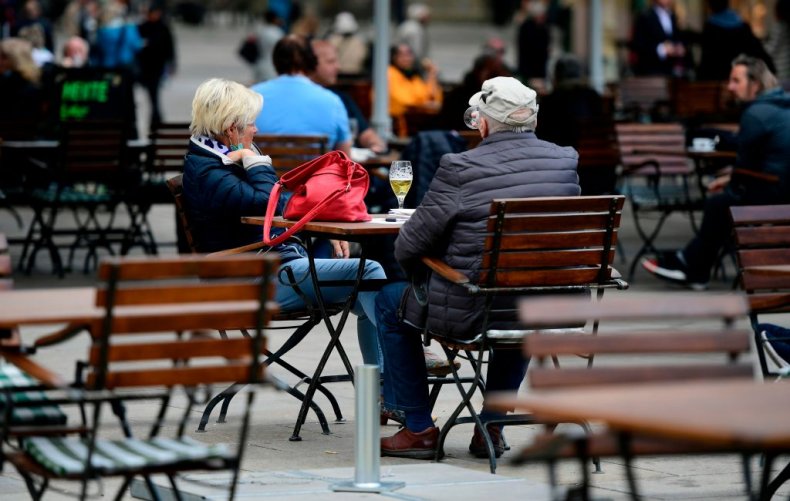 The surge in new cases comes after the RKI had said that infection rate, or reproduction rate, in the country has risen above 1.1. This number means that the average infected person will infect at least one other person, or that a group of 10 infected people will all together infect 11 others. Previously, German Chancellor Angela Merkel warned that a level above 1 could overwhelm the nation's health care sector.
Still, the German government has moved forward with easing lockdown measures over the past week. Shops and schools have reopened, and Germany's national football league, Bundesliga, aims to become the first major European league to restart competitions. Restaurants and museums have reopened as well in some parts of the country.
With the reopening, Merkel, a physicist who has been hailed for her leadership during the pandemic, issued guidance for Germany's regions to put an "emergency brake" on eased lockdown restrictions if necessary. Three parts of the country have already applied the measures.
On Monday, the chancellor also cautioned Germans that it was "important for people to keep social distancing" and urged them to ''stick to the basic commandments.'' She reiterated that people should be "keeping their distance, wearing mouth and nose protection and showing consideration for each other."
As of Tuesday afternoon, Germany had reported a total of nearly 173,000 cases of the coronavirus. Of those infected, more than 7,600 have died, while over 147,000 have recovered. Globally, more than 4.2 million people have been infected with the virus, and more than 289,000 have died.