Germany Sends Warship to South China Sea in Latest Challenge to Beijing Territorial Claims
Germany sent a warship to the South China Sea on Monday for the first time since 2002 as tensions continue over China's claim of the territory.
The frigate warship known as the Bayern (Bavaria), departed the German naval base of Wilhelmshaven on Monday during a ceremony attended by the country's defense secretary, Annegret Kramp-Karrenbauer.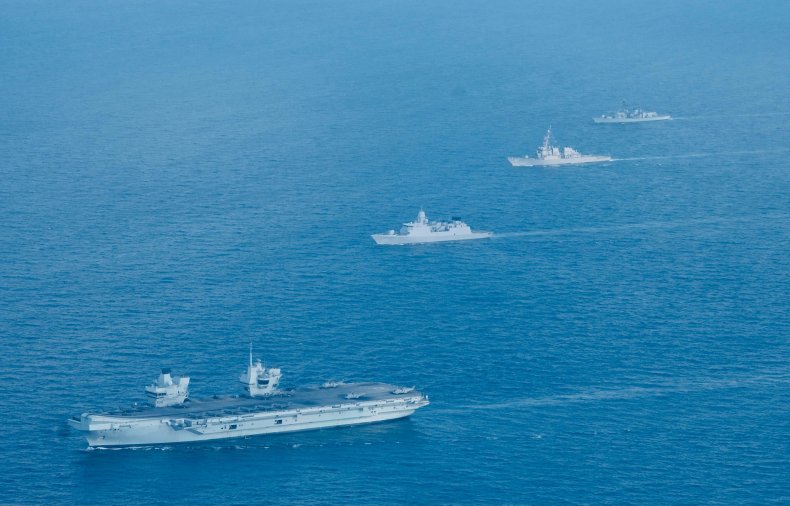 "Together with its allies, Germany wants to show more presence in the Indo-Pacific [region]," Germany's navy said in a statement.
China maintains that large portions of the nearly 1.3 million-square-mile area in the South China Sea are within its sovereign territory due to language in the Law of the Sea Convention. The communist country has set up various military outposts on artificial islands in the region, which is said to be rich in oil and fishing.
The United States and other countries, meanwhile, dispute these territorial claims, and the U.S. Navy regularly conducts operations in the waters that pass by some of these islands. The U.S. has also received support from allies in an effort to resist China's territorial claims over the area.
France, Japan, Australia and New Zealand have also recently increased activity in the Pacific waters in symbolic defiance to China. Last week, the United Kingdom aircraft carrier HMS Queen Elizabeth and its support vessels entered the South China Sea despite warnings from Beijing.
The U.K. Ministry of Defence released a statement last Tuesday about the carrier's deployment to the contested waters. It said, "The exercise, to advance interoperability and coordination between the two navies, builds on the deep and long-standing defense partnership between the U.K. and Singapore."
Meanwhile, the Global Times—a paper controlled by the Chinese Communist Party—condemned the carrier's presence in the waters. An opinion piece published on July 26 in the outlet said, "The U.K. intends to use its navy to revive its old dream of an empire, but its overall strength cannot support such global ambitions."
A 2016 ruling by the International Court of Justice in the Hague in a case brought by the Philippines rejected China's claim to the South China Sea and allowed the U.S. and its allies to conduct routine operations there.
U.S. Secretary of Defense Lloyd Austin addressed the situation last Tuesday during a visit to Singapore. He said, "Beijing's claim to the vast majority of the South China Sea has no basis in international law. That assertion treads on the sovereignty of states in the region. We continue to support the region's coastal states in upholding their rights under international law."