Mexico Vs. Germany: Expert Predictions, Betting Odds for World Cup Match
In one of the highly anticipated matches in the 2018 World Cup in Russia, Mexico is scheduled to take on Germany Sunday.
Both teams are talented. In the latest rankings, Germany was ranked No. 1 in the world and Mexico was No. 15. And Germany—of course—won the last World Cup in 2014. German player Joshua Kimmich described to The Guardian how difficult the task of repeating as champions might be.
"It is very hard to win the World Cup twice in a row," Kimmich told the paper, before talking about German squad winning another international tournament last year. "But we have a big belief we can do well again. Last year helped us believe even more. Back home in Germany, the Confederations Cup was not so high in the ranking for most people. But, at the end, I think everybody was watching our games and they also liked our team. They liked the fact we were young but full of fight. Now we are back for a much bigger tournament. The World Cup is much more special and it's my first time. But I feel ready. Now we need to make even better memories."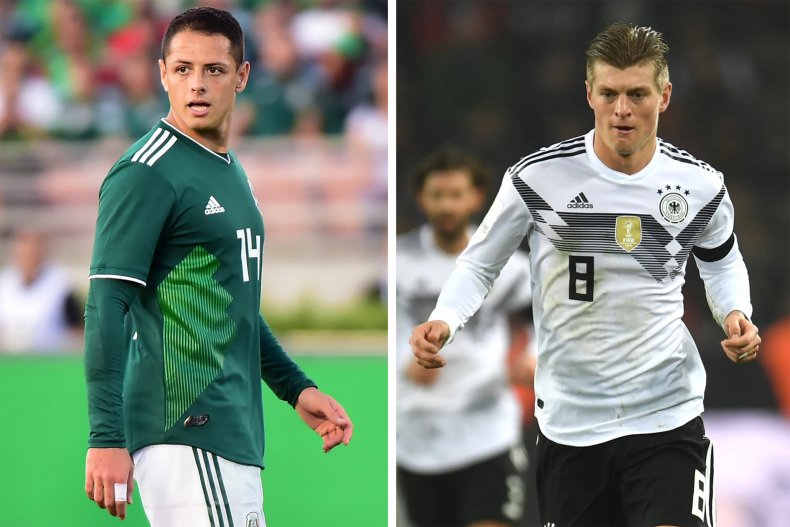 Mexico, meanwhile, will be looking to upset one of the world's powers. There have reportedly been pretty large sums of money betting on Mexico to win the entire tournament.
"The team that hurts us the most is Mexico," Nick Bogdanovich, director of trading at bookmaker William Hill, told ESPN. "We've gotten a lot of money on Mexico to win."
OddsShark, however, had Germany's odds at -182 to win the match against Mexico, which means you would need to wager $182 to win $100. It had Mexico's odds in the match at +550.
The experts seem to think Germany will win. BBC Sport's Mark Lawrenson predicted a 1-0 win for Germany. The Telegraph picked Germany as well.
Mexico has only beaten Germany once—way back in 1985—while the Mannschaft has defeated the Mexican team in all three World Cup encounters in Argentina 1978, Mexico 1986 and France 1998. Today, the Germans say they're preparing for a tough match.
"We should not underestimate them even if we beat them last year," German midfielder Sami Khedira told ESPN. "We take this game very, very seriously. We cannot rely just on our quality."