Germany's Chancellor Angela Merkel Has Entered Quarantine After Her Doctor Tested Positive for Coronavirus
German Chancellor Angela Merkel has gone into quarantine over concern she was exposed to the novel coronavirus, after a physician she'd interacted with tested positive.
Merkel's spokesperson Steffen Seibert announced on Sunday that the German leader had gone into quarantine but would continue to carry out her duties from isolation. The chancellor made the decision after she was informed that a doctor who'd vaccinated her against pneumonia on Friday had been confirmed to be infected with the virus.
"Even from domestic quarantine, the Chancellor will continue her official business," Seibert said, Germany's Deutsche Welle broadcaster reported.
The German leader learned of the doctor's diagnosis just after she held a press conference about the pandemic on Sunday. "The great aim is to gain time in the fight against the virus," she said, thanking her people for their efforts to practice social distancing to prevent rapid spread of the coronavirus.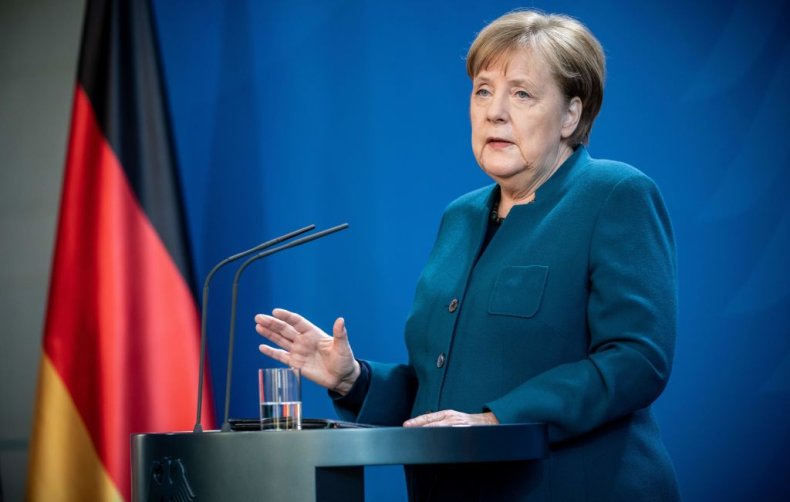 Germany is one of the hardest-hit countries in Europe and the world with confirmed cases of coronavirus. Nearly 24,000 people are confirmed to have contracted the infection as of the time of writing, according to a tracker updated by John Hopkins University. Just over 90 people have died in the European country, while 266 have already recovered.
The country has effectively closed its borders with neighboring countries, and on Sunday the government banned gatherings of more than two people, with an exception made for families.
"We are further reducing public life and social contact and ensuring that the measures will be nationwide," the chancellor said in her press conference about the social distancing policy. "Everyone should organize their movements according to these regulations."
Several other politicians and world leaders have been infected with coronavirus, or quarantined because individuals they interacted with became infected. Prince Albert of Monaco became the first head of state known to test positive for the infection last week. Iranian Vice President Eshaq Jahangiri was reported to have contracted the virus earlier this month.
Canada's Prime Minister Justin Trudeau entered self-isolation a week ago after his wife Sophie Grégoire Trudeau tested positive. Several members of Congress, including Republican Senator Rand Paul of Kentucky, have contracted the virus, while many others have entered quarantine after interacting with someone that was later confirmed to be infected.
Globally, more than 328,000 people have been confirmed to have been infected. More than 95,000 have already recovered, while just over 14,000 have died. Within Europe, Germany has the third-highest number of confirmed cases after Italy and Spain.