Germany's Foreign Minister Calls Trump Urging Supporters to Vote Twice 'Disturbing' and 'Unscrupulous'
German Foreign Minister Heiko Maas raised concerns about President Donald Trump's efforts to cast doubt on the upcoming election results, and spoke critically of the president's remarks urging supporters to illegally "vote twice."
Maas made the critical comments to Germany's top-selling daily newspaper Bild for an article published on Sunday. Although Germany, and the European Union of which the country is a key member, have been close U.S. allies for decades, relations have been visibly strained during the Trump administration and Maas has previously spoken candidly about the tensions.
"We owe an incredible number of things to the United States and the country remains one of our closest partners but... it is disturbing to see that an American president thinks he might need such [a move]," Maas said, Bild reported, according to Agence France Presse (AFP).
But Maas spoke favorably of U.S. voters, saying he has "confidence that Americans' good sense will scupper this unscrupulous effort to sow doubt on the validity of the election with the later aim, probably, of not accepting defeat."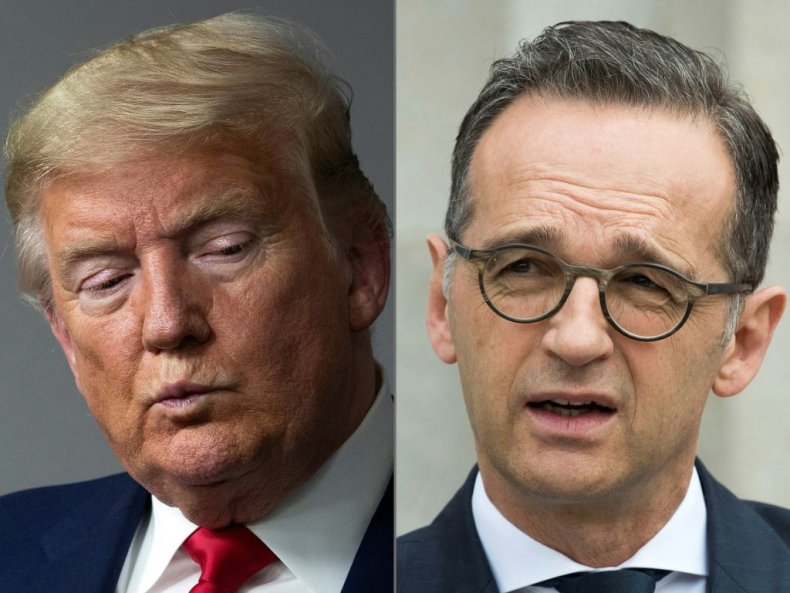 Newsweek reached out to the White House and the Trump campaign for comment, but did not receive a response by the time of publication.
Trump has suggested multiple times over the past few days that Americans should vote twice. He has suggested that they should send mail-in ballots while also going to the polls to vote. This would be illegal under federal law, as it would constitute voter fraud.
In a Twitter thread published Thursday, Trump attempted to clarify that he only wanted people to vote twice if their mail-in ballot would not arrive on time or would not be counted for some reason. But several tweets posted by the president were flagged as violating the social media platform's rules about "civic and election integrity."
The president has repeatedly disparaged mail-in voting, saying it is rife with fraud, despite scant evidence to back up those claims. Election experts have repeatedly pointed out that the level of fraudulent voting attempts in the U.S. is extremely low. Due to multiple safeguards with in-person and mail-in voting, efforts to cast fraudulent ballots are generally caught and individuals are prosecuted. Republican and Democratic election officials alike have raised concerns about Trump's attacks on mail-in voting.
Many Trump critics have also raised concerns that he would refuse to leave office or accept the election result if Democratic presidential nominee Joe Biden were to win in November. In recent interviews, the president has refused to say whether or not he will accept the election result if he were to lose to his Democratic opponent.
In June, a bipartisan group of about 80 academics and political operatives actually held a virtual meeting to discuss and project scenarios about what could happen if Trump were to lose in November. Dubbed the Transition Integrity Project, all of the group's scenarios reportedly resulted in "violence."
Maas has spoken critically of Trump's leadership in the past, despite the close historic ties between the U.S. and Germany. In July 2018, he appeared to suggest that the president was attempting to divide Europe through "absurd tweets." And in June, Maas reiterated that the U.S. and Germany continued to have a close partnership, but referred to the relationship as "complicated."
The president has repeatedly criticized Germany, arguing that it does not pay its fair share to NATO. Trump has also pushed back against Germany's plan with Russia to build natural gas pipelines between the two countries, among numerous other foreign and economic policy disputes.