Germany's Merkel Denies Power Struggle, Saying She Is 'Alive and Kicking' Despite Ally's Shock Exit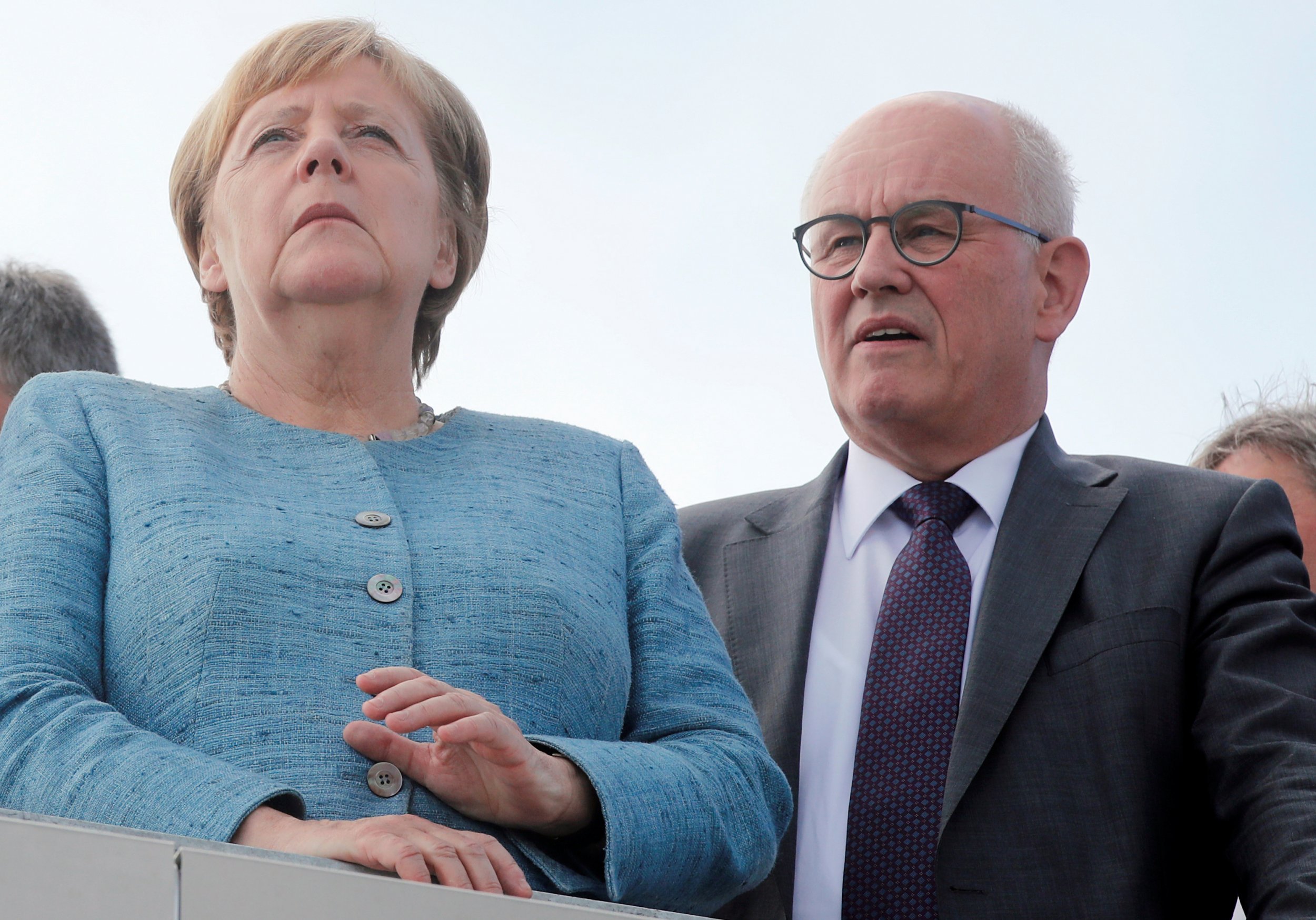 German Chancellor Angela Merkel has brushed off rumors of being ousted before her term ends, saying she plans to get back to work despite losing a longstanding ally from her party.
Merkel, who has lead Europe's largest economy since 2005, won a new term in office in 2016, but due to a rise in the popularity of the far-right AfD party, she faced protracted negotiations to form a governing coalition. A recent concession to a sister party on asylum policy signaled her more vulnerable position. The defeat of her ally of 13 years as parliamentary party head this week reinvigorated rumors that she is losing influence.
"I'm sitting here alive and kicking," Merkel said nonplussed in front of a live audience after local newspaper Augsburger Allgemeine asked her how close Germany was to the end of her chancellorship. "I'm planning on keeping on with my work," she added, according to a translation by Politico.
The German leader spoke at the Bavarian city of Augsburg in an interview with Augsburger Allgemeine following ally Volker Kauder's defeat in a party ballot, in what many political pundits in Germany described as a signal from Merkel's party to her. German Commissioner Günther Oettinger has already described Merkel as a "lame duck" chancellor, prompting speculation that German lawmakers could trigger a vote of confidence against her.
Her party's approval has continued to dip as a survey published on Friday found a 2-point drop for her CDU/CSU union to 28 percent, while coalition partners SPD are down by three points to 17 percent. Meanwhile, the far-right AfD is up by a point to 16 percent. Merkel's personal approval is down 5 points compared with earlier this month and is now sitting at 55 percent.
Merkel dismissed the situation as a difficult one but said it is simply "classic democracy" and refused to dole out criticism against members of her coalition. This follows a damaging scandal involving the removal of ex-intelligence chief Hans-Georg Maassen, after controversial remarks that appeared to side with far-right activists. Maassen was initially set to claim an effective promotion, before a national outcry caused Berlin to intervene and Merkel to apologize. The scandal only fueled debate that the chancellor
Related: Donald Trump surpasses terrorists and Eurozone crisis as Germany's biggest fear
The Zeit newspaper noted this week, "If Merkel's chancellorship was a ship, the water would now be in the engine room," while the Süddeutsche Zeitung newspaper concluded that she "cannot go on as if nothing has happened."
"What is required is that leaders cultivate the humility to know when their time has passed, and facilitate rather than impede the inevitable transition," the Handelsblatt newspaper argued on Thursday. "Ms. Merkel still has a chance. But her time is beginning to run out. To secure her legacy, she should use her prodigious political talent to prepare a graceful exit, then bow out."