Germany's Spy Agency Is Ready To Shake Off Its Second Tier Reputation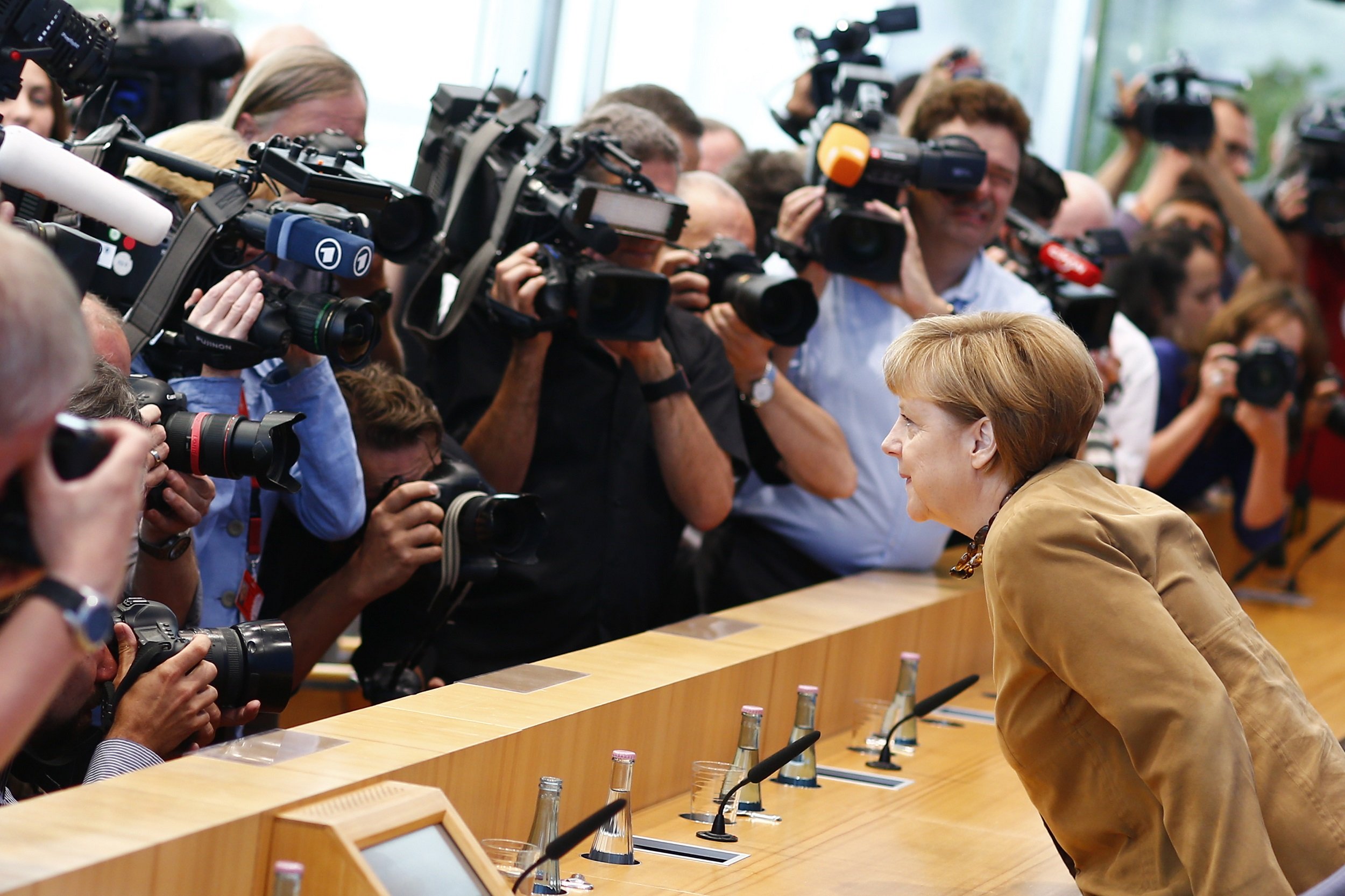 "In the CIA people view liaison relationships as a pain in the ass but necessary," says Valerie Plame, the CIA undercover agent whose identity was infamously disclosed by aides to President George W Bush soon after the 2003 US invasion of Iraq. Liaison relationships are the CIA's term for cooperation with foreign intelligence agencies, and, given that not even the world's mightiest spy outfit can go anywhere it likes, the CIA maintains plenty of such liaisons.
That includes the decades-long collaboration with Germany's BND (Bundesnachrichtendienst), which was recently dented in a spectacular fashion when the CIA apparently decided that waiting for the BND to deliver information was too laborious and so put one of the BND's own agents on its payroll. In fact, after having established a remarkable degree of closeness due to the shared threats of terrorism and weapons of mass destructions, espionage relations between allies are taking a sharper turn.
"Thanks to joint efforts fighting terrorists, Nato intelligence agencies are closer than they were during the Cold War," says the director of a Central European intelligence agency. "But right now politics and countries' different goals are creating barriers. That impacts intelligence agencies as well." In order to be able to speak more frankly, the director asked that his name and country not be identified.
Nigel Inkster, a former MI6 agent who also served as the agency's Assistant Chief and Director for Operations and Intelligence, adds "There's been an erosion of cooperation between Nato allies with regards to Russia. Germany and Italy in particular have become much more economically dependent on Russia."
A recently retired top BND official, who also asked not to be identified due to the sensitivity of the matter says, "We've always said [to the Americans], 'up to here but no farther'. Now they've crossed that line." In response, Germany has expelled the CIA's station chief. Some German politicians, having found that the NSA monitored their phones, are now using encrypted ones.
Espionage is, of course, by definition a business of false identities, and nobody is ever fully friend or foe. "There's no blind trust, not even within Estonia or Kapo," notes Martin Arpo, deputy director-general of Kapo, Estonia's internal security service. "Everything is on a need-to-know basis, whether it concerns individuals or organisations. There's no need to categorise a partner or colleague." Espionage, he adds, is about information-gathering, including ­information-gathering about an allied country, "but that doesn't mean that the foreign intelligence agency will use the information it's collected against that country." Or as an Israeli former military intelligence officer puts it: "It's like marriage. You're faithful most of the time." Last week the German magazine Der Spiegel reported that the Mossad has bugged US Secretary of State John Kerry's phone conversations with Palestinian leaders.
While one of the reasons for cooperating with other intelligence agencies is to share information and pursue mutual targets, Plame points out that liaison partnerships also serve to uncover moles in one's own agency. Espionage cooperation is a classic hall of mirrors, where one can never be certain if things are the way they seem.
Still, the BND and its boss the German government were incensed to find that the CIA had signed up one of its own agents. "Despite a lot of intelligence-gathering now being possible through electronic interception recruiting sources, recruiting sources is a priority for intelligence agencies," notes the BND official. "But in recruiting sources from a friendly agency, the CIA crossed a red line." When Helmut Kohl and George H W Bush led their respective countries, says the official, who was posted in Washington for several years, the BND had good access to the CIA. "But that's not the case anymore," he adds.
Friendly though relations may have been in past years, the CIA never considered the BND an equal, a fact the German official readily acknowledges. "[In the 1990s] the CIA even told us, 'you're not in our league'," he explains. "When they wanted something about Central Europe, they asked us, but if we asked them about, say, Indonesia, they said, 'what concern is that of yours?'"
In truth, the BND has never been a top-flight espionage outfit. Plame lists the agencies the CIA considers its equals: "MI6, Mossad, a ­couple of other agencies that you don't work with but which you respect because they're good at their job." The BND, the bastard child of Germany's post-war comeback, was never planned as a cracker-jack agency: on the contrary, and, perhaps, understandably so, it was the consciously eunuched successor of Nazi Germany's powerful intelligence organisations.
"The German government hasn't taken ownership of its intelligence agencies, instead seeing espionage as an unsavoury activity that should be kept at a distance and hoping that it won't cause any embarrassment," observes a former high-ranking MI6 official. "And during the cold war, the BND was very heavily penetrated by the East Germans and the Soviets, so Western intelligence agencies were wary of collaboration."
That penetration caused the downfall of Chancellor Willy Brandt when his close advisor Günter Guillaume was unmasked as an East German agent. The BND, adds the former MI6 official, "has also done some ill-advised things, such as talking to militant groups. Espionage is like tennis: if you don't do it, you don't get better."
For most of its existence, the BND has conducted a highly gentle game of tennis. So subservient was the German intelligence agency that it didn't cry foul even when the CIA posted undeclared spies in Germany. And following East Germany's fall, the CIA tried to recruit East Germany's legendary spymaster Markus Wolf right under the nose of the BND. In the so-called Rosenholz affair, it also spirited away voluminous East German intelligence files to the United States.
When I met Wolf in 2000, he recounted the CIA's recruitment efforts, adding with some amusement his wife's reaction to the steady stream of missives. They were addressed to Gen Markus Wolf. How extraordinary, remarked Andrea Wolf, that the Americans would even show the courtesy of addressing Markus Communist-style as Genosse, Comrade. He diplomatically enlightened her to the fact that the Gen the CIA was referring to was his rank of General.
Now, by contrast, Finance Minister Wolfgang Schäuble has denounced the CIA's BND recruitment as "such a stupidity that you simply want to cry", while other lawmakers are enraged that the Americans don't even think the recruitment and the NSA's monitoring of German politicians' mobile phones are a big deal.
But, says Joe Wippl, the former CIA station chief in Berlin, "nobody is reading German leaders' emails". Anyway, asks Plame, "what's the value added in reading [Angela] Merkel's messages? Before each meeting between Merkel and Obama, hundreds of analysts at the CIA and the NSA go through every aspect. What news are they going to discover on her phone? Her text messages to her husband saying she'll be late for dinner?"
The big deal, of course, is not that the CIA has crossed a red line, but that the Germans feel potent enough to voice their anger. "We've grown up," says the BND official. Gaining a bit of mojo is perhaps an understandable desire for the intelligence agency of Europe's most powerful country, especially since far smaller nations get considerably more espionage respect. Estonia's Kapo, despite having the unenviable task of defending its population of 1.3 million against neighbouring Russia, has established itself as one of Europe's top counter-espionage agencies and has, particularly following the embarrassing unmasking of long-time Russian mole Herman Simm, shown remarkable skill in unmasking Russian spies.
For a long time, though, Kapo's warnings about Russia's aggressive nature were met with scepticism. "But recent events have proven us right," says Arpo. "Russia has been preparing similar actions for years. Russia hasn't changed – international perception has."
With Russian aggression seemingly on the increase, intelligence agencies in the region are becoming even more important. "Right now we're evaluating potential implications of a larger conflict in Ukraine," says the central European intelligence chief. "If it results in large numbers of Ukrainian refugees, where will they go? Which cities and countries have large Ukrainian diaspora communities, and how will an influx of refugees impact the situation in those places?"
If Estonia can have a top-notch spy agency, so can Germany. Still, the BND isn't Kapo yet. "The BND and the internal service the BfV, though not lacking in professional competence, are dominated by lawyers who tend to think of reasons not to do things," says the MI6 official, echoing a trade consensus.
The anger evident in German politicians' ­reactions to the Americans' infidelity, may be simply a play for the galleries, and sources say that German and US politicians have decided to bury the hatchet "by the autumn".
The more lasting result, as summarised by the BND official, is this: "[The CIA and the NSA] don't need to treat us as a vassal state." Post-war German espionage has grown up.