Gerrit Cole Revisits 2001 Photograph By Recreating 'Yankee Fan' Sign As He Joins Team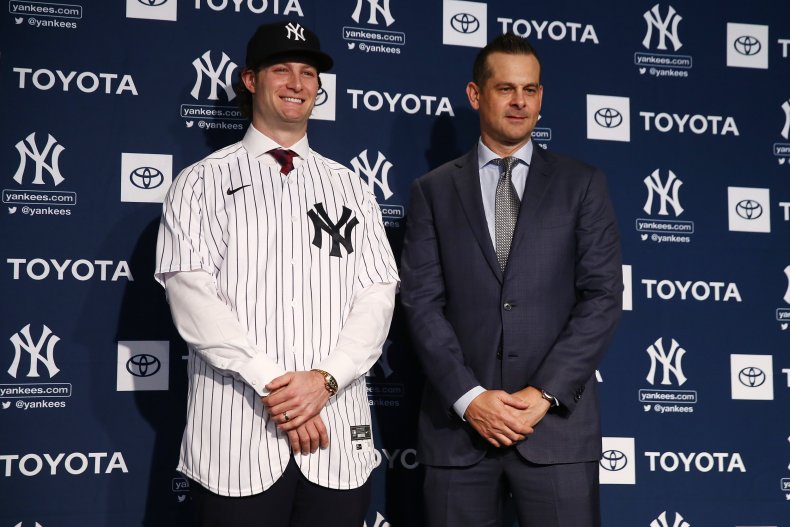 During his introductory press conference with the New York Yankees, pitcher Gerrit Cole recreated a "Yankee fan" sign that he was photographed holding in 2001.
Cole held up a sign that read "Yankee Fan Today Tomorrow Forever" which was the same sign he was seen holding during the 2001 World Series between the Yankees and the Arizona Diamondbacks.
Before Cole signed his recent nine-year $324 million deal with the Yankees, he was drafted by the team and was public regarding his fandom.
According to NJ.com, Cole lived in California during his childhood but grew up a Yankee fan, and his parents allowed him to travel across the country to go watch the World Series game, when he was photographed.
As one of the best pitchers in baseball, Cole was sought after by several teams, but the Yankees were able to take advantage of his love for the team and sign him to a record deal. The Yankees also brought one of Cole's childhood heroes, former pitcher Andy Pettitte, to their meetings.
The 2001 photo of Cole was taken by former Newark-Star photographer Bill Perlman. "He was holding a poster that said 'Yankee Fan Today Tomorrow Forever.' I thought he was just another kid trying to get autographs from his favorite Yankees during batting practice," Perlman wrote for Newsday.
Perlman, who now serves as Newsday's Deputy Photo Editor, added that after taking the picture, he went over to ask for the child's name, age and hometown, but did not think it was anything more than a routine photo. "I sent the image back to the Jersey newsroom and never thought about it again," Perlman added.
It wasn't until Cole was drafted by the Yankees in 2008 when the team contacted Pearlman about obtaining the picture.
The 2001 photo resurfaced while Cole was a member of the Houston Astros and facing the Yankees in the American League Championship Series in October.
Not only did Cole show his love for his new team by recreating the old "Yankee Fan" sign, during his press conference, but he also spoke about how becoming a member of the Yankees was something that he always wanted to do.
"I'd just like to say: I'm here, I've always been here," Cole said.
When asked why he chose the Yankees out of all the other teams that were trying to sign him, Cole answered "because it was my dream."
Cole's $324 million contract is the highest for any pitcher in Magor League Baseball in its total value and average annual value of $36 million.
Gerrit Cole Revisits 2001 Photograph By Recreating 'Yankee Fan' Sign As He Joins Team | Sports