Get Dr. Fauci Off TV | Opinion
It's time for news stations to do the responsible thing and stop putting Anthony Fauci on TV. Fauci is the head of the National Institute of Allergy and Infectious Diseases and advisor to presidents, including President Biden. Few dispute his qualifications. But a year into this pandemic, it's clear that his presence has been a muddling one for the country.
For starters, there are the mistakes. There have been many. And they've been disastrous.
A year ago, on February 29, 2020, Fauci said we were seeing the beginning of community spread. He was asked if people should change their behavior and he said, "No. Right now at this moment there is no need to change anything you're doing on a day-by-day basis."
In fact, had people known that they should be changing their behavior by then, we may have seen very different results from the pandemic.
And then, on March 8, 2020, Fauci famously came out against mask-wearing. In an interview with 60 Minutes, Fauci said, "There's no reason to be walking around with a mask. When you're in the middle of an outbreak, wearing a mask might make people feel a little bit better and it might even block a droplet, but it's not providing the perfect protection that people think that it is. And, often, there are unintended consequences: People keep fiddling with the mask and they keep touching their face."
This wasn't just a mistake; it was intentional misinformation. In July, Fauci admitted he had said masks were unnecessary because he feared we would face a mask shortage if people made a run on medical masks. And then two months ago, Fauci said that actually two masks made "common sense." If they make sense now, why didn't he suggest double masking a long time ago?
But the errors are just one piece of the puzzle. Worse than the errors is the fact that Fauci is clearly politicized. Last August and September, as the Trump administration pushed for schools to open, Fauci mostly argued for schools to remain closed. After Biden's election, Fauci began to say schools should open. And when the Biden administration got pushback from unions, Fauci went on TV and said the COVID stimulus bill had to be passed before schools could open. A health official should not be pushing economic policy.
And now, in addition to the errors and the politicization, Fauci is all over the place on vaccines. The miracle drugs inoculating us against COVID-19 are showing incredible results in tests. Yet still, the drumbeat of voices saying we will have to mask and social distance indefinitely has been growing louder and louder, and begins with Fauci himself.
During a White House briefing a week ago, Fauci said, "So there are things, even if you're vaccinated, that you're not going to be able to do in society: for example, indoor dining, theaters, places where people congregate."
It's more hysteria. There are places across the country that have open indoor dining, theaters and other places where people congregate. These locales are not scooping up dead bodies from their streets and, in fact, often have lower COVID rates than places still in lockdown, no doubt because a forever pandemic is just not possible, strict rules are harder to follow than gentle guidelines, and these places have leadership which has led from a place of sanity instead of hysteria.
But then, as is his wont, Fauci reversed himself. On Thursday, in an interview with CNN's Chris Cuomo, Fauci said that people will actually be able to socialize once they are vaccinated: "Even though it isn't backed by data, it's backed by common sense."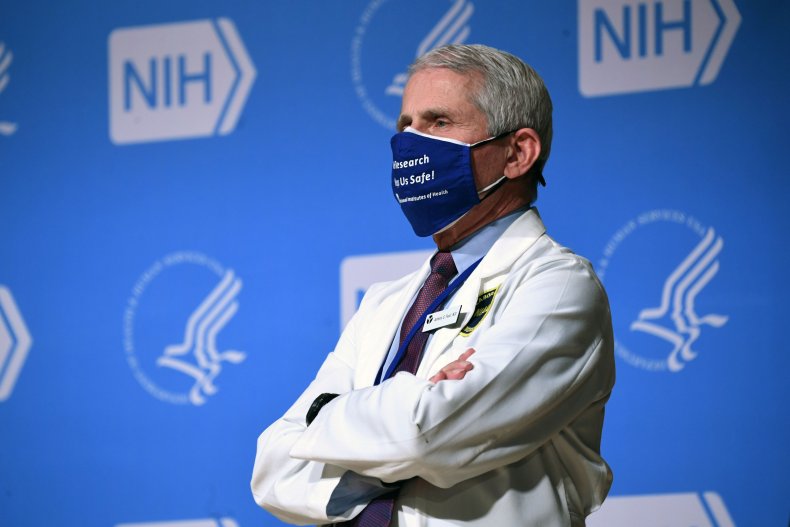 Well yes, a lot of things we are doing don't make a lot of common sense. Kids around the world are back in schools but American kids in major cities are largely not because of the mixed messaging from the top. We wear masks outside, maybe even two masks, despite that being an extremely low risk situation.
Perhaps if people were guided more by common sense and less by ever shifting policies, we would have seen a better COVID-19 outcome.
You don't have to dislike Fauci personally to believe he is bad at this job of presenting information to the American people.
And it's not just Fauci that we need to stop hearing from. "I know people are tired and they want to get back to life, to normal, but we're not there yet," Rochelle Walensky, the director of the Centers for Disease Control and Prevention, said on Friday during a White House press briefing. Walensky warned of "a potential fourth surge of cases" and said now is not the time to relax the "critical safeguards that we know can stop the spread."
Walensky was famously thrown under the proverbial bus by the Biden administration when she said teachers did not need to be vaccinated to go back into the classrooms. White House press secretary Jen Psaki said Walensky was speaking "in her personal capacity." With Walensky's credibility shot, the White House then brokered a meeting between the CDC and the Teachers Unions to discuss how to open schools. Have previously closed schools reopened? Of course not.
Our leading health officials should not be talking directly to the public anymore. They've done a bad job of it. Instead, they should voice their opinions to elected officials and officials can make policies based on them.
We all want to "follow the science" but the science has gotten extremely muddled by our leading health officials. Now let's follow sanity, use common sense, and see where that takes us.
Karol Markowicz is journalist and a columnist for the New York Post.
The veiws expressed in this article are the author's own.