Get to Know the Naked Models of NYC Bodypainting Day (NSFW)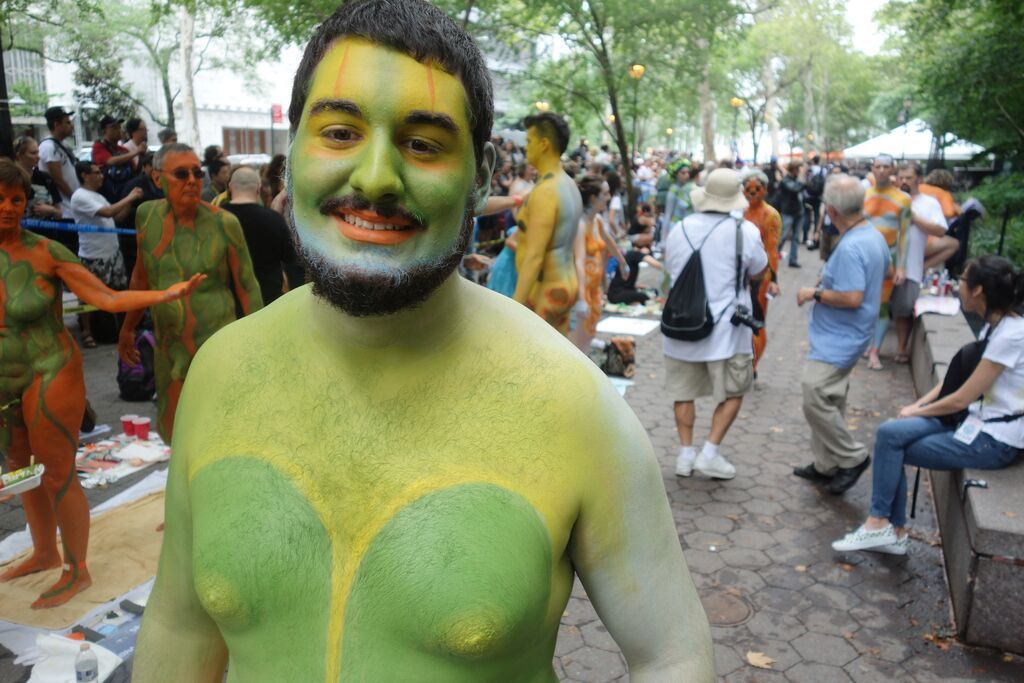 Updated | The heat this weekend in New York was so brutal that you might have thought about ditching your clothes entirely and slipping through the city au naturel.
For the men and women who took part in the second-annual NYC Bodypainting Day, that fantasy proved real. As the rain subsided on Saturday afternoon, about 100 models disrobed and got painted at Dag Hammarskjold Plaza in the name of art and body acceptance. The painting went on for hours, as NYPD officers stood by and tourists gawked over the fences. Once it was finished, the models embarked on a naked march to the United Nations building.
The event is the brainchild of artist and body-painting icon Andy Golub, who says he got a permit from the parks department after spending years fighting the police for the right to paint fully nude people in public.
We spoke with a small portion of the models (and one of the artists) to figure out what motivates people to strip and get painted in a big public square.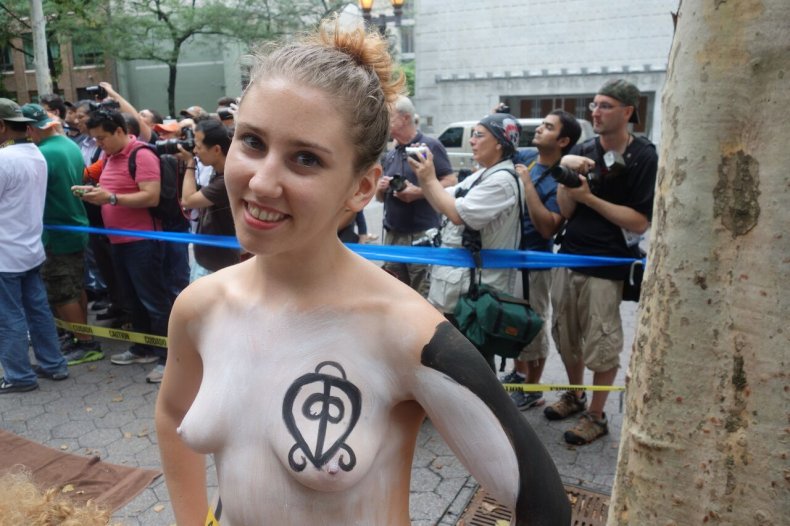 KARA ADDINGTON (31 years old)
How it feels to get painted: "It's kind of Zen. I just get to stand here. I'm her canvas today. It makes you feel beautiful, no matter what."
On her family's reaction: "My mom loves it! I post pictures on Facebook, and she tells all of her friends. My aunt 'likes' everything I put on there. They always send me articles whenever they see anything about body-paint. I'm like, 'Guys, I'm not going to be on TV. I'm not going to be on Skin Wars.'"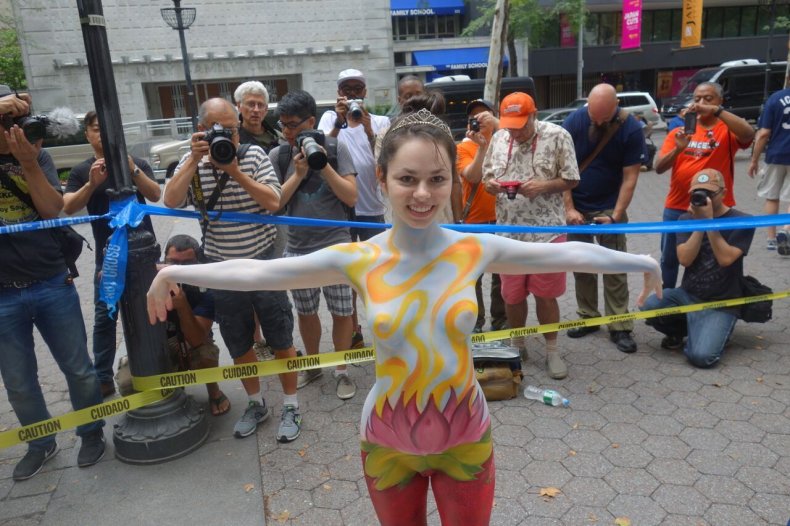 PRINCESS MULTIVITAMIN (20 years old)
How she discovered body-painting: "My boyfriend of two years broke up with me. I was at home in Tennessee visiting my parents, and they had two canvases in the shed. I was depressed and I covered myself in paint and sang songs while I did it and that's how Princess Multivitamin [her nickname in the body-painting community] was born."
Why she gets painted in public: "Activism. I believe that nudity and sexuality don't have to go hand-in-hand. I think that the human body in its naked form is you. That's who you are. And it's a beautiful vehicle that houses our soul. And it's also about consent. I want my children to grow up in a world where their consent matters and where they can feel safe even if they're not wearing any clothes. And that's a big dream. I'll probably never see it happen."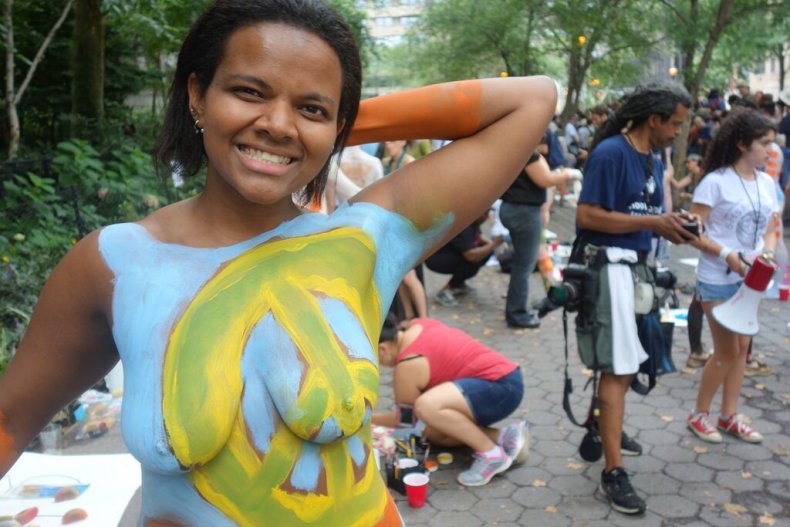 SPENCER LANE (27 years old)
Why she decided to get painted for the first time: "I'm an artist as well. I've been on both sides of the easel. I said that when the summer came around after this long and terrible winter I would do something a little more daring, and that's what this is."
What she like about Bodypainting Day: "It's very liberating to have people of all different sizes and ages. It's not a modeling contest. That's not what it's about."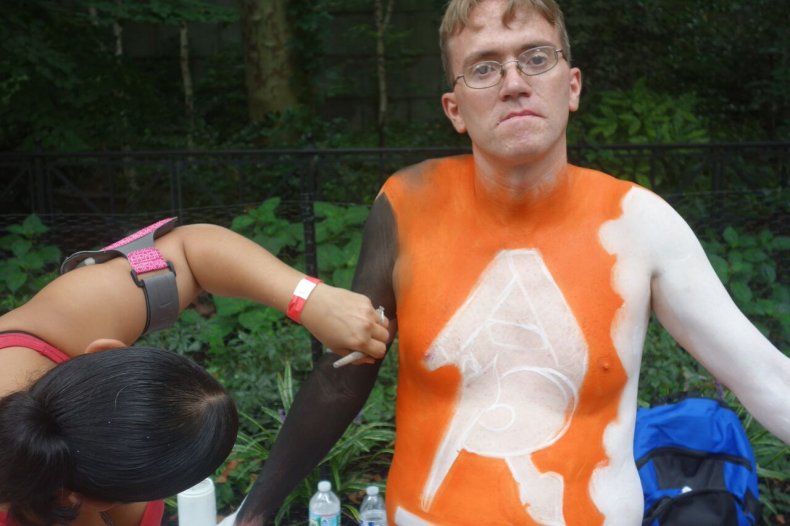 SCOTT REILLY (45 years old)
What it feels like to be body-painted in public: "Great. I love it. There's not a better feeling than being naked."
How he first became interested: "I was nervous when I first started. I started out by doing naked yoga. I had a great teacher named Cindy. She taught me how to come out of my shell."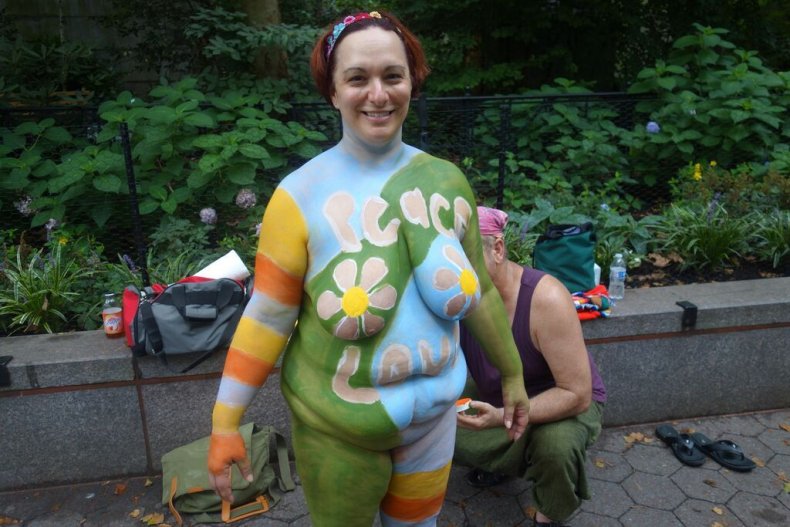 NICOLE DUBOW (42 years old)
What it feels like to get painted: "I'd say it's like jumping in a cold pool. There's that first 10 seconds of shock, and then you're just kind of hanging out. With a friend. Who's painting a flower on your butt."
Is her family cool with it? "They're fine. They know who I am. It's not a huge surprise to anyone. My dad always says that I'm kind of a grown-up flower child. I'm happy he got the grown-up part, anyways."
On her career when not being body-painted: "I'm an office administrator. So I'm clothed usually in that job."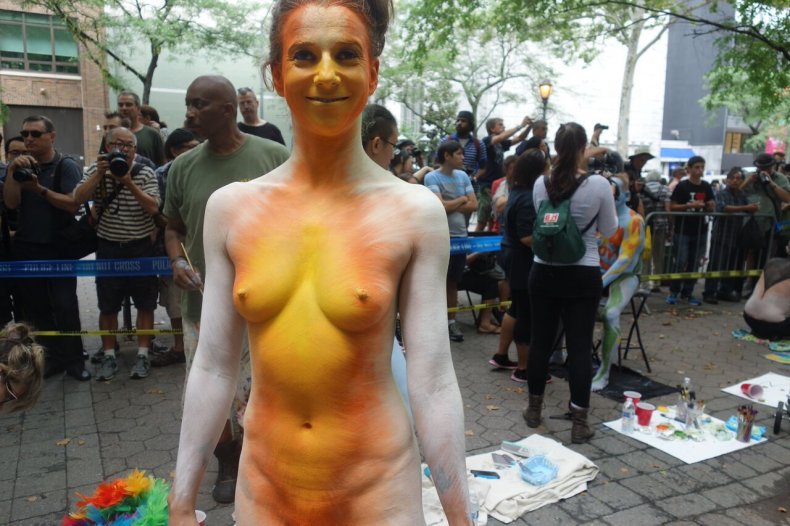 ALISON MILLER (33 years old)
What it feels like to be body-painted: "It's the excitement of the artistic experience, being involved in something where I really feel like [her painter] is seeing my spirit and he's painting it on my body and we have this really unique opportunity to connect in the artistic process. As a dancer and a writer, it's a really exciting experience. It helps me connect with my spirit."
Why she likes it: "I am a naturalist, if you will. I think that in and of itself allows us to be free. I think we spend a lot of time trying on different identities, different outfits, just trying to hide who we really are. This is such an opportunity to be seen."
On her family's reaction: "They don't really understand it. At the same time, I'm also the free spirit of the family. I teach yoga, and I teach dance. And I help run an artistic program at an arts and healing center."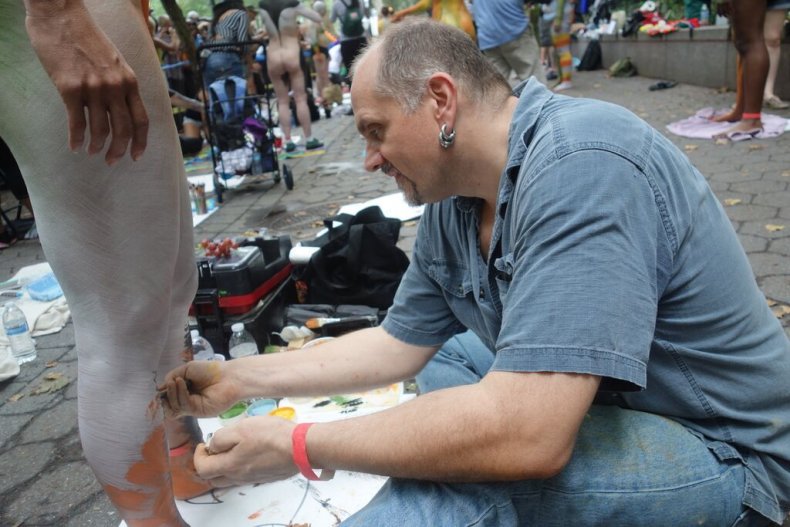 VANN GODFREY (the artist painting Miller)
How he became interested in painting people's bodies: "It goes way back to when I was in college. I recently had a chance to look back at some of the work I did in college. Even though it was watercolor on paper, it was figurative drawing with very bright color, very broad gestural strokes on top of a pencil rendering of a model. My watercolor instructor didn't really understand what I was doing. I didn't, at that point in time. I was on a collision course with body-painting before I technically knew that body-painting existed as an art form."
Why he loves body-painting: "It's one of the few visual art forms that is social. It's a unique collaboration between artists and models. This is not just artwork that I'm producing. This is me working with her as a person. This is me working with her as a spirit. And letting that influence affect not only the visual brush strokes that I am putting on her, but also, once my painting process is done, she is going to carry this artwork throughout the rest of the day and move it and display it and interact with it and other people. No other art form really enables that."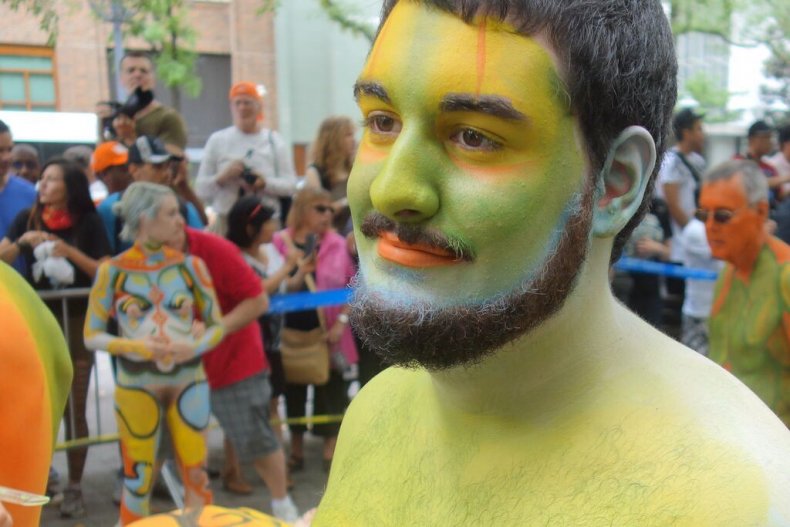 ANDREW W. (22 years old)
What it feels like to get painted: "It feels nice. On a hot day like this, there's kind of a nice, cool feeling to it."
How he describes the colors he's wearing: "I'm kind of working in opposite to my co-model, John. We're sharing the same artist. She decided to just flip our colors. I guess it has something to do with nature, since he has a sun on him?"
On his non-body-painting life: "I just graduated from college. I got a music degree. I'm currently working at a renaissance faire upstate."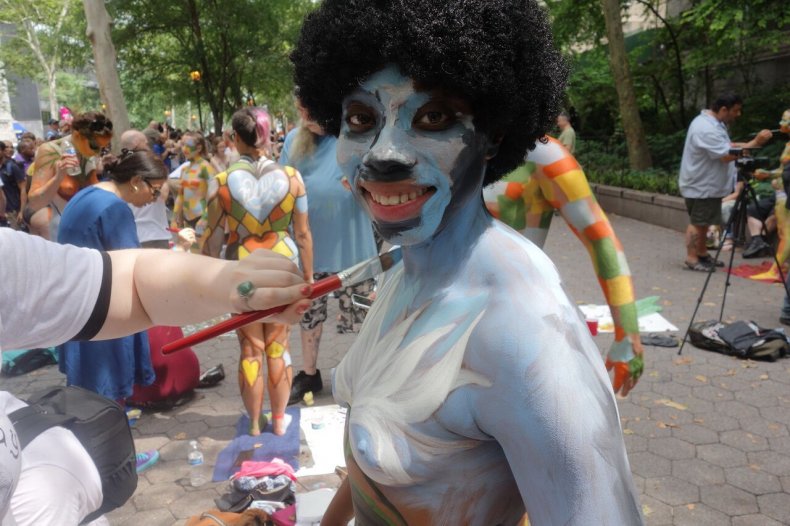 RAYNE O'REILLY (27 years old)
On her first body-painting experience: "My first time was in a private photo shoot with just a photographer and a model. It was awesome. I love being naked. I love being nude. I love being natural."
Why does she like it so much? "Without clothes, I have no masks on. What you see is what you get. There's just no hiding me."
On the colors she's wearing: "I can tell you about the design. It is a lotus flower. It's basically about rebirth. Obviously the flower comes up from my womb, so to speak. I'm birthing a new generation, a new awakening."
Update: This post has been updated to reflect a change in Princess Multivitamin's name.