Get to Know Six Members of Newsweek Expert Forum
Newsweek Expert Forum is a new private community for industry leaders to share their thoughts on current events, international issues, technology, business and culture.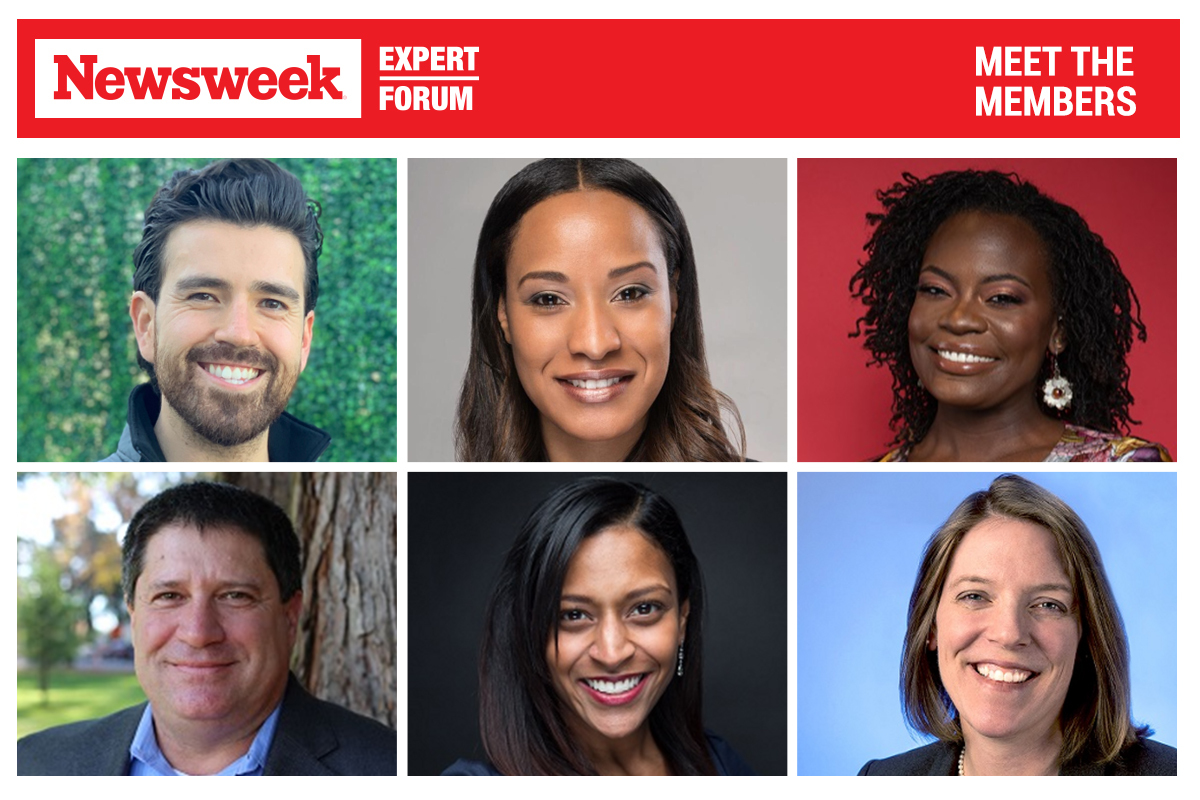 In times of rapid change, we look to innovative thinkers and trailblazers to make sense of what's happening in the world. Newsweek Expert Forum is a new private community for industry leaders to share their thoughts on current events, international issues, technology, business and culture.
Expert Forum members join a select community of pioneering leaders from related fields to exchange ideas and publish their insights for a diverse audience on Newsweek.com.
Meet six of the founding members of Newsweek Expert Forum, and learn more about becoming a member.
Arturo Elizondo, CEO, Clara Foods
Arturo Elizondo and his co-founders started Clara Foods with a bold objective: to solve the world's food production problems by creating animal protein — without using any animals. The company has developed a fermentation technology to transform yeast and sugar into egg proteins that can be used for baking products, food and beverage ingredients, pharmaceuticals and nutritional supplements.
Arturo, a passionate vegan, is an alumnus of Harvard University and was named the 2019 National Hispanic Institute Person of the Year.
Lakrisha Davis, CEO, NextUp Resume
Lakrisha Davis is an entrepreneur, career coach, author and speaker. A former talent recruiter with an MBA in human resources, Lakrisha decided to advocate for job candidates instead of hiring companies after witnessing discrimination in the recruiting process.
Lakrisha's company, NextUp Resume, uses storytelling techniques to craft personalized resumes, cover letters and bios that help connect job seekers' experience and passion to their desired position. Through individual coaching, business mentorship, corporate training and workshop facilitation, she has helped thousands of professionals land job offers and negotiate salary increases.
Raven Baxter, Science Communicator, Raven the Science Maven
Raven Baxter, a.k.a. Raven the Science Maven, is a molecular biologist and STEM educator who combines her science expertise with her creative talents to make hip-hop, STEM-themed songs and music videos that appeal to kids and adults alike. Raven, who is working on her Ph.D. in science education and has master's and bachelor's degrees in biology, is a lifelong advocate for diversity and inclusion in STEM fields.
She is the founder of Black In Science Communication, an organization that offers community and support for Black science communicators, and Science Haven, which supports initiatives such as STEMbassy, a science and technology web series. Raven has worked as a biology professor, an academic program director and a cancer researcher. In 2020, she was recognized on Fortune Magazine's 40 Under 40 list.
The Newsweek Expert Forum
is a private, vetted community where pioneering thinkers and industry leaders go to share their insights on business, culture & arts, health, money, science, sports, travel & lifestyle, and technology.
Do I qualify?
John Butler, President, Founder and CEO, Quantumcyte, Inc
When a patient receives a biopsy to determine whether or not they have cancer, the test results are often inconclusive, slowing down the diagnosis process and potentially limiting treatment possibilities. John Butler's biotech company, Quantumcyte, has developed a molecular profiling platform designed to help researchers analyze and understand a patient's cancer on an individual level. The platform uses AI to automate the analysis of tissue samples, leading to faster and more accurate results, and more clarity on treatment options for patients and doctors.
John has more than 25 years of experience in research, development and manufacturing , with a focus on developing biotechnology. He holds master's and bachelor's degrees in biology.
Natasha Bansgopaul, COO, Konstellation
Natasha Bansgopaul is the co-founder and COO of the alternative investment platform, DarcMatter. In 2014, the company launched a division called Konstellation, which focuses on eliminating inefficiencies and building transparency in the financial services industry through blockchain technology.
Before joining the founding team of DarcMatter, Natasha had leadership roles in marketing and strategy at PepsiCo and Return on Change. At PepsiCo, she created the company's first "innovation incubation" department, where she worked with startups and managed innovation launches and projects. Natasha has an MBA in marketing, entrepreneurship and strategic leadership from The Pennsylvania State University and is a 2021 White House Presidential Innovation Fellow.
Lori McGee, Partner, Jetstream Aviation Law
Lori McGee is a pilot, mechanic and attorney who blends her unique expertise to help companies and high-net-worth individuals acquire and manage ownership of corporate jets. While Lori was studying for her B.S. in aviation technology at the University of Central Missouri, she worked as a law clerk at a firm with Michelle Clark, who would later become her partner at Jetstream Law. Lori kept her job as a clerk while she pursued her JD at the University of Missouri Kansas City School of Law, then worked at the same firm as an attorney for nine years.
As a partner at Jetstream Law, Lori supports clients with regulatory compliance, federal and state tax, financial and insurance issues.