'Get Out': Hurricane Laura Storm Surge 'Not Survivable,' NWS Expert Says, Urges Evacuations
Storm surges from Hurricane Laura are similar to those experienced during Hurricane Katrina, making it imperative that people who are ordered to evacuate do so before the storm hits and it's too late to get to safety.
Set to hit Louisiana as a Category 4 hurricane on Thursday morning, Laura is expected to bring with it strong winds and heavy rain. Storm surges could reach 20 feet in areas from Johnson Bayou, Louisiana, to Rockefeller Wildlife Refuge, and other parts of the state and eastern Texas could see water heights surge to 15 feet.
"It's really just unimaginable numbers and certainly not survivable in some locations so we really hope people are evacuating and doing everything they can to get out if they haven't already," Joel Cline, a tropical program coordinator for the National Weather Service, told Newsweek.
More than 385,000 Texas residents were ordered to evacuate their homes in Beaumont, Galveston and Port Arthur and an additional 200,000 people in Calcasieu Parish, Louisiana, alone were under a mandatory evacuation order. Officials in Cameron Parish, where Johnson Bayou is located, Jefferson Parish, Lafourche Parish and Terrebonne Parish issued mandatory evacuation orders for residents, as well.
Louisiana Governor Jon Bel Edwards warned residents that the storm isn't something to take lightly and said it could hit the state with the same force as Hurricane Rita in 2005. However, the timing of the storm sparked memories of a hurricane that hit about a month before Rita. Hurricane Katrina struck Louisiana as a Category 3 on August 29, 2005, 15 years and two days before Laura is expected to make landfall.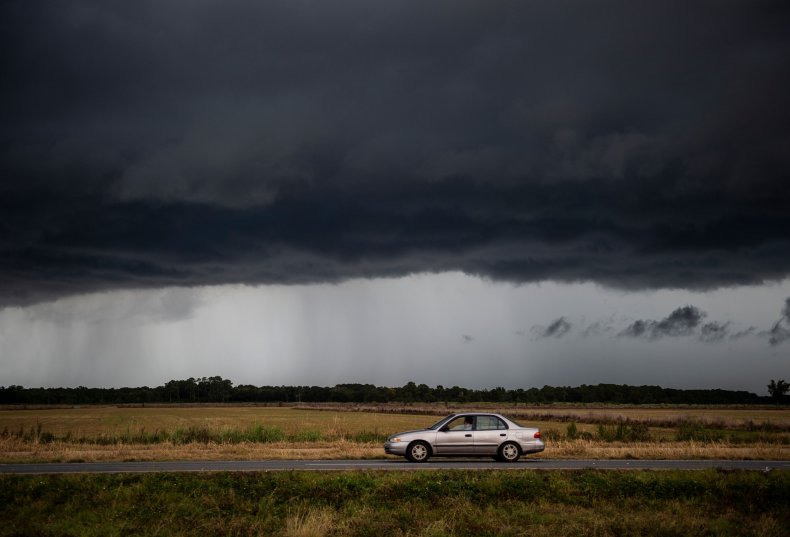 Widespread failures of tide gauges and the fact that most buildings along the coast were destroyed in the storm, leaving only a few structures for officials to identify watermarks on, complicated the National Hurricane Center's ability to determine a precise measurement of the storm surge Louisiana experienced during Hurricane Katrina, according to a report. Despite those challenges, data indicated parts of Louisiana, such as New Orleans, St. Bernard Parish and Plaquemines Parish, had a storm surge of up to 19 feet. Along the Mississippi coast, it reached up to 28 feet.
"The massive storm surge produced by Katrina, even though it had weakened from Category 5 intensity the previous day to Category 3 at landfall in Louisiana, can be generally explained by the huge size of the storm," the NHC report said.
On August 29, 2005, Katrina's hurricane-force winds extended about 86 miles from the center, according to the report, and as of Wednesday, Laura's hurricane-force winds extend about 70 miles.
Hurricane categories are determined by wind strength, although, it's often the storm surge that is the "greatest threat to life and property," according to the NHC. It only takes about six inches of fast-moving water to knock an adult over and two feet can carry away most vehicles. Large areas can be flooding within minutes, making the need to evacuate early potentially the difference between life and death.
Every storm is "different," Cline said, but as far as storm surge is concerned, "what occurred in Katrina and what is forecast in Laura are very similar numbers."
"People must leave if told so today without hesitation as the surge will come well before the winds and rain," Cline said.