'Get Out!' 'Seinfeld' Is Coming to Netflix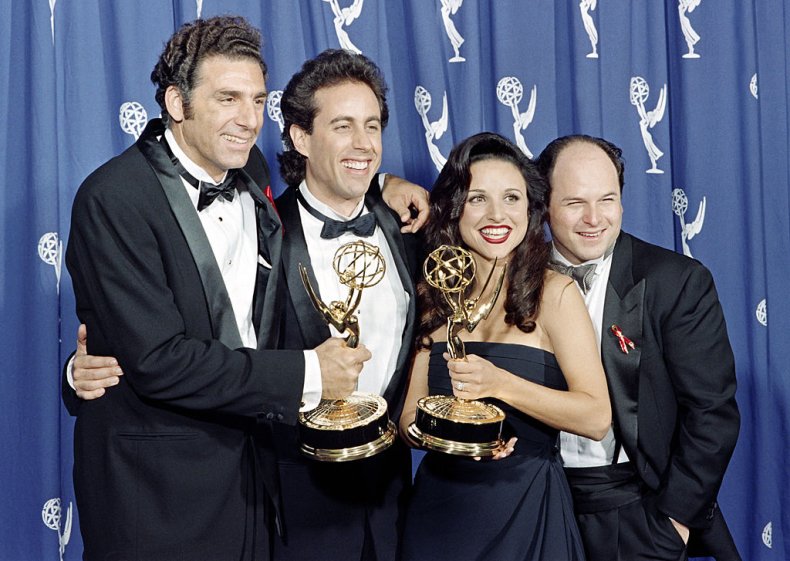 Don't yell "GET OUT," at us, we're just reporting the news: Netflix just acquired the global streaming rights to Seinfeld. It's a bit of a win for the streaming platform after months of news about popular shows like The Office and Friends leaving Netflix.
"Seinfeld is a one-of-a-kind, iconic, culture-defining show," Mike Hopkins, chairman of Sony Pictures Television, said in a statement to the Los Angeles Times. "Now, 30 years after its premiere, Seinfeld remains center stage. We're thrilled to be partnering with Netflix to bring this beloved series to current fans and new audiences around the globe."
Acquiring the rights to a show as popular as Seinfeld isn't cheap. Hulu, primarily owned by Disney, currently holds the rights to exclusively stream Seinfeld in the U.S. Hulu scored a five-year deal to stream the series, paying $150 million a year to do so. That deal expires in 2021. It isn't yet known how much Netflix will pay to stream the sitcom, but it's safe to say that figure could near $1 billion.
"Seinfeld is the television comedy that all television comedy is measured against," Netflix's chief content officer Ted Sarandos said in a statement about the new deal. "It is as fresh and funny as ever and will be available to the world in 4K for the first time."
Netflix won the bidding war to stream the sitcom over the other major platforms, including Hulu, Amazon and NBCUniversal. It's a bigger blow to NBCUniversal, considering Seinfeld is one of NBC's biggest sitcoms and would have been a perfect patch for the peacock networks new streaming platform, set to debut in 2020.
The deal reached with Netflix and Sony Pictures Television—who controls distributions rights for Seinfeld–secures the sitcom to stream exclusively on Netflix, both domestically and in foreign markets, for five years starting in 2021.
Netflix, who largely created the streaming game, hasn't had a lot of wins as of late, what with other companies getting into the streaming business. The top three streamers, Netflix, Hulu and Amazon, used to control the vast share of streamed sitcoms, with Netflix spending vast sums of money to make it the home of binge-TV viewing. But seeing potential—and likely lost revenue–other companies are getting into the mix as well, primarily Disney, HBO and NBC.
Netflix lost the streaming rights to The Office, one of the platform's most-watched shows, to NBCUniversal earlier this year. It will start streaming on NBCUniversal's new platform next year. Additionally, Netflix lost the streaming rights to Friends, another of their most-watched shows, which will move to WarnerMedia's new streaming platform, HBO Max.
Seinfeld, created by Jerry Seinfeld and Larry David, ran on NBC for nine seasons and won multiple Emmys, including for Outstanding Comedy Series in 1993. In addition to streaming, it lives on in syndication on numerous networks.