'Getaway Driver' Contestant Comes Full Circle With Appearance on Discovery Channel Show
Stunt driver Nick Ward takes the wheel in next week's edition of Getaway Driver, a Discovery Channel series hosted by Fast & Furious franchise actress Michelle Rodriguez and rally champion Wyatt Knox. Ward's chance to take home a cash prize is one part of a wild ride that started over a decade ago in a small town in North Georgia and came full circle with Getaway Driver filming not far from where he grew up.
Like many budding mechanics, Ward began tinkering with golf carts and four-wheelers when he was a teenager. As he got older, he began buying junk cars for $200 to $300, would spend some time working on them to make them run and then put them to the test on a self-constructed rally cross circuit until they were unsalvageable.
After a while, with no truly competitive rally circuit in the area available for Ward to hone his skills, he turned his attention to drifting and began working as a mechanic in a shop focused on the sport. That spiraled into a career that saw him splitting his time between driving professionally, working at a Ferrari dealership, and getting into business with friends Ryan Kaufman and Charlie Fallon on a custom electric go-kart business known as much for its wild videos as its products.
Taxi Garage blends together the trio's years of mechanic and sales expertise with a unique product that allows buyers to get behind the wheel of a vehicle that is capable of drifting without having to spend big on a new car. The Taxi Garage media presence spans Facebook, Instagram, and YouTube where thousands watch the company's activities, many of those motorsport enthusiasts also follow Ward's personal feeds.
In 2019, member of the Getaway Driver production team slid into Ward's Instagram DMs asking if he would be interested in the possibility of being part of a reality TV series that was premised around being a getaway driver that runs away from the police. At first, Ward thought it might be a scam but decided to go with it and responded in the affirmative.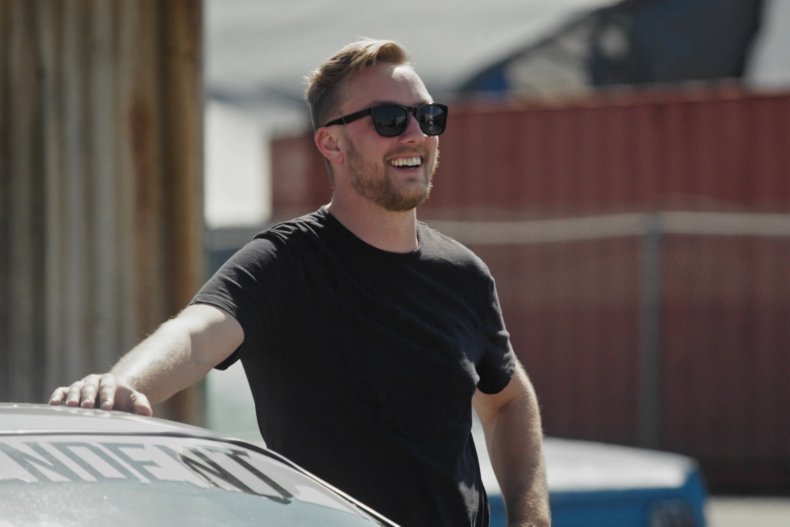 After going through the usual stages of casting interviews and waiting months between each stage, Ward gained a spot on the show, but not before the premise for the show's plot had been changed to what it is today.
The inaugural season of the show features eight episodes and 24 hot shot racers of varying backgrounds. Each episode pits them against each other, the clock, and pursuers as they attempt to successfully navigate a 60-acre compound filled with obstacles. Discovery Channel press releases describe the show as "part Baby Driver, part 'Grand Theft Auto'".
Because of the COVID-19 pandemic, filming for the series was pushed back until August 2020, then February 2021. Even when he arrived in Georgia from his home base of Ft. Lauderdale, Florida, Ward wasn't completely sure the show would be able to film. Contestants were quarantined and tested multiple times, sitting in their hotel rooms waiting for their turn.
When the filming day arrived Ward headed to the Augusta, Georgia set only to find that the shooting location was less stage and scenery, and more genuine old chemical factory on the banks of the Savannah River with minimal window dressing. Describing it, Ward told Newsweek, "They staged [the scene] a bit but all of [the competition] is very real. No one was sandbagging. No one was coached. You were there, you were there to drive and you were there to win."
All of Ward's episode, which airs August 9, was shot in one long day that started at 8 a.m. and ran until midnight. He, and the other contestant, worked alongside Rodriguez and Knox, two figures that helped shaped Ward's love of all things automotive from a young age.
Ward describes Knox, the star of many YouTube videos he has watched on repeat over the years, as "an animal in a car" saying that, "Being there and working alongside them and having them giving you props... was really cool."
"Michelle is as cool as she has the persona of being. She was fantastic. She was far better as I expected her be," said Ward.
Like the other episodes in the series, Ward's involves two tracks and three drivers all vying for the top prize. Their high intensity successes and failures play out with only one driver able to take the win.
The series, which can also be viewed on Discovery+ wraps up later this summer. A decision on the show's renewal for a second season has not been made public at this time.