Gettr Is Rolling Out the Red Carpet for 'Absolute Legend' Comedian Rob Schneider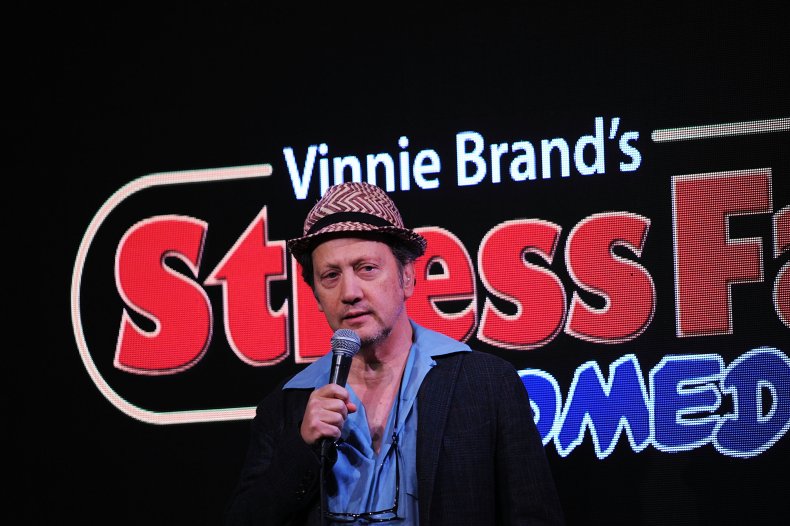 Jason Miller, an ex-adviser to former President Donald Trump, has hailed comedian Rob Schneider as an "absolute legend" for joining Miller's social media site Gettr.
Schneider, who has promoted right-wing political causes and anti-vaccination activism since his days as a Saturday Night Live cast member, joined the conservative network earlier this month. Miller lauded Schneider in a Gettr post on Thursday, congratulating him for experiencing "freedom" while including hashtags referring to his comedy career.
"Yes!!! @RobSchneider is here on #GETTR!!!" wrote Miller. "Thank you for your patience, Rob, and welcome to freedom! You're an absolute legend! #Richmeister #McStingster."
Newsweek reached out to Schneider for comment.
Conservatives have recently flocked to Gettr over perceptions that they are being unfairly discriminated against on mainstream platforms. One notable holdout is Trump, who was banned from Twitter over the Capitol riot last year and still plans to launch his own Truth Social media platform.
Miller recently explained that the former president did not join his site despite him offering a nine-figure payment, although he said that he "wouldn't rule out" Trump joining Gettr later. Trump is expected to launch Truth this Presidents Day, Feb. 21.
Representative Marjorie Taylor Greene (R-Ga.) told "every Republican" to leave Twitter for good and join conservative platforms instead earlier this month after her personal Twitter account was banned. Her alternate official account resumed tweeting within days but Greene later insisted that the account was operated by her staff, reiterating her call to leave Twitter and saying that she would "NOT comply with communism."
Schneider announced that he was joining Gettr in a tweet on Jan. 4. His Twitter account is still active. Most of Schneider's Gettr posts appear to be directly taken from his Twitter account, with many lacking context because they are commenting on tweets that are not also shared across the platforms.
When Miller praised Schneider for joining his site, he was commenting on a message featuring the Abraham Lincoln quote "we are not enemies, but friends," which the comedian had posted to both Twitter and Gettr.
Not all of the reactions to the post praising Schneider were positive, although the negative reactions targeted Miller rather than Schneider. One comment called Miller "a projab donkey-tailed censorer," while another accused him of banning "conservatives who dont go along with his far left chinese zionist agenda."
During a 2013 PolitiChicks interview, Schneider said that he had been "a lifelong Democrat" but had to "switch over" to become a Republican because "California is a mess." He also endorsed GOP gubernatorial candidate Tim Donnelly, who went on to finish a distant third in the state's primary election.
Unlike many other conservatives, Schneider's anti-vaccination views began far before the emergence of COVID-19 vaccines. Prior to publicly announcing his party change, he spoke alongside Donnelly at a 2012 anti-vaccination event.