Getty Fire Map: Brush Fire Breaks Out Near Getty Center Museum, Evacuations Ordered
Los Angeles Fire Department (LAFD) officials ordered residents to evacuate their homes after a brush fire ignited near the Getty Center museum in Los Angeles on Monday.
Early Monday morning, the LAFD reported a "very dynamic fire" broke out on the west side of the 405 Freeway. Officials issued a number of mandatory evacuation orders and urged all residents in the area to remain vigilant and said those under an evacuation warning should be ready to leave at a moment's notice.
In the days leading up to the fire, which was dubbed the Getty Fire, California firefighters battled more than nine other incidents in the state. More than 40,000 residents across the Golden State were ordered to evacuate, with officials imploring people to take the threat seriously because strong Santa Ana winds could cause the flames to rapidly spread.
The winds persisted into Sunday night and the National Weather Service (NWS) put Los Angeles County under a fire weather watch. NWS officials had "increasing confidence" the new Santa Ana wind event could be greater than the last and it had the chance of producing the strongest winds of the fall season. Strong winds, combined with forecasted low humidity could fuel current fires and cause additional flames to ignite.
As of 7:45 a.m. EDT, the LAFD reported the Getty fire was 250 acres large and moving in a westward direction. Mandatory evacuation orders were in place for the entire area from Mulholland Drive in the north, Chautauqua Boulevard down to the Pacific Coast Highway in the south, the 405 Freeway in the east and Sullivan Fire Road in the west. This area included an estimated 3,300 homes, LAFD Public Information Officer Erik Scott said during a press conference.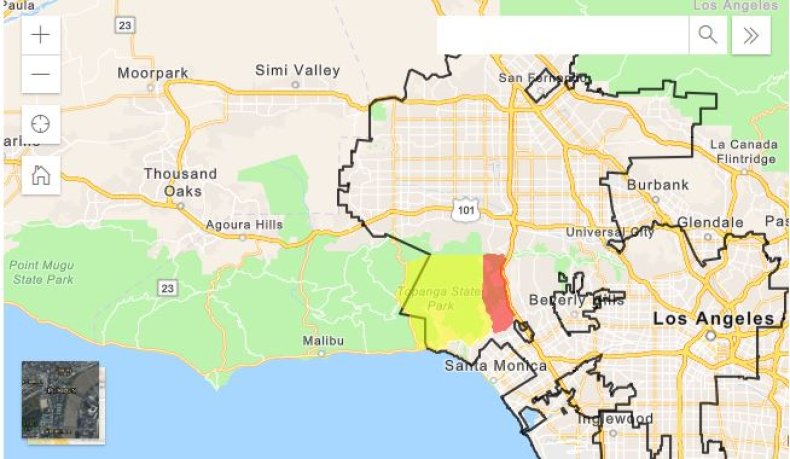 A larger area of residents was under an evacuation warning, which included everyone between Topanga Canyon in the west and Sullivan Fire Road in the east from Mulholland Drive down to Sunset Boulevard.
Two evacuation centers, located at the Westwood Recreation Center and the Van Nuys/Sherman Oaks Recreation Center, were set up for people who had to leave their homes. Two additional evacuation centers were established at the West Valley Animal Shelter and West Los Angeles Animal Shelter for pets who were threatened by the fire.
As of Monday morning, Scott said the LAFD had visual confirmation that at least two structures were burning. At the time of the press conference, Scott said the Getty Center, a campus that includes the Getty art museum, located off the 405 Freeway, was not threatened. However, the museum was closed on Monday due to the fire.
"Fortunately, at this point, there are no injuries," Scott told reporters.