Getty Museum Was Built to Withstand Fires so Officials Aren't Worried About Art Damage: 'Embers Aren't Going to Get in'
The Getty fire in California is burning the fringes of the Getty Center property, but an official told Newsweek the museum wasn't concerned about its priceless works of art being damaged by the flames. The architecture and the landscaping were designed with fire prevention in mind.
"This is one of the safest places for art," Lisa Lapin, vice president of communications for the Getty Trust told Newsweek. "Walls and rooftops are stone or metal so embers aren't going to get in."
Around 1:30 a.m. PDT on Monday morning, a brush fire ignited along the 405 Freeway in Los Angeles near the Getty Center, a campus that includes the Getty museum, conservation and research institutes and foundation. Within hours, the fire grew to over 500 acres, at least five homes were damaged and officials ordered mandatory evacuations.
The Los Angeles Fire Department (LAFD) officials credited the fire's rapid spreading to high winds, an issue that threatened large portions of the state. On Sunday, the National Weather Service (NWS) issued another round of red flag warnings and fire weather watches for California counties, including Los Angeles. Low humidity coupled with high Santa Ana winds and dry vegetation is a prime situation for wildfires to spark and spread.
"It's a dangerous season right now," Los Angeles Fire Department Chief Ralph Terrazas said during a press conference. "Santa Ana winds pick up historically in September and last through April. We have not had any significant rainfall for a period of time. So, that's why we're very, very concerned about these weather conditions."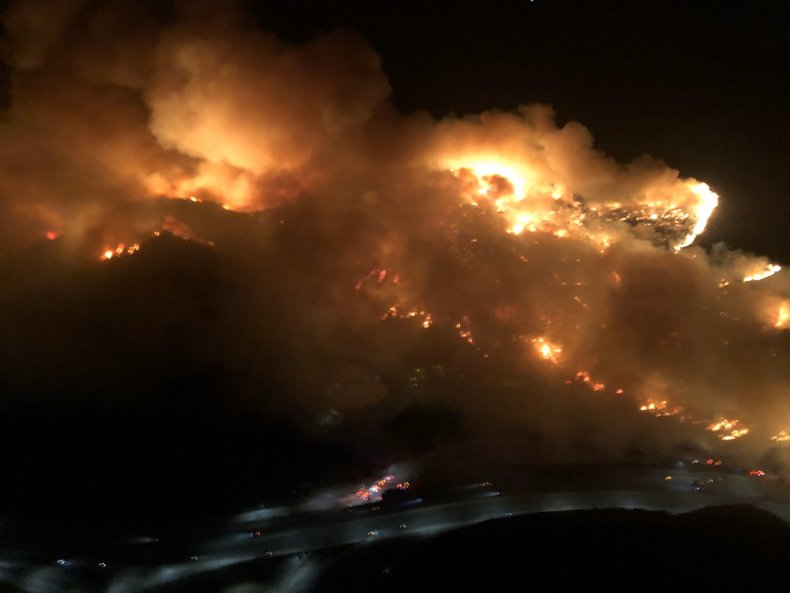 Aptly dubbed the Getty fire due to its proximity to the Getty Center, which houses a collection of masterpieces by artists such as Vincent Van Gogh, Rembrandt Harmenszoon van Rijn and Leonardo da Vinci, Lapin told Newsweek that by 8:30 a.m., the fire was on the fringes of the property. This didn't cause concern for the art, though, as the center was built to withstand the threat of fire.
"That was one of the incentives of the architect," Lapin said. "Some of [the design] was for the aesthetic and some of it was for fire prevention."
The buildings are made of stone and metal, two fire-retardant materials, there's extensive open space around the structures to slow or stop the fire, and the landscaping is well irrigated through the on-site water tanks to prevent embers from sparking. The Getty Center can also seal off the ventilation system to prevent smoke from reaching the collection, which is kept secure inside double walls.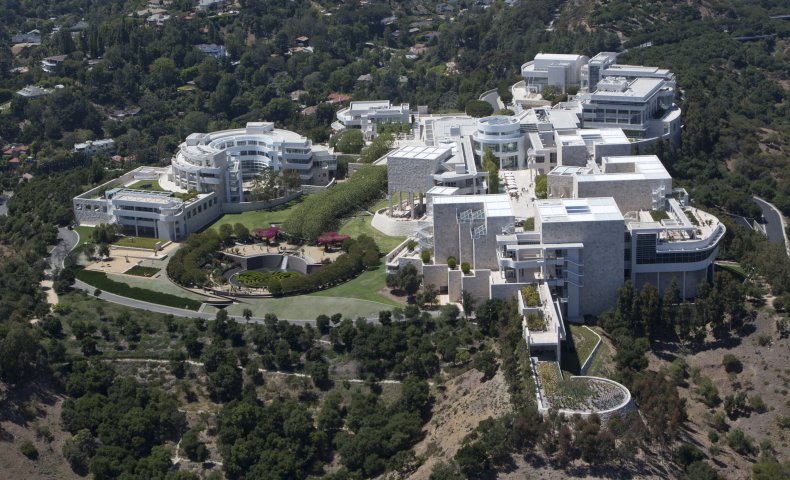 To prevent loss of human life, mandatory evacuations were ordered for more than 10,000 structures and other residents were cautioned to prepare to leave at a moment's notice. While residents left the area, more than 600 firefighters worked to save people's homes and Los Angeles Mayor Eric Garcetti applauded their heroic efforts.
Terrazas noted it wasn't the first fire his crew has had to deal with this season, either. California experienced its deadliest and most destructive wildfires in 2017 and 2018 and so far, in 2019, there have been 5,819 fire incidents and more than 162,000 acres burned, according to the California Department of Forestry and Fire Protection (Cal Fire).
Along with ground personnel, the LAFD, in conjunction with other agencies, deployed a number of air tankers and helicopters, including assigning some to the Getty Center. Lapin said they were doing "drop after drop" of water and fire retardant. She credited crews for being "amazing," and said they were "taking very good care of us."
While Lapin was confident the Getty Center would be "just fine," she said the organization was concerned about their neighbors, who don't have the advantage of being on the top of a hill.
"We feel terrible there's going to be a loss of homes," Lapin said. "It's really tragic."