Getty Fire Evacuation Map: Eight Homes Destroyed, More Than 10,000 Structures Under Orders to Get Out
Within hours of California's Getty Fire first sparking, eight homes were destroyed and officials expanded the mandatory evacuation area, which included more than 10,000 structures.
"They were literally overwhelmed," Los Angeles Fire Department (LAFD) Chief Ralph Terrazas said of the firefighters on the scene, while speaking during a press conference. "They had to make some tough decisions on which houses they were able to protect. I saw homes that were adjacent to homes that were totally destroyed, without any damage."
Early Monday morning, a brush fire ignited along the 405 Freeway in Los Angeles, and its proximity to the Getty Center earned it the name Getty Fire. Officials quickly ordered people to evacuate, and the area of mandatory evacuations grew to include parts that were previously under an evacuation warning.
After experiencing in 2017 and 2018 the deadliest and most destructive wildfires in state history, Californians once again saw the dangers that a mixture of weather conditions could present. Areas of the Golden State, including Los Angeles, were under red flag and fire watch warnings, intended to alert residents that low humidity and high winds presented the ideal combination for wildfires.
"When the wind comes, if it picks up an ember and blows it in the wrong place, we could have another fire starting," Terrazas explained.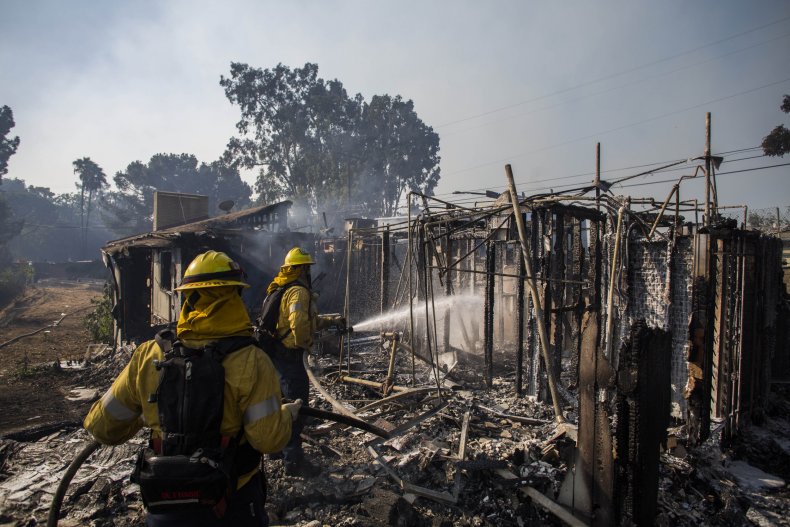 In the past, people like Brody Jenner, whose experience was aired in part on the TV show The Hills: New Beginnings, have defied evacuation orders in an attempt to save their homes by keeping the structure wet. Around 7:30 a.m. PDT, Los Angeles Mayor Eric Garcetti told residents in no uncertain terms that staying to fight was not the proper course of action.
"We've seen fires and tragedies where people have believed they could stay in place, where they thought they could fight the fire, be a hero themselves, take out their garden hose. Do not do that," Garcetti said. "The only thing you cannot replace is you and your family. Get your loved ones, your pets and get out."
Mandatory evacuation orders were expanded to include anyone located between Temescal Canyon Road to the west and the 405 Freeway to the east, and Mulholland Drive in the north and Sunset Boulevard in the south.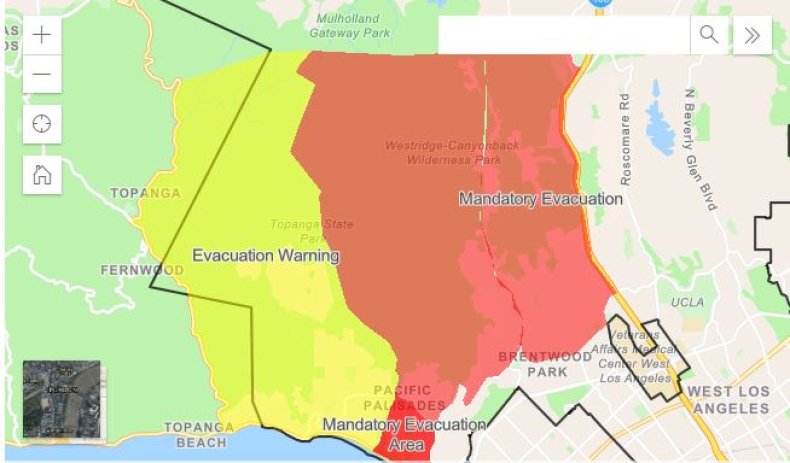 Additional residents were under an evacuation warning, meaning they were not required to leave but needed to make preparations in case they were told to evacuate. The evacuation warning area covered those within the borders of Topanga Canyon in the west, Sunset Boulevard in the south, Mulholland Drive in the north and Temescal Canyon Road in the east.
People and small animals who were forced from their homes were able to find shelter at one of five evacuation centers located at the Westwood Recreation Center, Van Nuys/Sherman Oaks Recreation Center, Stoner Recreation Center, Palisades Recreation Center and Cheviot Hills Recreation Center. People could bring animals to the West Valley Animal Shelter and West Los Angeles Animal Shelter, and large animals to the Hansen Dam Recreation Area.
During the press conference, Los Angeles City Council member Paul Koretz echoed Garcetti's sentiments about evacuating. He called everyone who was watching the press conference from their home in the mandatory evacuation area an "idiot."
"Get the hell out. It's way too dangerous," Koretz said. "People that stay behind are just endangering themselves and not helping."
As of Monday at noon PDT, the fire was 618 acres in size, and Santa Ana winds were driving it in a westward direction, according to the LAFD. Garcetti said during the press conference that officials were getting close to determining the cause of the fire.
The graphic below, provided by Statista, illustrates the growing cost of fighting the wildfires over the years.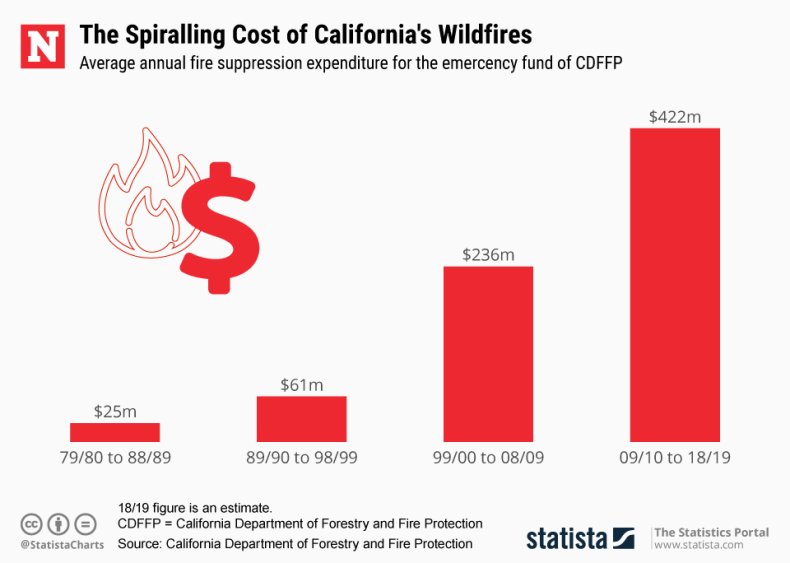 This article was updated to include an infographic.