Getty Fire Update: More Homes Damaged as Firefighters Slow Spread, 'Gusty Winds' Could Pose Threat
The Getty Fire has destroyed and damaged multiple homes, but by Monday evening, firefighters were able to prevent the flames from spreading. However, strong incoming Santa Ana winds could derail their progress.
While most of Los Angeles was still asleep early Monday morning, a brush fire, later dubbed the Getty Fire, broke out along the 405 Freeway. Hundreds of firefighters were assigned to battle the flames, which claimed eight homes and damaged six others by 8 p.m. PDT.
Firefighters, some of whom worked for nearly 24 hours straight, were able to prevent the flames from spreading from noon until Monday evening, when the fire remained at 618 acres. Unfortunately, strong winds were expected to arrive on Tuesday evening, potentially causing the fire to burn more rapidly and making it more dangerous and difficult to fight.
"That's why we're doing everything we can...to get ahead of this fire, to try to get all these hot spots mopped up before this wind event comes this evening," Los Angeles Fire Department Assistant Chief Jaime Moore told KTTV on Tuesday morning.
Santa Ana winds were forecast to reach up to 80 miles per hour in some mountainous areas of Los Angeles on Tuesday evening and last through Thursday morning. Officials said the wind event could be one of the most powerful in years and, combined with low humidity, could create the ideal situation for wildfires to ignite and spread.
Strong Santa Ana winds previously facilitated the growth of the Camp Fire, one of California's largest wildfires in 2018. The flames burned through 153,336 acres, destroyed almost 19,000 structures and took 85 lives before it was fully contained, according to the California Department of Forestry and Fire Protection (Cal Fire).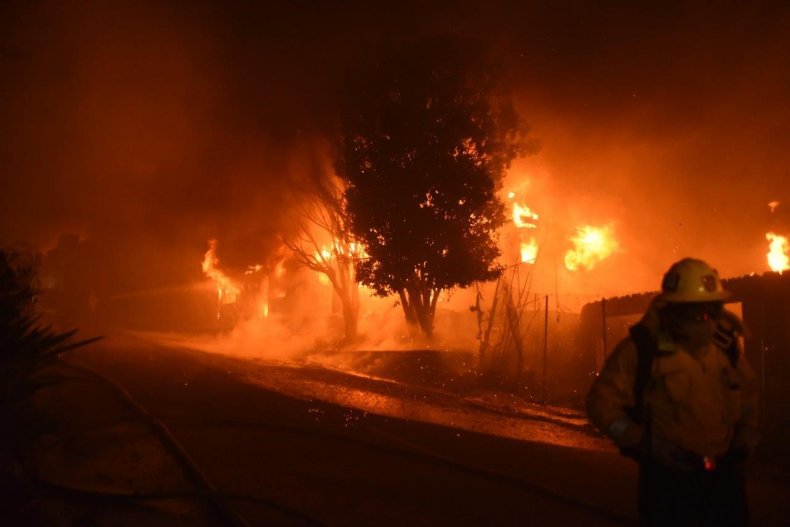 In anticipation of the strong winds, the city of Los Angeles activated Red Flag Parking Restrictions beginning at 8 p.m. on Tuesday. As the name suggests, during Red Flag days, vehicles are prohibited from parking in areas previously identified as potential "choke points." This includes very narrow roads, hairpin turns, tight curves and key intersections. The goal is to keep the area clear in case citizens have to evacuate or first responders need to work their way through the area quickly.
Along with the parking restrictions, more than 10,000 commercial and residential structures were under a mandatory evacuation order. Officials ordered mandatory evacuations for everyone within the area set by the borders of Temescal Canyon Road, Sunset Boulevard, Mulholland Drive and the 405 Freeway. The one exception to this order was the Mountaingate community, which had its evacuation order lifted.
Two evacuation shelters were established, and on Monday, Los Angeles Mayor Eric Garcetti advised residents to be prepared to be out of their homes for at least two nights. He also noted that people who were able to return to their homes could be ordered to evacuate again once the Santa Ana winds pick up.
As of Monday evening, the fire was 5 percent contained, and Los Angeles Fire Chief Ralph Terrazas said firefighters were making "good progress" toward full containment.