#GetWellSoonJimin Trends after BTS Singer Shown Covered in Patches
The #GetWellSoonJimin hashtag started trending on Twitter on Monday after images of Jimin showed the BTS singer covered in patches.
The pictures, posted to social media, showed the 23-year-old K-pop star arriving at Incheon International Airport in South Korea. In the images, the singer, disguised by a black mask covering his face and wide-brimmed black hat, has patches on his lower back, chest and the back of his neck.
The images immediately led to speculation from BTS fans as to what the patches could mean, with many believing the bandages to be evidence that the singer is exhausted and in pain.
One person wrote "take care of yourself jimin...don't overwork yourself please," while another stated "Let our boys rest for a bit...Jimin you always do your best. No need of pushing yourself this hard."
Another person posted: "jimin is so young and dealing w all this pain. i hope he gets to properly rest and heal during his 5 days off. but the sad thing is any progress his body makes in healing will b ruined when he performs again. bighit needs to let all the boys rest."
The patches appear to be elastic therapeutic tape, or Kinesio tape, an adhesive elastic cotton strip that is used to treat muscle pain from athletic injuries. Developed by Japanese chiropractor Dr. Kenzo Kase in the 1970s, it has become increasingly popular with sports stars wanting to prevent and alleviate sporting injuries.
But medical studies have found no scientific evidence of usage of the tape proving beneficial. In 2018, Science-Based Medicine wrote:
"The claims made by manufacturers and promoters of the tape are highly implausible, particularly those involving increased muscle strength, improved blood flow to an injured area, and better lymphatic drainage to reduce swelling. No evidence supports these claims. Pain reduction and injury prevention are also frequently-cited benefits that similarly lack evidence, at least none showing an effect specific to kinesio tape."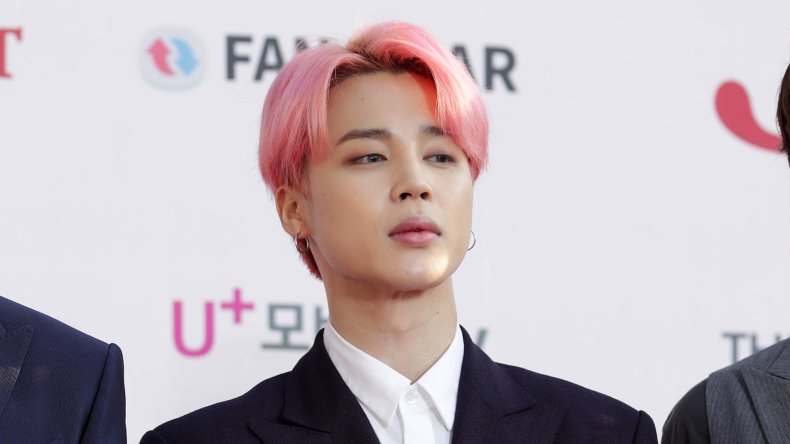 Jimin, real name Park Ji-min, pulled out of a performance in the U.K. on The Graham Norton Show in October 2018 due to severe muscle pain. A Twitter posted for the group's record label, Big Hit Entertainment, wrote: "We regret to announce that one of the members of BTS, Jimin, will not be able to take part in the recording of the band's appearance on the Graham Norton Show."
"On the morning of the day of the recording, Jimin began suffering from severe muscle pain in his neck and back, and received medical attention," the statement added.