The debate about race following the killing of George Floyd has reverberated across the Atlantic Ocean, spurring the tourism minister of Ghana to appeal to its diaspora, including in the U.S., to "leave where you are not wanted," and return home.
A ceremony marking the death of Floyd was held at the W. E. B. Du Bois Memorial Centre for Pan-African Culture in the capital Accra during which Barbara Oteng Gyasi made the plea that her country is open to those fleeing racial tensions.
"We gather in solidarity with brothers and sisters to change the status quo. Racism must end. We pray and hope that George Floyd's death will not be in vain but will bring an end to prejudice and racial discrimination across the world," Oteng Gyasi said, according to Ghana Web.
"We continue to open our arms and invite all our brothers and sisters home. Ghana is your home. Africa is your home. We have our arms wide open ready to welcome you home.
"Please take advantage, come home, build a life in Ghana. You do not have to stay where you are not wanted forever, you have a choice and Africa is waiting for you," Oteng Gyasi added after a wreath-laying ceremony last Friday.
Ghana is in the region at the hub of the trans-Atlantic slave trade, and in 2019, it marked the 400th anniversary of the first documented arrival of slaves from West Africa in America with an initiative called Year of Return.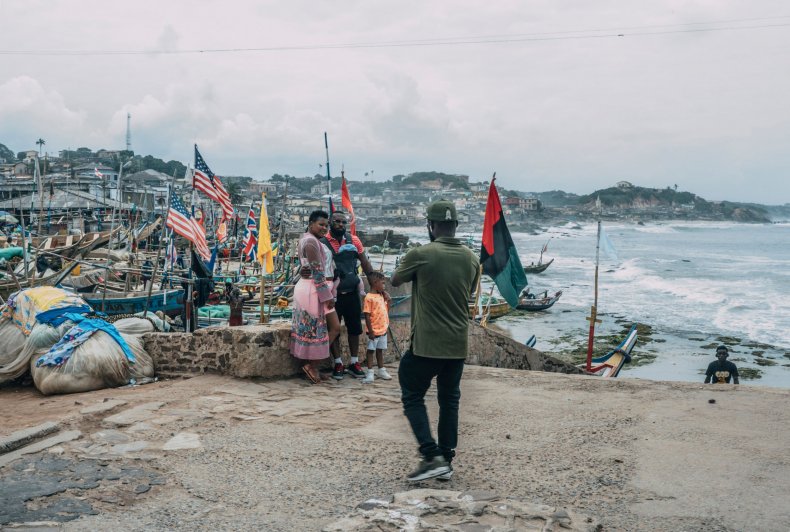 The economy got a boost as people flocked to the country for a number of cultural events, such as the music festival AfroChella, to mark the anniversary.
The government in Accra is building on that momentum with another initiative called "Beyond the Return" which aims to encourage investment in Ghana.
"We feel that given the wealth that African Americans and black Americans have, given that spending power, travel budgets of blacks in America, we felt that it's about time that we start that conversation that, instead of moving to any other destination, come back to where you came from," Akwasi Agyeman, CEO of Ghana's Tourism Authority, told NBC this week.
There was a sartorial and cultural connection between the heart of U.S. politics and Ghana this week as Democrats proposed legislation to reform the police in the wake of Floyd's death.
Lawmakers including House Speaker Nancy Pelosi wore scarves made from a cloth of colorful geometric Ghanaian designs called kente which had been given to them by the Congressional Black Caucus.
"The significance of the kente cloth is our African heritage and for those of you without that heritage who are acting in solidarity," Karen Bass, chairwoman of the Congressional Black Caucus, said, according to the BBC.
Meanwhile, the appeal by the Ghanaian government to its diaspora from across the Atlantic Ocean is likely to get stronger.
Lakeshia Marie Ford started coming to Ghana in 2008 as part of a study abroad program through her alma mater, Spelman College in Atlanta, Georgia. She has lived in the country permanently for five years and is founder of the Accra-based public relations company Ford Communications.
"In terms of identity, I felt freer in Ghana. As a Jamaican-American woman, there were so many cultural similarities," she told Newsweek.
"Having that foundation as a 20-something year old allowed me to pay attention to the environment and look at how I can add value to the space, as opposed to fighting racism, as I would probably be doing in the United States."
Attracted by a fast-pace emerging economy, she said that people can bring to life dynamic ideas a lot quicker in Ghana than in the United States.
"An emerging market needs a range of skills," she said, which meant, "you can find a space for yourself regardless of the level you are at, and still make an impact."
"Africa has always been the future, and our predecessors know that well. For my generation, if we in fact answer the call to explore achieving our dreams in Africa, specifically Ghana in this case, Ghana will experience a brain gain.
"Having black people in the diaspora come to Ghana is the dream. I think it's important to also develop structures and capacities in the country to support the call.
"That effort could also include socially sensitizing Ghanaian citizens so that everyone is radically focused on the bigger picture of the commonality between Africans and African diasporans and the effort to achieve true sustainable socio-economic development for Ghana and black people who would be new residents," Ford told Newsweek.