Ghana officials announced new travel restrictions Monday as the country will fine $3,500 for every traveler unvaccinated against COVID-19 who enters the country and may refuse entry to foreigners.
The state-owned Ghana Airport Company announced Sunday that all travelers 18 years and older must be fully vaccinated against the virus in order to enter the country. It is possible for unvaccinated foreigners to be refused entry, the airport authorities said.
According to airport authorities, airlines will be given the same $3,500 fine if passengers do not fill out a health declaration form before boarding the flight to Kotoka International Airport.
Other countries have also announced new travel restrictions for international passengers after the announcement of the Omricon variant. CNN reported China won't allow international tourists for the Beijing 2022 Winter Olympics and will only be open to domestic tourists, the International Olympic Committee (IOC) said.
France banned flights from seven African regions after the emergence of the Omicron variant. The country is currently operating a traffic light system for non-vaccinated travelers. However, all travelers from outside the EU must provide a negative COVID-19 test prior to entering the country, CNN reported.
The United States recently re-opened its borders to fully vaccinated travelers on November 8. Travelers are required to have a negative COVID-19 test within three days of traveling to the U.S. However, unvaccinated travelers from countries that are not affected by the US travel bans are not allowed to travel to the country, CNN reported.
The CDC said the Omicron variant has been reported in about 22 states so far. At least 43 cases of the Omicron variant have been confirmed in the U.S. and 34 of those people are said to be fully vaccinated, Reuters reported.
Ghana airport authorities put the new restrictions in place after about 60 percent of newly reported cases in the past two weeks came from the airport.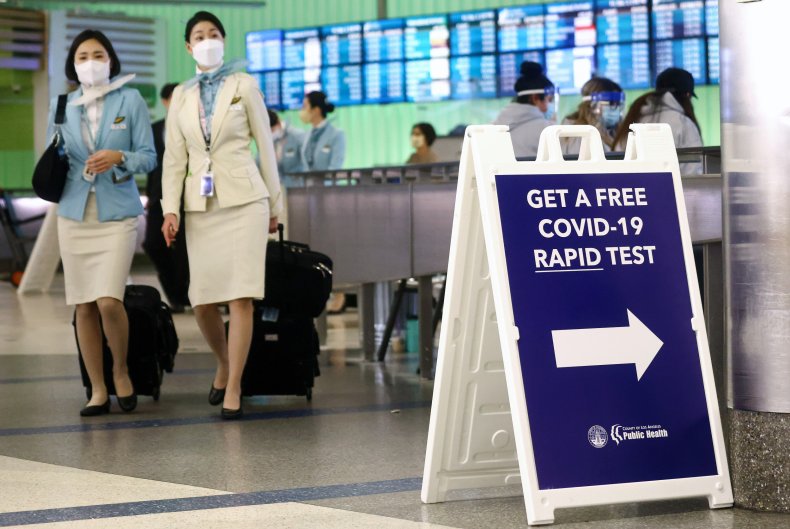 Ghana has one of the best COVID-19 testing programs in West Africa. They have about 31 million people and have had 132,000 confirmed cases and 1,243 deaths since the pandemic began.
Ghanaians who fly in without meeting the requirement will be allowed to enter the country and undergo a 14-day quarantine.
"The current increase in cases together with the detection of the Omicron variant among international arrivals and the expected increase during the festive season calls for urgent actions to prevent a major surge in COVID-19 cases in Ghana," the Ghana Health Service said last week in announcing its decision.
The Associated Press contributed to this report.