Ghana's John Dramani Mahama: Man of the People?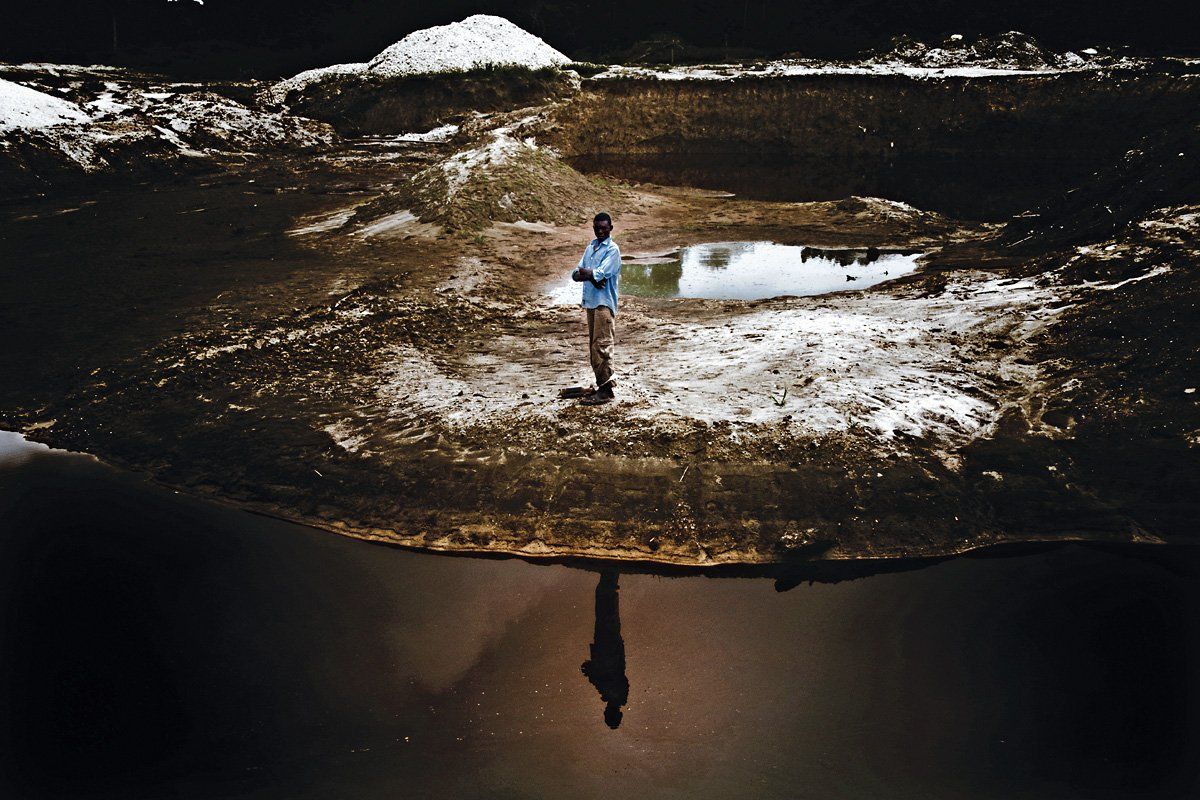 President John Dramani Mahama takes to the stage in a brightly lit room, its white walls draped in Ghanaian flags. Dressed in a loose-fitting black shirt, he delivers an address focused on the vision of his party, the National Democratic Congress (NDC). The speech is punctuated with the usual jargon characteristic of Ghana's political discourse, which centers on economic growth and development rather than the radical pan-African and socialist ideologies of the past. With Ghana's first round of presidential elections approaching on Dec. 7, Mahama has been stumping about the country in a motorcade of SUVs, rallying support for an election in which he wasn't even expected to run.
In July, Mahama—then the little-known vice president of his small West African nation—was thrown into the international spotlight after the sudden death of President John Evans Atta Mills. The constitutionally mandated transfer of power took place within a matter of hours, helping buttress Ghana's image as an exemplar of democracy and good governance on a continent where coup d'états and ethnopolitical violence tend to muster up more attention in the international media.
The image of Africa as a perennial basket case defined by war, hunger, disease, and political instability is one that Mahama is determined to change. During his first appearance before the U.N. General Assembly in September, Mahama underlined the rapid development taking place throughout the continent, for which Ghana—the newest oil producer in ­Africa—is a leader. The 21st century, Mahama said earnestly, would be "the century for Africa."
"Something spectacular is happening in Africa," he told the U.N. delegates. "Growth is taking the place of stagnation; tranquility is taking the place of turmoil; democratic governance, founded on the rule of law, is taking the place of dictatorship."
Indeed, over the next five years, Africa is expected to become the world's fastest-growing region, according to the International Monetary Fund. Seven African ­nations—including Ghana—will be among the world's top-10 fastest-growing economies, each expected to expand by more than 6 percent a year until 2015. (Ghana posted one of the globe's highest growth rates last year, though it remained largely dependent upon the export of raw commodities and on demand from China.) There has been a rise in the number of democratic governments across Africa, and last year, the African Development Bank reported that Africa's middle class expanded to 313 million people in 2010, 34 percent of the population, compared with 111 million, or 26 percent, in 1980. "Ghana is at the forefront of the major political and economic changes in Africa," says Professor Edward Miguel, director of the Center for Effective Global Action at the University of California, Berkeley, and author of Africa's Turn?
Yet for some, the country's supposedly bright future is all a matter of perspective—they say Ghana is only an exemplar because it is surrounded by poor performers, particularly in governance, says Sulemana Braimah, deputy executive director of the Media Foundation for West Africa. "It's not that we are doing really well—it's that our neighbors are doing really badly," says Braimah. "It's because there are no better examples, and where there are none, bad can be said to be good."
Mahama himself lived through bleaker days defined by poverty and political upheaval. Born in the northern town of Damongo in 1958, Mahama came of age during the "lost decades" of Africa, a period during which the optimistic vision of a continent emancipated from colonial rule was overshadowed by economic stagnation, political turmoil, and tyranny.
Mahama reflects on Ghana's political journey in his eloquent memoir, My First Coup d'Etat, which explores the "lost decades" that many Ghanaians viewed with disappointment—"feeling that life anywhere else, no matter how dangerous it was to get there or how difficult it was to live there, was better than life in Ghana." But it was also a period that "defined my life," Mahama writes in his memoir.
Mahama's father was a minister during the first republic and was jailed after the overthrow of Kwame Nkrumah, the nation's founding father and a leader who continues to be a reference point for the new president, despite dramatic changes in Ghana's political and ideological landscape. Once a young Marxist and part of a radical political cell during his years as a history major at the University of Ghana in the 1980s, Mahama writes that his stint as a student at Moscow's School of Social and Economic Sciences led him to question the socialist path and "move away from a devotion to any one ideology or archetype."
Political analysts say Mahama's edge is his "common touch" among ordinary Ghanaians, yet his résumé is rather thin: he served as a member of Parliament for a number of years for the Bole-Bamboi constituency; was appointed deputy minister for communications in April 1997, and then minister proper a year later; and served as vice president under Mills.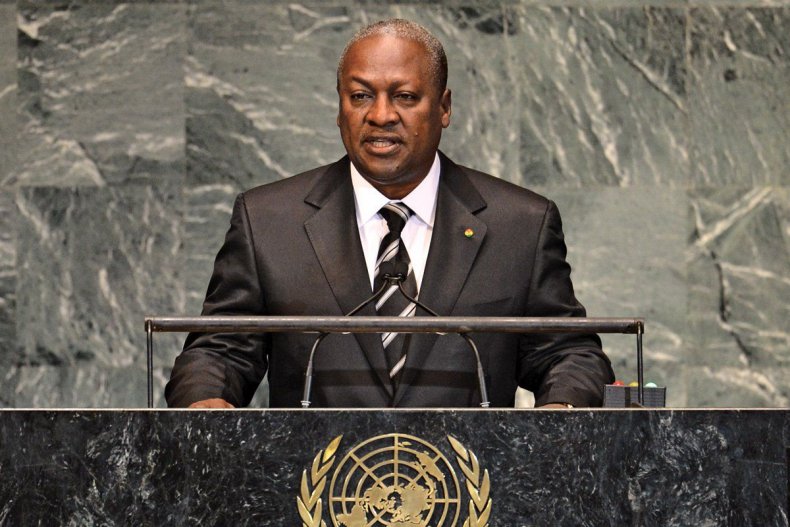 While Ghana has avoided the deeply divisive conflicts that have sent other West African nations to war, its political history has not been without tumult. The controversial and visionary Nkrumah dubbed himself "Osagyefo," which means "redeemer" in Twi, jailed political dissenters, and banned opposition parties before he was overthrown in a coup allegedly aided by the CIA. Ghana then endured five consecutive coups, drought, famine, military rule, extrajudicial killings, and vicious tribal clashes during the mid-1990s.
Finally, in 1992, the charismatic Jerry Rawlings allowed citizens to go to the polls. Now, the country is on the eve of its fifth democratic election. As in 2008, when victory was claimed by ­fewer than 1 percent of the vote, these elections are expected to be a close race. The Economist Intelligence Unit, in its October report, predicted that Mahama was the slight favorite in the December polls, but Ben Ephson, Ghana's leading independent pollster, has yet to draw any conclusions.
Rawlings, who also founded the ruling NDC party, groomed Mills as his successor and vigorously campaigned for him in 2008. This time around, Rawlings initially backed the presidential bid of his wife, Nana Konadu Rawlings, on behalf of a new breakaway party. But her candidacy was struck down by the electoral commission on the basis of incorrectly completed paperwork—and questions remain as to where her husband's political alliances lie. Rawlings has not hit the campaign trail with Mahama, but has said that he has brought a "spark" to the party and greatly improved its chances of winning.
Instead of a face-off with Nana Rawlings, Mahama will come up against political heavyweight Nana Akufo-Addo, a British-educated lawyer and politician and the standard-bearer of the New Patriotic Party (NPP), who was narrowly defeated by Mills in 2008. Akufo-Addo, who speaks with a posh British accent, is a seasoned lawmaker from a political dynasty that dates back to the independence movement. He shares a vision with Mahama of Ghana as a modern industrialized economy; their main point of divergence is on the role of the state in national development. The NPP is regarded as a more capitalist and business-oriented party, while the socialism of the old guard still has some sway in the NDC.
"I am still a socialist," Mahama said in a recent interview with Africawatch. "I am a left-of-center politician. I believe that in Africa, if you see the poverty around us, you can't afford to be anything else." But scholars like Michael Whyte Kpessa say the old political distinctions have eroded. "Ideologically, the NPP has moved to the left and the NDC has moved to the right."
Regardless of who wins, the challenges will be the same: political corruption and financial mismanagement, which activists say is widespread; rising youth unemployment; and a widening development gap between the oil-rich coast and the poor, arid north—including the capital of Accra, with its choked slums. One of them, Old Fadama, houses some 79,000 people, many of them driven by grinding poverty southward in search of greater opportunity. They pick through scrap metal, melt down electronic waste, and barter used goods and vegetables. Many hope that Mahama, who also hails from the north, will develop the region so they can return back home to their families.
Insuah Sayibu, 36, a slim tailor with striking light brown eyes, takes shade from the dry heat in his tiny shop, composed of four tin walls, and talks about his journey from Yendi to Accra. A son of farmers with three children of his own, Sayibu emigrated in search of employment 10 years ago. He slept beneath dilapidated shelters upon his arrival and after clearing timber markets of sawdust, he saved enough money to pay a tailor for training and now earns $52 a month. "I want to go back home to Yendi," he says. "If the government can help set up companies and help people set up small businesses, we could stay."
Sayibu's friend Azizu Allhassan, a bright-faced 20-year-old, came to the city to "hustle" and is training to be a steel welder. He earns $37 a month and sleeps crammed among four friends on a hard concrete floor inside a damp, dark shed. "I will vote for John Mahama because he promised us a lot," he says. "He came from the north and knows what life is like for us there."
While Ghana may still be the rising star of Africa, the stories of Allhassan and Sayibu sit alongside narratives of economic growth and progress. Both of these Ghanas are real—and soon, it may be up to Mahama to bridge the chasm between them.
Clair MacDougall is a journalist who reports on West Africa and is currently based in Monrovia, Liberia.