Amber Heard, Ghislaine Maxwell's Trial Outcomes Compared in Viral Tweet
Ghislaine Maxwell's trial has been compared to Amber Heard and Johnny Depp's as one had wall to wall media coverage, while the other went by with very few details revealed.
That's the opinion of one social media user whose take on events went viral online. Many other verified Twitter users have openly called for Maxwell's client list to be released and to expose the people she provided trafficking services for.
On Tuesday, Maxwell was sentenced to 20 years in prison for aiding Jeffrey Epstein in creating a worldwide sex trafficking operation. Maxwell faced several civil suits over the years but was found guilty of five sex trafficking-related counts, two of which related to minors.
This was compared to the recent civil trial between Heard and Depp, in which the Pirates of the Caribbean star sued his ex-wife Heard for defamation after she wrote a 2018 op-ed stating she was the survivor of domestic violence. Depp won his multi-million dollar case, but messy details from their marriage were broadcast around the world, creating dozens of viral moments online.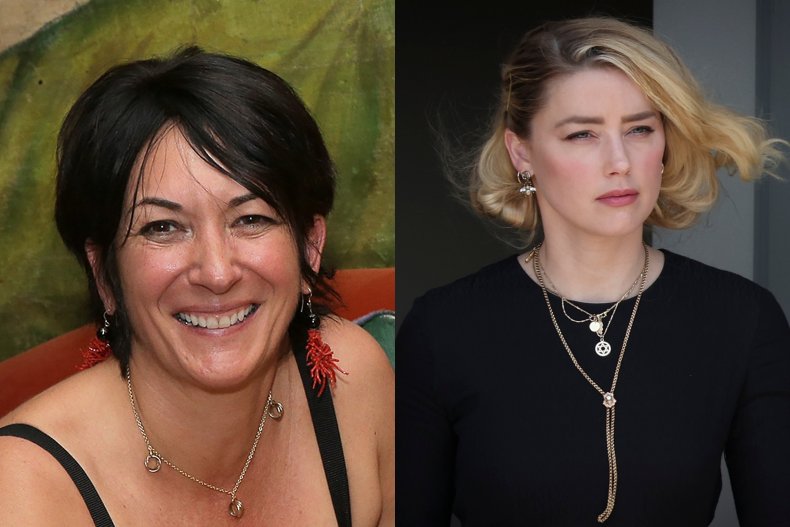 YouTuber and political commentator Blaire White pointed out the discrepancy on Twitter, and went viral as a result.
"I don't want to live in a society that demands every detail of the Amber Heard Johnny Depp case but is somehow content without a single name from the Ghislaine Maxwell client list," she wrote, not long after Maxwell's sentencing was announced.
While some celebrity and high-profile names have been highlighted as having links to Maxwell and Epstein, a concrete list of clients that used their services has never been revealed.
Thousands of people agreed with White's assessment of the situation, with the tweet gaining over 85,000 likes, more than 15,000 retweets and 1,000 comments.
Many of the comments in the following thread speculated about names related to Epstein and Maxwell, which included former U.S. presidents and members of royalty.
Speculating as to why the public has not been informed, @Tahini mused: "If the full list came out, it would break society completely."
Former UFC world champion Jake Shields weighed in, perhaps satirically. "But she took a s*** on his bed," he wrote, in reference to a major story from the Depp and Heard trial which involved feces.
White isn't the only one asking to see Maxwell's official client list. British journalist and TV personality Piers Morgan also made his feelings very clear.
"Who were Ghislaine Maxwell's rich, powerful & (sometimes) famous clients?" He asked. "It wasn't just her & Epstein engaged in this criminal sexual conduct. We need names."
Political commentator Fuad Alakbarov asked the same question to his followers. "I wish there was as much outrage over Ghislaine Maxwell's client list as there was over Joe Rogan's guests," he said.
Kari Lake, candidate for Arizona governor, also called for the full list of names after the sentencing was passed: "Now let's see the names in that little black book of hers and throw them in the cage with her, shall we?"
Political comedians the Hodgetwins called the sentencing without the full list being released, "criminal." They wrote: "They gave Ghislaine Maxwell 20 years and a $750k fine (which is nothing to her). And they STILL won't release the Epstein client list. That's criminal."
Tim Young, comedian and Sirius XM contributor, passionately called for the information to be released too, writing in all caps: "Make their names public and arrest them all."
British political campaigner Adam Brooks also made his feelings clear about the situation. He wanted "the list of the perverts, pedophiles and dirty old men that she had as clients." He said: "I'm sure we'd recognize a few names..." before ending his tweet with the hashtag #ReleaseTheNames.