Ghislaine Maxwell Appears to Contradict Prince Andrew's Claim She Introduced Him to Jeffrey Epstein
Ghislaine Maxwell appears to contradict Prince Andrew's account of how he met Jeffrey Epstein — though the royal's name has been redacted.
The Duke of York's blushes appear to have been spared by the court in New York that unsealed a 2016 deposition by the British socialite.
However, the prince is seemingly identifiable from the very specific details of the allegations that surround him.
Most unique of all, Maxwell is asked about claims she bought the prince a puppet version of himself as a present.
The daughter of British newspaper tycoon Robert Maxwell is asked how Epstein and the prince met during questioning by Sigrid McCawley, Guiffre's lawyer.
Asked "how long have you known him?" Maxwell answered "a very long time."
She added: "I really—it's so long, it's really a long time ago. I just don't recall."
Asked "did you introduce him to Jeffrey?" Maxwell said: "That would be another of Virginia's lies and the lies you perpetrate.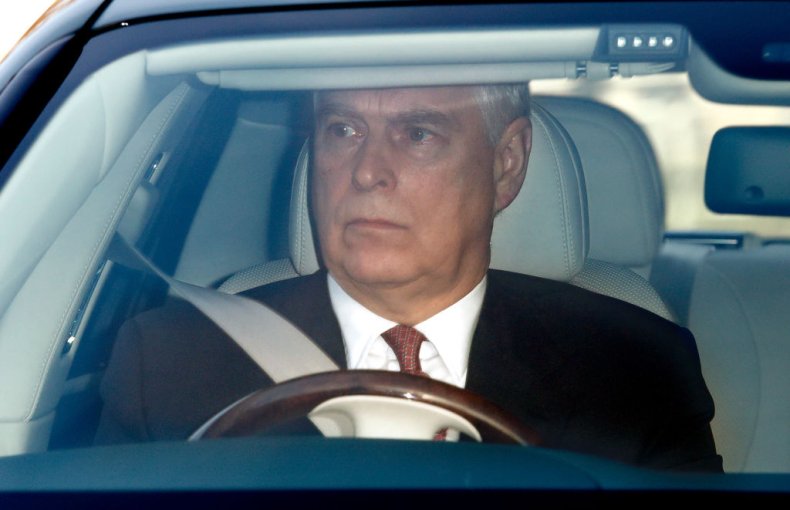 "I never introduced [REDACTED] to Jeffrey Epstein at any time ever, so just add that to the long list of lies."
She added: "I do not know Jeffrey met. What I do know is that I did not introduce them. That is one of the many lies. Are we tallying all the lies?"
Prince Andrew told the BBC in November: "Well I met through his girlfriend back in 1999 who... and I'd known her since she was at university in the U.K. and it would be, to some extent, a stretch to say that as it were we were close friends.
"I mean we were friends because of other people and I had a lot of opportunity to go to the United States but I didn't have much time with him."
The deposition includes numerous details that match Giuffre's account of her time with Andrew, including references to a visit to London while she was 17.
It references Maxwell taking Giuffre shopping to buy an outfit to wear for a dinner in the British capital.
There is also reference to a picture, which could be one taken of Giuffre, Maxwell and Prince Andrew at the socialite's London townhouse.
Most striking of all though, Giuffre claimed Maxwell gave Prince Andrew a puppet of himself from a U.K. TV show called Spitting Image during a party in New York.
Maxwell was asked: "Do you recall ever giving [REDACTED] a gift of a puppet that was in the same—that looked like him?"
She replied: "I never gave him a gift of a puppet."
Giuffre references the incident in an unpublished book she wrote and it is also mentioned in an unsealed deposition by Johanna Sjoberg, the Daily Mail reported in August.
Sjoberg said: "I sat on Andrew's lap... they took the puppet's hands and put it on Virginia's breast, and so Andrew put his on mine."
Maxwell is later asked whether Giuffre had sex with the prince.
She is asked: "Did you observe [REDACTED] go into a room with Virginia alone in your town home?"
Maxwell replies: "I cannot recall. As I have said,"
McCawley then asks: "Did [REDACTED] ever tell you that he had sex with Virginia Roberts?"
She replied: "He did not."
Asked "Did Jeffrey Epstein ever tell you that [REDACTED] had sex with Virginia Roberts?" she replied: "He did not."
Giuffre says she was trafficked to have sex with Prince Andrew in London, New York and the U.S. Virgin Islands.
The prince denies the allegations and says he cannot remember having met her.
However, a photo exists of the Duke of York with his arm around her bare waist at Ghislaine Maxwell's London townhouse.
Giuffre says this was taken the first time they had sex, after meeting at Tramp nightclub, in London.
The prince told BBC Newsnight in November: "It just never happened."
He added: "No and without putting too fine a point on it, if you're a man it is a positive act to have sex with somebody.
"You have to have to take some sort of positive action and so therefore if you try to forget it's very difficult to try and forget a positive action and I do not remember anything."
Andrew is currently involved in a stand-off with the Department of Justice (DOJ) over whether and how he will give evidence to the FBI's investigation.
Blackfords, his lawyers, released a statement over the summer stressing he has never been treated as a "target."
However, the DOJ lodged a formal request for his testimony through the U.K. Home Office this year.