Ghislaine Maxwell Forced to Wear Paper Clothes by Feds, Had Sheets Taken Away Over Suicide Concerns: Report
Nearly 11 months after Jeffrey Epstein died by suicide in a New York jail cell, federal officials were concerned enough about the possibility that his longtime associate, Ghislaine Maxwell, would follow in his footsteps that they required her to wear paper clothing after her arrest last week, according to The Associated Press.
Maxwell's sheets were taken away in addition to her clothing, the news service reported Thursday.
Maxwell, who is the British heiress to her father's publishing empire, was arrested last Thursday in Bradford, New Hampshire, nearly a year after Epstein was taken into custody on federal sex-trafficking charges.
She is currently incarcerated at the Metropolitan Detention Center in Brooklyn, New York.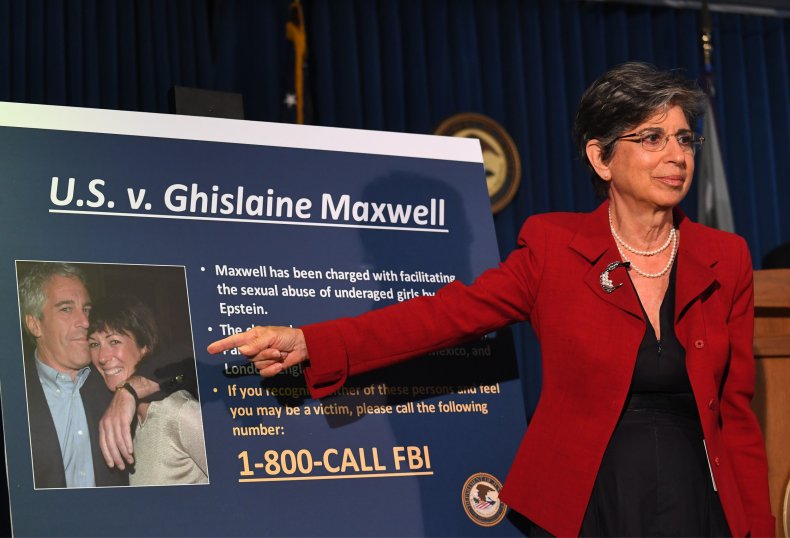 Maxwell has been accused of helping Epstein procure underage girls as young as 14. She currently faces six charges that include transporting minors for the purpose of performing illegal sex acts between 1994 and 1997. Audrey Strauss, the acting U.S. attorney for the Southern District of New York, described the charges last week as "the prequel to the earlier case that we brought against Jeffrey Epstein" and said the investigation into Epstein, Maxwell and their associates was ongoing.
Maxwell has denied the allegations against her.
Before his arrest on July 6, 2019, Epstein had mostly dodged the accusations that had over the years stacked up against him, with the exception of a case in 2008 that required him to register as a sex offender after he pleaded guilty to a prostitution solicitation charge involving a minor. His death on August 10, 2019 came as a surprise to many and was described by U.S. Attorney General Bill Barr as "a perfect storm of screw-ups." Though murder conspiracy theories quickly arose in the wake of Epstein's death, New York City's medical examiner ruled the incident a suicide by hanging.
Maxwell's arrest last week gained extensive coverage in the media due to her personal relationship with Epstein and allegations that she both helped him find underage girls and participated in the alleged illegal sex acts. Attention on the case has also been high due to the criticisms Epstein's alleged victims have levied against prison and federal officials in the wake of the financier's death.
According to The Associated Press, the Department of Justice has taken extra steps to prevent any suicide attempts that might arise and to ensure Maxwell's safety generally. I In addition to having her clothing and sheets removed, officials are making sure Maxwell has a roommate and is never alone while in her cell, the news outlet reported.
The Metropolitan Detention Center in Brooklyn declined Newsweek's request for comment. Newsweek reached out to the Department of Justice for comment but did not receive a response in time for publication.
This article has been updated with a response from the Metropolitan Detention Center in Brooklyn.