Ghislaine Maxwell to Be Held in Prison Until At Least July 2021 After Judge Denies Bail
A federal judge has denied bail to Ghislaine Maxwell, former girlfriend of disgraced financier Jeffrey Epstein, ordering her to be jailed pending a July 2021 trial.
FBI agents arrested Maxwell, 58, July 2 at a home in New Hampshire on charges that she had allegedly helped Epstein recruit, groom and abuse minors as young as 14. She has remained in jail since her arrest.
Maxwell pleaded not guilty at her bail hearing Tuesday, as her lawyers maintain that she "vigorously denies the charges, intends to fight them and is entitled to the presumption of innocence."
U.S. District Judge Alison Nathan ordered that Maxwell be sent to jail pending her trial, which Nathan set as July 12, 2021—nearly one year away.
If convicted, Maxwell faces 35 years in prison.
Maxwell appeared in a New York court Tuesday via videoconference for her arraignment. She wore a brown jail uniform and showed no reaction when Nathan announced her decision, the New York Daily News reported.
Maxwell's lawyers had requested that Maxwell be released on bail of $5 million, arguing that she risks contracting coronavirus where she is currently being held at Metropolitan Detention Center in Brooklyn, New York.
Newsweek contacted Mark Cohen, a member of Maxwell's legal team, for comment but did not hear back in time for publication.
Two of Epstein's accusers submitted written statements to the court, asking Nathan to keep Maxwell behind bars while awaiting her trial. One spoke via video link, CNBC reported.
Prosecutors argued in court that Maxwell posed a flight risk because of her "undisclosed wealth" and "extensive international ties." The former British socialite has three passports.
"She has the ability to live off the grid indefinitely," Assistant U.S. Attorney Alison Moe said.
Maxwell's lawyers argued that she would give up her U.K., U.S. and French passports and remain on house arrest at a New York property, but their requests were not enough to sway Nathan.
"The court finds by a preponderance of the evidence that no combination could reasonably assure her presence in court," Nathan said regarding Maxwell's potential bail conditions. "The risks are simply too great."
Newsweek contacted the U.S. District Court for the Southern District of New York in Manhattan, where Tuesday's bail hearing occurred, but did not receive a response in time for publication.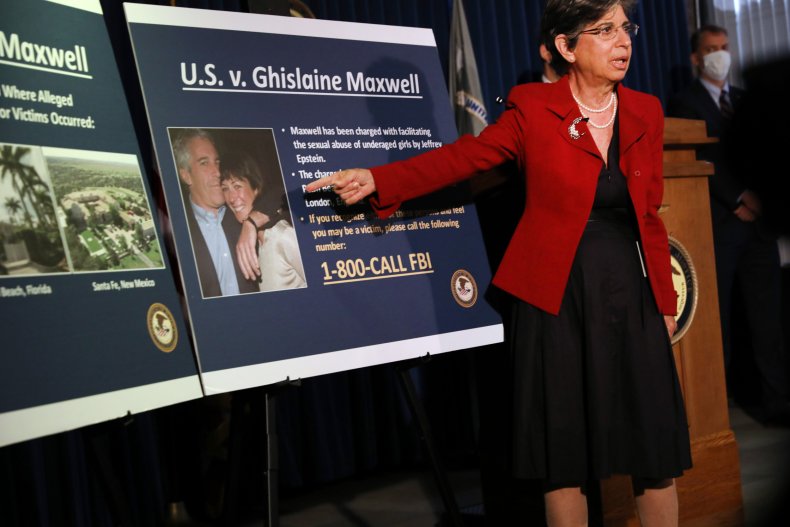 According to a federal indictment unsealed the same day of her arrest, Maxwell is charged with enticement and conspiracy to entice minors to travel to engage in illegal sex acts, transportation and conspiracy to transport minors with intent to engage in criminal sexual activity, and two counts of perjury.
Her charges are related to those of Epstein, who authorities arrested in early July 2019 on child sex trafficking charges and accused by prosecutors of sexually abusing dozens of underage girls from 2002 to 2005.
An indictment against Epstein at the time said he got access to those victims with the assistance of unidentified conspirators.
The charges against Maxwell allege she had helped Epstein recruit and groom underage girls for sex in the mid-1990s.
"In some instances, Maxwell was present for and participated in the sexual abuse of minor victims," the indictment against Maxwell states.