Ghislaine Maxwell Loses Bid to Block Court From Unsealing Epstein Documents
Lawyers for Ghislaine Maxwell, who is accused of sex trafficking for Jeffrey Epstein, lost an attempt Wednesday evening to block the unsealing and eventual release of documents that could lead to several embarrassments in the high-profile case.
U.S. District Judge Loretta Preska denied the request from Maxwell's lawyers, and now documents from a settled defamation lawsuit in 2015 will likely be unsealed Thursday morning as planned by Preska in a July 23 decision.
Despite Preska's order of releasing the documents Thursday, she gave Maxwell's attorneys two days to seek a stay from an appeals court from allowing her court to release other documents tied to litigation from the Miami Herald and Michael Cernovich.
Ty Gee, who is one of the attorneys for Maxwell, said there are new circumstances that should be considered before the judge releases any documents.
"We recognize that a reconsideration motion is an extraordinary request, but we suggest it is appropriate under the circumstances," Gee said, according to the Herald. "There are new facts since Ms. Maxwell lodged her objections to the unsealing of the transcript of her deposition, and there is a need to correct clear error or prevent manifest injustice relating to the unsealing of the transcript."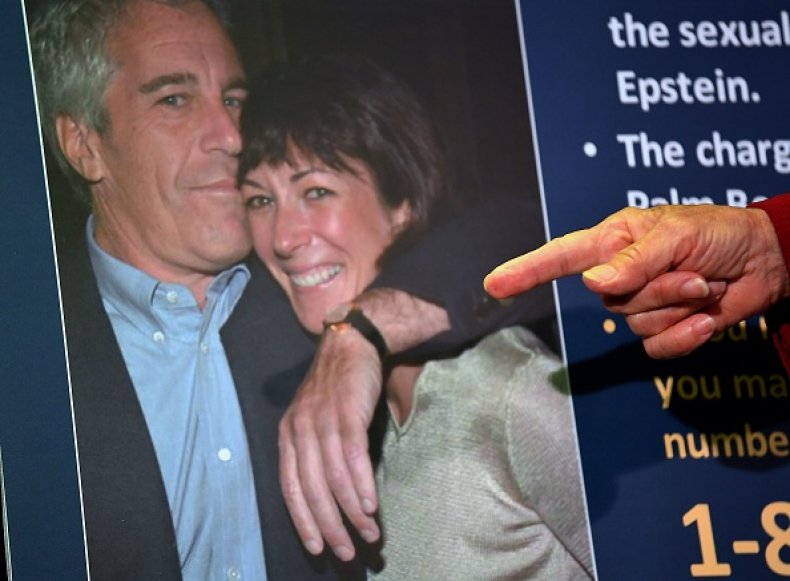 Gee said his client's deposition wound up in the grasp of government lawyers, which resulted in the charges against Maxwell, a British socialite who's also known to be a girlfriend of the late Epstein and is accused of acting as a procurer for the financier. Gee said the documents were obtained by the government lawyers from the attorney of Epstein accuser Virginia Giuffre.
There are several A-list celebrities and politicians allegedly tied to the Epstein sex scandal, including former President Bill Clinton and current President Donald Trump, according to the Herald.
Newsweek reached out to the White House and to former president Clinton's staff for comment.
Once documents are unsealed, it allows lawyers from both sides to question those who have been named, as they would be deemed witnesses, ahead of a trial.
In addition, Maxwell's attorneys requested to order the release the names of Epstein's and Maxwell's victims who had come forward, whether they were victims or people who simply opposed them. Typically, names of victims of sexual abuse or battery are not released, nor publicly identified, even in court.
"Permitting defense counsel to publicly identify witnesses who have not identified themselves on the record in this case risks subjecting witnesses to harassment and intimidation, with no conceivable benefit to the defense other than perhaps discouraging witnesses from cooperating with the Government," the prosecutors stated.