Ghislaine Maxwell Stared Directly at Her Court Sketch Artist and Drew Them Right Back
A courtroom illustration of Ghislaine Maxwell staring directly at her court sketch artist and drawing her back has gone viral.
The courtroom sketch was drawn on November 1 during a pre-trial hearing in New York City ahead of jury selection by artist Jane Rosenberg, who is currently covering the sex abuse trial of Maxwell.
"Ghislaine Maxwell, the Jeffrey Epstein associate accused of sex trafficking, makes a sketch of court artists while seated between defense attorneys Bobbi Sternheim and Jeffrey Pagliuca, during a pre-trial hearing ahead of jury selection, in a courtroom sketch in New York City, U.S.," Reuters wrote in its description of the sketch last month.
The image has since gone viral on social media, with some Twitter users describing the image as "terrifying" and "horrific."
"Completely losing my mind over this courtroom sketch of ghislaine maxwell staring straight at the artist and drawing them right back," one Twitter user wrote, sharing the illustration.
"Imagine doing a court illustration of ghislaine maxwell while she stares directly at you and draws you right back," another added.
The courtroom sketch artist, with more than four decades in the industry, told The Western Journal that this isn't the first time she has been drawn in the courtroom.
"Oddly it happened in the last trial I sketched [Lev Parnas]. His co-defendant was sketching me," she said in an emailed statement to The Western Journal, referring to the trial of a Ukrainian-American businessman who was convicted on charges related to violating campaign finance laws.
"Maybe I got more interesting-looking since [the] pandemic?" she added.
Other courtroom sketches of Maxwell by Rosenberg for Reuters over the past few weeks show Maxwell making eye contact with her sister during jury selection, Maxwell sitting with her defense lawyers at the start of her trial, the British socialite embracing her defense lawyers in the courtroom, and her blowing a kiss to her sister during jury election.
In an interview with the New York Post, Rosenberg recalled her time sketching the late convicted sex offender Jeffrey Epstein—a longtime associate of Maxwell.
"He's totally a sicko, weirdo," Rosenberg said last year, referring to Epstein.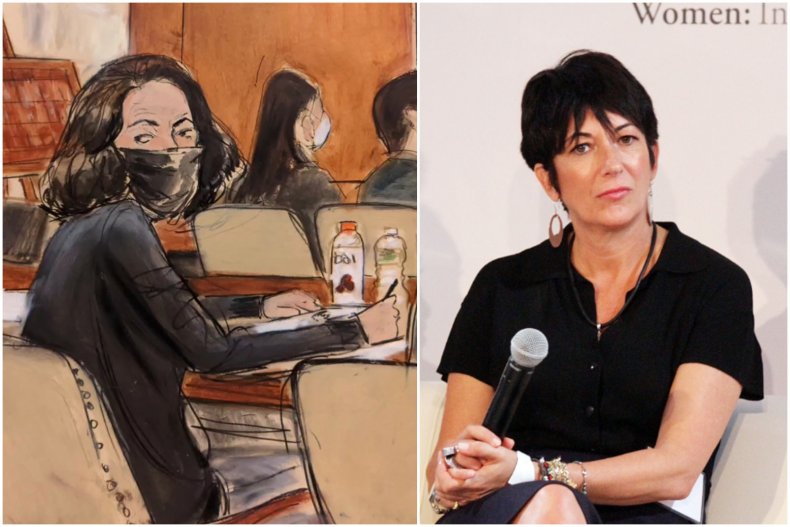 Maxwell is accused of recruiting and grooming underage girls for Epstein between 1994 and 2004, but has maintained her innocence in the case and has pleaded not guilty on all counts.
Maxwell's case is being overseen by U.S. District Judge Alison J. Nathan, a former counsel to former President Barack Obama. The trial is expected to last six weeks.
Newsweek has contacted Rosenberg for additional comment.