Ghislaine Maxwell Trial Paused, Expected to Resume Friday After Attorney Falls Ill
The trial of Ghislaine Maxwell took an unexpected break Thursday after the judge announced one of the attorneys had gotten sick and sent the jurors home until Friday.
The U.S. District Judge Alison Nathan announced to the jurors that an attorney was "ill and has to get care," but did not specify which one. She said there was no reason to think the illness was related to COVID-19 and expected the jurors to return to court to resume the hearing Friday.
The sex-abuse trial of the British socialite is currently in its second week. In the first week, nine witnesses were called by the prosecution including four of the alleged victims who testified against Maxwell's role in the abuse.
At the end of the first week on Friday, prosecutors presented jurors with evidence that included a police videotape of the inside of Jeffrey Epstein's estate in Palm Beach, Florida, that showed decorations of nude photos on the wall, which the prosecution says created a sexual atmosphere.
The prosecution also unfolded a green massage table Friday that was taken as evidence to corroborate the witness's testimony of seeing the table in a "massage room" at the Florida residence. A separate witness going by the pseudonym "Kate" to protect her privacy, testified to the use of sexual massages as abuse. She said Maxwell told her Epstein was "demanding" and it was "very hard to keep up with his needs," she said.
Kate testified she remembered Maxwell being present the first time she saw Epstein naked. "I remember it so clearly because I was terrified and frozen," she said
Maxwell's defense attorneys are saying that since Epstein killed himself in prison in 2019 awaiting trial, she is being used as a scapegoat for him and his alleged crimes. The trial is expected to resume Friday.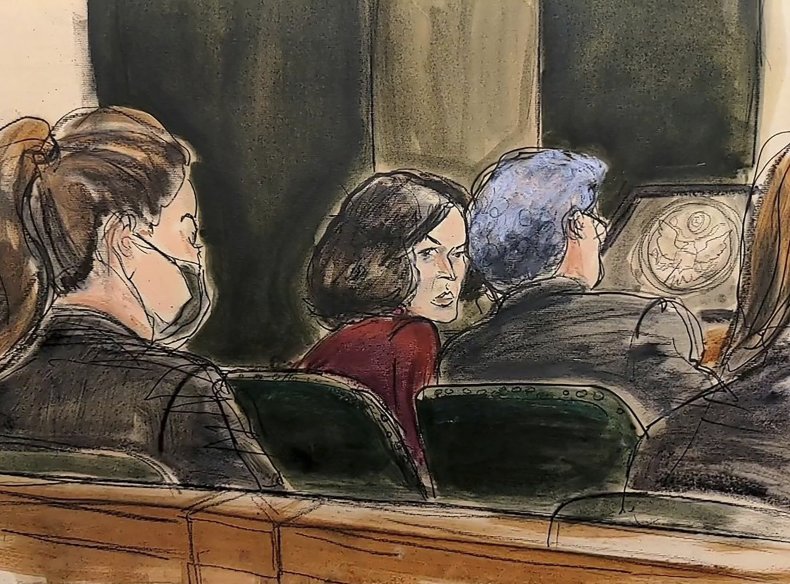 Maxwell, 59, has denied charges she groomed teenagers to give financier Jeffrey Epstein sexual messages at the billionaire's residences in Florida, New York, New Mexico and elsewhere.
The government had been expected to finish presenting its case by the end of the week and the judge suggested that closing arguments in the case might occur on December 20 if the defense presentation next week only lasts a day or two.
Before the trial was abruptly adjourned for the day, jurors did hear one witness who verified that overnight packages were sent by Epstein to women in December 2002.
The Associated Press contributed to this report.