Ghislaine Maxwell's Family: What They Have Said About Her Trial
While British socialite Ghislaine Maxwell was vilified in the lead-up to her guilty verdict related to sex trafficking crimes, her family, including her seven living siblings, were one of the few groups of people who came to her defense throughout the proceedings.
Maxwell, 60, was found guilty on five of six charges related to conspiracy and sex trafficking for deceased financier Jeffrey Epstein.
Maxwell now faces up to 65 years in prison for her crimes.
A support website that is purportedly run by the "brothers, sisters, family & friends of Ghislaine Maxwell" states that "we believe wholeheartedly in our beloved sister's innocence," adding that the Maxwell portrayed in public and on the news was a "fictional one-dimensional character created by the media."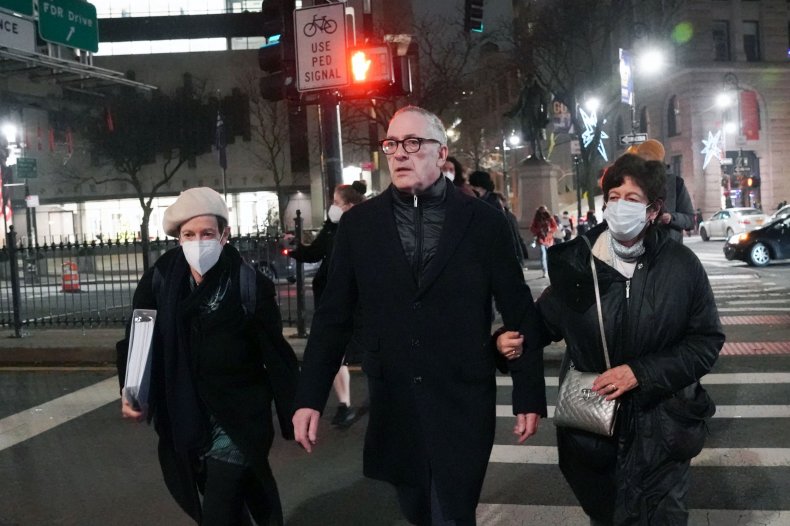 Most visible throughout the trial were Maxwell's siblings, at least three of whom have spoken out about the case at one point or another.
The family has long claimed that Maxwell was subject to unfair treatment while in custody, and even sent the Justice Department a letter "urging Attorney Garland to intervene immediately today to grant the simple, fair and just remedies requested."
A number of these siblings have also been involved in criminal court proceedings of their own.
Ian Maxwell, Brother
One of Maxwell's most vocal supporters was her brother Ian, 65. A former newspaper and publishing mogul, Ian Maxwell was arrested, charged with conspiracy to commit fraud, along with a number of other associates.
He was acquitted of these charges in court, however, and later started an anti-terrorism think tank with his brother Kevin Maxwell.
In a video on the support website, Ian Maxwell can be seen talking about his sister, once again stating that she was innocent of the charges.
"[Ghislaine's trial is] based on allegations that date back 25 years by accusers whose names not even her own lawyers know," Ian Maxwell states in the video. "We believe in her innocence and that she'll be exonerated in the end, which is why it's so hard for us to see her held in an American prison in solitary confinement without bail for over 260 days and counting."
He also told reporters that the media coverage of his sister would "poison" the jury in the lead-up to the verdict.
Kevin Maxwell, Brother
Maxwell's youngest living brother, Kevin, 63, was reportedly one of the major creators behind his sister's support website.
An Oxford graduate and businessman famous throughout Great Britain, Kevin Maxwell reportedly went through the "biggest personal bankruptcy in UK history, raking up debts of £406.5 million," according to financial reports. He was eventually subjected to fraud charges related to the bankruptcy, but was later acquitted and began a terrorism think tank with brother Ian Maxwell.
Despite his personal struggles, though, Kevin Maxwell was seen by his sister's side throughout her trial. At the beginning of December, he told reporters that being around his sister gave him "a tremendous sense of relief."
It was reportedly the first time that he had seen his sister in over a year.
Kevin Maxwell added that Ghislaine Maxwell was "looking pretty well, notwithstanding the conditions of detention."
Isabel Maxwell, Sister
Another one of Ghislaine Maxwell's ardent supporters was her sister Isabel, 71.
A serial entrepreneur and founder of one of the earliest search engines, Isabel Maxwell worked as a consultant for a variety of companies during her career.
However, she became most famous for showing up at Ghislaine Maxwell's trial for days on end, supporting her sister even during her time in custody. Isabel Maxwell also reportedly blamed Jeffrey Epstein for dragging his sister into his legal troubles.
Looking Ahead
Despite the guilty outcome, Maxwell's family said in a joint statement that they still believed that she was innocent, despite evidence to the contrary, adding that they had already begun the process of appealing the verdict.
"We believe firmly in our sister's innocence; we are very disappointed with the verdict," the Maxwell family said. "We have already started the appeal tonight and we believe she will ultimately be vindicated."
However, most legal experts believe that Maxwell will do considerable time despite the appeal, and one former prosecutor, Gene Rossi, told Newsweek that those who lose in federal court are rarely given the "luxury" of a plea bargain.