'Ghost Adventures' Host Zak Bagans Adds Titanic Artifact To Haunted Collection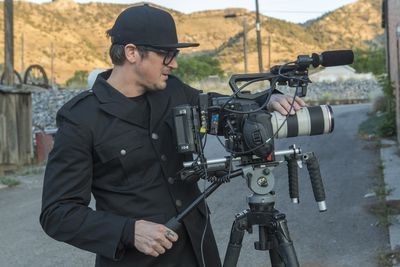 Ghost Adventures star Zak Bagans has acquired another odd artifact, this time, with ties to the Titanic. The reality host expressed his excitement for his recent auction win on Monday via Twitter and explained the haunted history behind the object: a mirror. The mirror belonged to the Titanic's captain, Edward John Smith, and was placed up for auction in December.
The mirror's auction made headlines in the U.K., as did inquiries into its past. According to Bagans, the mirror was sent to him from the U.K. with a letter of authenticity from 1922. The letter claims Smith's former housekeeper, Ethelwynne, saw him in the mirror after he died in the Titanic disaster.
Rumors say Ethelwynne, the former owner of the mirror, saw Smith's spirit in the mirror every year on the anniversary of the disaster, which began on April 14, 1912, and continued through the night to April 15, according to Mysterious Universe.
The haunted mirror was placed up for auction at the Richard Winterton Auctioneers's Fine & Decorative Arts Sale on December 12. It was expected to sell for €10,000, though it's unclear what Bagans ultimately paid for the mirror.
This isn't the first time Bagans could come face to face with spirits of those lost on the Titanic. The Ghost Adventures Crew investigated the Titanic Museum in Branson, Missouri on an episode of the show, which premiered on Travel Channel in 2017.
Along with his role as the show's host and lead investigator, Bagans owns and operates The Haunted Museum in Las Vegas. The mirror will join his ranks of haunted items, including The Dybbuk Box, which Bagans told Newsweek could have cursed rapper Post Malone, a handful of items that belonged to Charles Manson, including a painting made with his ashes, the Kevorkian Van and a room full of haunted dolls.
"It's some dark natured stuff, but it is what it is," Bagans told Newsweek of his collection in October. "The darkness, sometimes it seems to manifest more than other things. To witness those manifestations as an investigator is incredible. It's absolutely incredible."
Bagans explained he's drawn to the paranormal and the art of finding and securing haunted objects, as well as interacting with them, has become part of his lifestyle. "I'm an investigator. I'm an occultist. This is what I do," he explained. "This is my life. I don't just do it for a TV show. I'm invested. Yes, it's dangerous, but man, is it interesting. It's scary, but I'm driven to it. I like fear. I like messing with the dangerous things and seeing what will happen."