Amid Increase in Gun Sales During Coronavirus Pandemic, Democrats Ask ATF for Help on Ghost Guns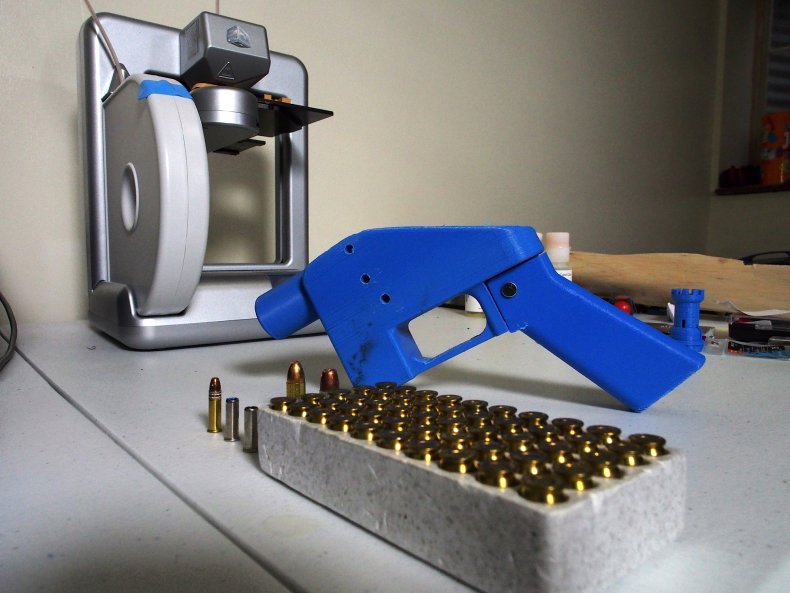 Democrats on the House Judiciary Committee sent a letter to the acting director of the Bureau of Alcohol, Tobacco, Firearms and Explosives (ATF) on Thursday requesting that the agency disclose how it oversees the sale of ghost guns.
In their letter, the Democratic representatives, 19 in total, express concern over the reported surge in interest in ghost guns during the COVID-19 pandemic. Already, sales of traditional firearms have seen a boost in the last several months. The Federal Bureau of Investigation reported that background checks, which are linked to firearms sales, reached their highest levels in the system's 22-year history during the month of March when COVID-19 took root in the United States.
The representatives requested information on how ATF is providing guidance on ghost guns to federally licensed dealers during the pandemic.
"While the surge in firearm sales from federally licensed dealers has received nationwide attention, at least 16 companies that sell ghost gun kits have reported order backlogs and shipping delays due to overwhelming demand, they wrote. "The uptick in sales of ghost gun kits and parts have received substantially less notice, even though the increase in sales of ghost guns poses a direct threat to public safety and law enforcement."
An ATF spokesperson told Newsweek that the agency "is in receipt of the letter and is working to prepare a response."
These firearms are typically made from kits containing partially manufactured components that need to be machined into a completed weapon, or from scratch with the aid of a 3D printer and digital instructions. Because they aren't sold as finished products, ghost guns are not required by federal law to be stamped with a serial number or to proceed to sale through a background check.
"The widespread availability and use of ghost guns undermines gun safety laws and poses a danger to our communities," the letter—led by Representatives Jerrold Nadler, the committee's chairman, and Karen Bass, chairwoman of a crime subcommittee—stated. "Because the proliferation of ghost guns is a serious problem, we write to request...information and documentation to probe how the ATF is monitoring, overseeing, and regulating the sale of ghost gun kits and unfinished frames and receivers, amid the COVID-19 pandemic."
Federal law regulates component parts of firearms, such as the frame, in the same manner as the weapon itself. Additionally, devices that "may readily be converted" into firearms are viewed identically. But ATF does not consider unfinished components, commonly known as 80 percent lowers, to satisfy this definition.
Proponents of gun rights argue that the accessibility of DIY firearms is a virtue, not a loophole. They see home manufactured weapons as part of an historical tradition of firearms ownership, akin to gunsmithing, dating back centuries.
But critics argue that the easy availability of firearms parts could facilitate their transfer into the hands of individuals prohibited from owning the finished product, such as felons and domestic abusers. Moreover, DIY weapons are not required to be engraved with a serial number, making them more difficult to trace if they end up in a pipeline for gun trafficking.
Thursday's letter to Acting Director Regina Lombardo requests that the ATF provide Congress with specific guidance on how it oversees the ghost gun market, including whether it collects data on sales of kits and the prevalence of ghost guns recovered at crime scenes.
"The absence of a manufacturing record, serial number, or background check is exactly what draws prohibited purchasers to ghost guns, and makes them the perfect guns to use in committing crimes," the letter states. "The threat ghost guns pose to public safety and law enforcement is clear."
The document cites one report in which a Los Angeles ATF agent was quoted as saying more than 40 percent of the bureau's Southern California investigations involve, in one way or another, ghost guns.
Some states regulate firearm precursors more closely than federal law. In California, for example, DIY firearms must be registered with the state's Department of Justice and contain a unique serial number. In 2019, the state passed a law that will require precursor sales to be conducted through a licensed dealer, pursuant to a background check, starting in 2024.
According to the Giffords Law Center, the legal arm of the same-titled gun control group, five states have enacted legislation specifically targeting untraceable or undetectable firearms.
Updated 2:52 p.m. ET, with a comment from an ATF spokesperson.
Updated April 25, to correct the year in which California's new precursor rules will take effect.