In Ghost Ship Fire Crisis, Oakland Turns to Strong Women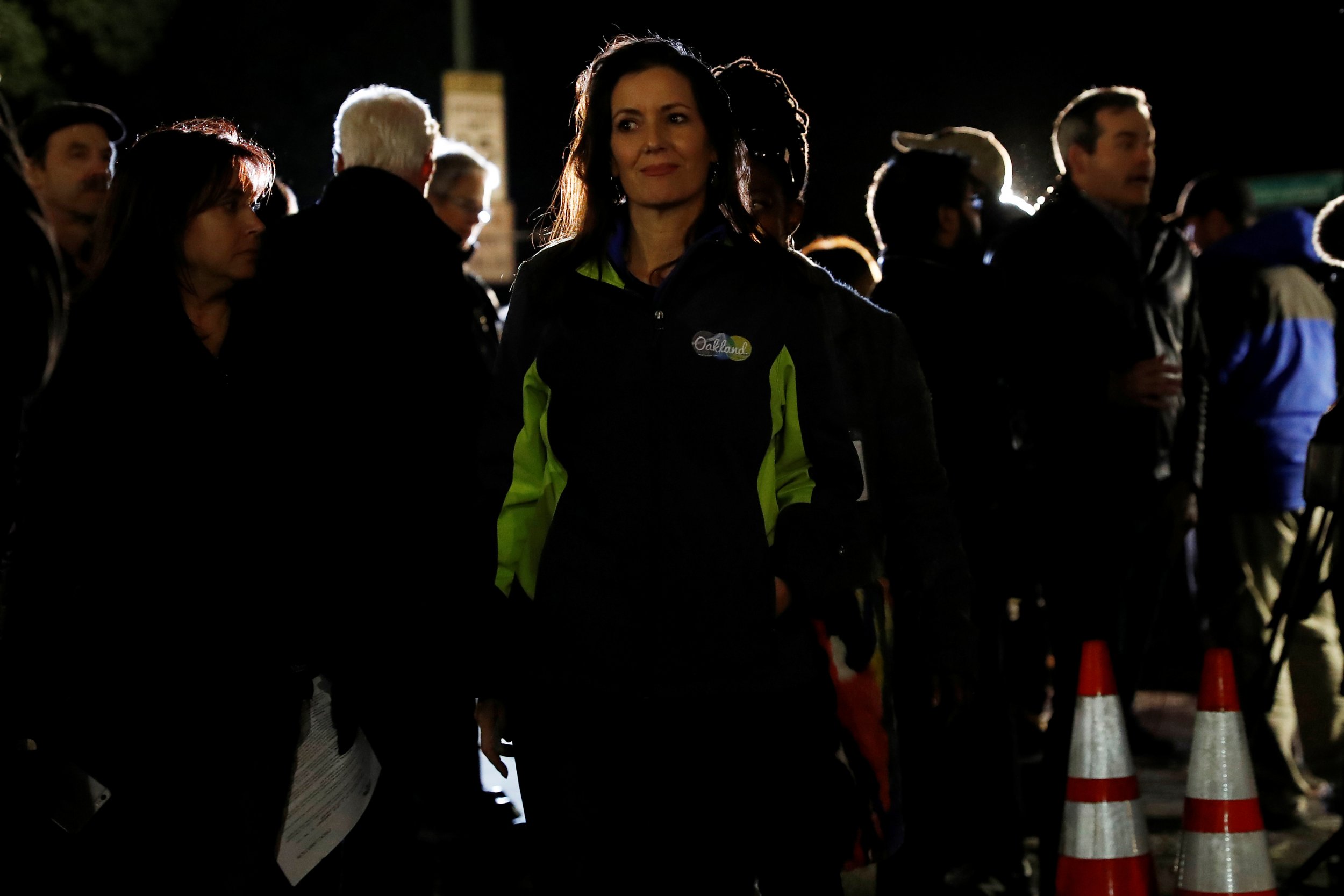 In 2009, Fruitvale—a neighborhood in Oakland, California—became a symbol for police violence when a young black man, Oscar Grant, was shot and killed at the train station there by a white transit police officer. The incident, captured on a cellphone, was a grim precursor to similar events in Ferguson, North Charleston and Staten Island.
In the years that followed the Grant killing, Fruitvale, in the formerly industrial flatlands of Oakland, saw an influx of artists and young people pushed out of San Francisco by young tech millionaires who flocked to neighborhoods like the Mission District, a longstanding Mexican community, and the Castro, perhaps the most famous gay neighborhood in America—not to mention the wealthier parts of Oakland, up in the hills. Fruitvale was a refuge, if an imperfect one.
Related: Searching the Ghost Ship ruins
Fruitvale is now in the news again, and again it is for a tragedy. This time, it is because of a fire at the Ghost Ship artists' collective, during a party on the night of December 2. At least 36 people were killed, and they were mostly young—enthusiasts of electronic music from all over the Bay Area. Four were members of the local transgender community. It is the deadliest nightclub fire in the United States since 2003, when a pyrotechnic show during a concert went awry at The Station in Warwick, Rhode Island, killing 100 people.
The grief has been immense, and the cordoned-off streets around the Ghost Ship warehouse have been adorned with makeshift memorials of flowers and handwritten cards. But in a place as political as the Bay Area—birthplace of the Black Panthers, crucible of the disability rights movement, beacon of gay rights—that grief is tinged with politics. Already, many are saying that the Ghost Ship tragedy was precipitated by the region's housing crisis, which forced those unable to afford glass-sheathed condominiums into illegal firetraps like the warehouse at 1305 31st Ave. in Oakland.
A villain also emerged: Ghost Ship's manager, Derick Ion Almena, a self-styled artistic impresario from Los Angeles with a troubled past. He appears to nurture a messianic streak reminiscent of two other figures associated with the Bay Area—Jim Jones, of San Francisco's Peoples Temple, who led 918 of his followers to commit suicide in Guyana; and Charles Manson, who first began preying on young, vulnerable women in Berkeley and San Francisco before decamping to Los Angeles. Almena, whose real name is Derick Alemany, seemingly courted such comparisons, calling himself "the thriller love child of Manson, Pol Pot and Hitler" in a Facebook post, according to The Mercury News of San Jose. He is reported to have disregarded frequent pleas from residents to make the Ghost Ship safer.
While the nation watches and Oakland grieves, city officials are trying to parse what happened, and why. And here's an interesting twist: Those Oakland leaders are nearly all women. They include Libby Schaaf, the capable young mayor who followed Jean Quan, the first woman to lead Oakland; the Alameda County district attorney, Nancy O'Malley, who has suggested she could bring charges, including murder, against Alemany and, perhaps, the building's owner, Chor Ng; the Oakland Fire Department chief, Teresa Deloach Reed, "the first African-American woman to serve as the fire chief of a major metropolitan area," according to an Ebony profile; and the Oakland Police Department's public information officer, Johnna Watson, who has been, from the looks of it, a constant presence in the busy media area two blocks from the hollowed-out warehouse.
Many first appeared to notice the prevalence of women handling the Ghost Ship disaster during a press conference in the hectic aftermath of the disaster:
"This was an extreme tragedy, and I certainly have no love for OPD, but it's kinda dope to see three women up there speaking for Oakland," wrote a Twitter user who goes by the handle of @PushaTease.
"Oakland has so many strong women who are running this press conference," said a user named Michael-Vincent.
Some of this may be raw feelings left over from the recent election, when the nation came oh-so-close to electing its first female president. The sight of women in steely, calm command of the Oakland investigation dispelled the kinds of fears stoked during the recent presidential campaign: that somehow women lacked "stamina" and were incapable of leadership at the highest levels.
Indeed, the praise for Oakland's female leaders has less to do with achievements, perhaps, than optics. And, of course, with Hillary Clinton. It was revealed earlier this week that one of the year's most popular tweets was the one she sent the morning after losing the election: "To all the little girls watching...never doubt that you are valuable and powerful & deserving of every chance & opportunity in the world." That tweet has been shared 637,000 times. The images from Oakland must feel, to many, like an affirmation of that sentiment.
So many women in charge is a "statistical anomaly," says Mary Galligan, a managing director at Deloitte & Touche who watched the response to the Oakland disaster from San Francisco. Galligan was the lead investigator in the FBI's response to 9/11 in New York, and was later put in charge of crisis management there. "Not everybody is cut out to do it," she said of crisis leadership, which she explains requires a host of skills: "compassion for victims; empathy for first responders; and a certain presence which instills confidence." In the case of the Oakland fire, it has also required an ability to withstand national scrutiny. "These are women who've shown they have the leadership skills," says Galligan.
In fact, despite the longstanding popular image of the steadfast male leader, women might actually be better adept at handling a fast-moving, complicated crisis than men.
"Neuroscientists have uncovered evidence suggesting that, when the pressure is on, women bring unique strengths to decision making," wrote the cognitive psychologist Therese Huston in The New York Times in 2014, summarizing a bevy of research suggesting that, under stress, men make worse decisions than women. They are also less able to show empathy—a crucial component when dealing with something as viscerally horrifying as the Ghost Ship fire.
In 2009, McKinsey & Company, the corporate consultancy behemoth, found much the same thing in an extensive report that surveyed some 800 business leaders about how men and women handle crisis. The report concluded that "certain leadership behaviors more frequently adopted by women are critical to navigate through the crisis safely and to perform well in the post-crisis world."
This is as true in governance as in business. Three years ago, International Monetary Fund Managing Director Christine Lagarde told Inc. magazine that women make better crisis-managers, citing the example of Iceland, which had undergone an economic cataclysm. "The country essentially went down the tubes," Lagarde said. "Who was elected prime minister? A woman. Who was called in to restore the situation with the banks? Women. The only financial institution that survived the crisis was led by a woman."
In that respect—and maybe none other—Oakland is sort of like Iceland. The city council is led by a woman, Lynette Gibson McElhaney. Its city attorney and auditor are also women. That's not to say that they preside over a perfect city: The Oakland Police Department has been mired in a sex scandal involving an underage prostitute; housing costs are running rampan; and crime remains high in many neighborhoods. Troubling questions remain about whether the city did enough to inspect warehouses like the Ghost Ship, where nobody was supposed to be living. At the same time, given the manifold challenges of governing Oakland, the women in charge have shown themselves to be more than up to the task.
Contrast the sober resolve on display in Oakland with the transition effort of President-elect Donald Trump, who has taken breaks from making America great again to feud with Alec Baldwin, China and Boeing via Twitter.
As for sympathy for Oakland's victims, he has displayed (at least publicly or via Twitter) none at all.
Read more at Newsweek.com: