'Ghost of Tsushima' Release Time and PS4 Download Size Revealed
Ghost of Tsushima will be released for the PlayStation 4 on July 17, but when will you be able to actually download and play the open-world samurai game?
Developed by Sucker Punch Productions and officially unveiled at the Paris Games Week press briefing in 2017, Ghost of Tsushima lets players fight back the 13th century Mongol invasion of Japan as Jin Sakai, a samurai of Tsushima Island, located between the Japanese archipelago and the Korean peninsula. It is expected to be the last major exclusive release for the PS4 before the launch of the PlayStation 5, which is anticipated to arrive later this year.
Ghost of Tsushima will have a Thursday night at midnight release time, or 12 a.m. Eastern on Friday, July 17. Pre-loading has already begun for anyone who's pre-ordered the samurai epic, which means players will be able to hop into Tsushima right at the midnight release.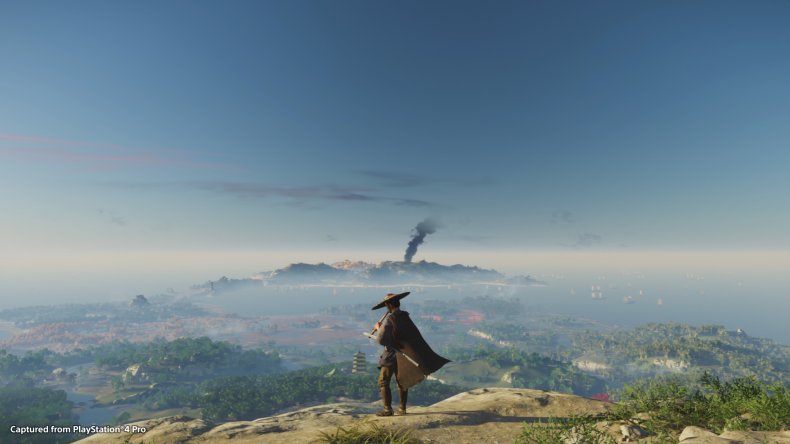 Pre-order bonuses for the game include the Ghost of Tsushima soundtrack, plus a dynamic theme and Jin Sakai avatar for your PS4. A deluxe edition release of Ghost of Tsushima includes a digital art book for the game, director's commentary, a "Hero of Tsushima" skin set (with a golden mask, body armor, sword kit, horse and saddle), plus an in-game charm (which provides a perk or character buff, but occupies one of your limited charm slots) and a single Technique Point (experience points used to improve your character).
While the initial download of Ghost of Tsushima comes in at just below 40 gigabytes, the PlayStation Store listing for the game calls for a 50-gigabyte minimum save size, so it might be wise to clear up a little extra space on your PS4's hard drive in advance.
In Ghost of Tsushima, you'll gather allies to your cause—peasant and samurai alike—in the aftermath of a devastation invasion by Khotun Khan and his forces. To drive back the Mongols, you'll need to learn new sword stances, take over strongholds and, sometimes, sneak into an enemy camp by hiding in a barrel of sake.
For more on Ghost of Tsushima, check out our review and Newsweek's round-up of other publications' thoughts on the game. To summarize, we found the environments gorgeous and the swordplay exciting, but felt the game fit too closely with an open-world formula that's been stale for a while now.
But so long as you don't mind another open-world game in the Far Cry and Assassin's Creed mold, Ghost of Tsushima has a lot to offer. Even after spending dozens of hours in the game and beating the main story campaign, there's still so much left to do and explore.