'Ghostbusters: Afterlife' Release Date, Cast and Plot As Trailer Released
The Ghostbusters franchise kicked off in 1984, with Bill Murray, Ernie Hudson, Dan Aykroyd and Harold Ramis donning the branded jumpsuits. After their second film in 1989, the next movie in the franchise did not come out until 2016, with an all-female cast.
That movie has been retconned, meaning the upcoming Ghostbusters: Afterlife is the direct sequel to Ghostbusters II.
Fans have seen a second sneak peek of the movie after a new, full-length trailer was released. The trailer showed ghosts and specters taking over a small town, with everything from earthquakes to smoke clouds and even the undead walking the streets.
Though at least the young inhabitants know who they're gonna call, but will they answer?
When Is Ghostbusters: Afterlife Released In Movie Theaters?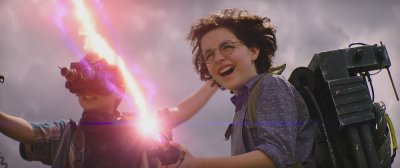 Ghostbusters: Afterlife is released in theaters on November 11, just in time for the Thanksgiving holiday.
Like many movies, the film's release was moved from 2020 as the COVID-19 pandemic shut theaters across the globe.
The movie was originally set to be released on July 10, 2020, but was moved to March 2021, after which it has shifted twice.
From March, the release was moved to the summer and then to the Thanksgiving weekend.
The Cast of Ghostbusters: Afterlife
The cast is led by Carrie Coon and Paul Rudd, who play single mother Callie and local teacher Mr. Grooberson.
Callie is the daughter of Dr. Egon Spengler, the character played by Harold Ramis in the first two Ghostbusters films.
Callie's children, Phoebe and Trevor, are played by Mckenna Grace and Finn Wolfhard.
A number of the Ghostbusters cast will also reprise their roles, with Bill Murray playing Peter Venkman, Dan Aykroyd playing Ray Stantz and Ernie Hudson as Winston Zeddemore.
As well as three original Ghostbusters, Sigourney Weaver is returning in her role as Dana Barrett, Peter's love interest, and Annie Potts is back as Janine Melnitz, the ever-suffering receptionist.
Supporting actors including Logan Jim, Celeste O'Connor, Bokeem Woodbine and Tracy Letts.
The Plot of Ghostbusters: Afterlife
The official synopsis reads: "From director Jason Reitman and producer Ivan Reitman, comes the next chapter in the original Ghostbusters universe.
"In Ghostbusters: Afterlife, when a single mom and her two kids arrive in a small town, they begin to discover their connection to the original ghostbusters and the secret legacy their grandfather left behind. The film is written by Jason Reitman & Gil Kenan."
Since then, further details have been revealed of what this connection means, as well as what the family comes up against in the new film.
Callie (Carrie Coon) is the daughter of Harold Ramis' character Egon Spengler.
She moves her family to Spengler's remote, countryside home, which he left to them after his death.
Ramis died in 2014, as discussions of another Ghostbusters film were ongoing.
As well as this, it is young Phoebe (Mckenna Grace) who becomes interested in her past, tracking down old Ghostbusters items like their station wagon and proton packs.
As the latest trailer revealed, a small town begins experiencing earthquakes and other strange phenomena, such as a huge electrified cloud which rises above an oil rig.
Soon, strange creatures begin to emerge, including ghosts and even zombie-like creatures, and Phoebe seems to be the only one who knows what to do.
Ghostbusters: Afterlife is in movie theaters on November 11, 2021.