'Ghostbusters' Impresses Critics After Backlash Over All-Female Casting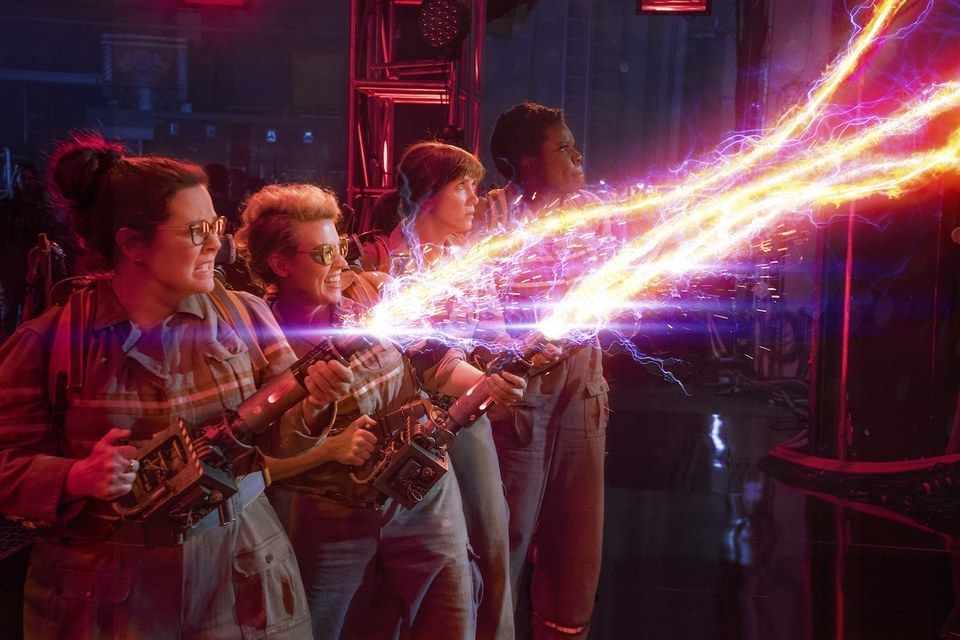 Following one of the most divisive build-ups to release in recent Hollywood history, director Paul Feig's all-female Ghostbusters movie is finally here—and the verdict is that it's pretty darn good. Of course, given Feig's track record with Bridesmaids, The Heat and Spy, was that ever in doubt? Yet Feig, studio Sony Pictures and their cast of funny stars—Melissa McCarthy and Kristen Wiig among them—have had to contend with the protestations of armchair quarterbacks bemoaning the film for not having a male cast like the 1980s originals.
The internet reacted with venom when the first trailer was released back in March and, most recently, a magazine cover appearing to favor male lead Chris Hemsworth over the four female stars drew some backlash, too.
Reviews are now flooding in for the movie, released in the U.K. Monday and the U.S. on Friday, and suggest that all the hoopla was indeed just a bump in the road for the 'busters' famous Ecto-1. At present the blockbuster is holding steady with a 75 percent fresh rating on Rotten Tomatoes.
Critics are praising the raucous performances of the film's stars—McCarthy, Wiig and Saturday Night Live veterans Leslie Jones and Kate McKinnon—as well as its heartwarming nods to the past, including cameos from original cast members Dan Aykroyd (who is billed as an executive producer on the film along with Ivan Reitman), Bill Murray and Sigourney Weaver.
In its four-star review of Feig's film, The Guardian said "call off the trolls" and hailed the comedy as a "blast." Ghostbusters " is a four-woman show, deftly managed to allow all the leads a chance to showcase their own distinct brands of comedy," said critic Nigel M. Smith.
Empire 's Jonathan Pile said: " McCarthy and Wiig—two of the finest comedy actors currently working—are on good form as usual, but Leslie Jones also snags some of the best lines as Patty Tolan, the subway worker-turned-fourth member of the team."
However, in a less effusive review The Hollywood Reporter felt there was a strange lack of chemistry between the four leads, surprising, given Wiig and McCarthy's previous on-screen chemistry in Bridesmaids.
Critic David Rooney writes the stars " never quite appear comfortable as a unit," and commenting on Wiig and McCarthy adds that "there's minimal evidence of a connection in their scenes here, which are often flat and sagging under the weight of dead air. Concept suffocates comedy at almost every step."
Vanity Fair proclaims Ghostbusters fell "flat" and failed to "find its groove." Critic Richard Lawson puts much of that down to the writing. "Feig, who co-wrote the movie with The Heat writer Katie Dippold, is overly concerned with plot, the film hurrying through reveals and exposition on its way toward an ending that feels like Feig saying, 'There! I did it.'"
Ghostbusters is out now in the U.K. and released in the U.S. on Friday.
'Ghostbusters' Impresses Critics After Backlash Over All-Female Casting | Culture