'Ghosting,' 'Catfishing' and 'Friends with Benefits:' What Online Dating Lingo Says About Modern Relationships
Less than half of the U.S. population has tried online dating, but the terminology born from digital dumping has found a way into everyday language.
According to a survey by the Pew Research Center, only 30 percent of American adults have admitted to trying dating apps, but over 60 percent of users surveyed knew the terms "catfishing," "ghosting" and "friends with benefits."
The survey placed "friends with benefits" as the most-known phrase with 89 percent of those surveyed understanding the definition. "Friends with benefits" offers intimacy without a relationship, while "ghosting" and "catfishing" offer elusive honesty in breaking up or identity—placing all three terms in the category of lacking commitment in relationships.
"These terms reflect the growing discomfort with intimacy and vulnerability as we often take the 'quick fix,'" relationship therapist Dr. Adam Sheck, also known as The Passion Doctor, told Newsweek. "Unfortunately, this does not allow us to grow through the challenges so that we can become the people who can eventually sustain a genuine, intimate, long-term relationship when we actually want to be in one."
Dating apps like Tinder, Hinge or Bumble do offer a "quick fix" for dating. Users can match with prospective love interests in a matter of seconds, and take as little time as they'd like to schedule an in-person meeting. For many, though, online dating never makes it that far. Only 12 percent of app users have started a serious relationship with someone they connected with via online dating, according to the survey.
Sheck explained the idea of less commitment extends far past dating apps. He revealed even his committed clients are leaning toward non-monogamous relationships.
"Much of my counseling practice is currently filled with couples (and moresomes) who want to attempt to 'open' their relationship and work in the arena of consensual non-monogamy as an alternative," he explained. "Again, there is no 'free lunch' and this choice, while a valid one, has its own challenges in order to sustain and grow in intimacy."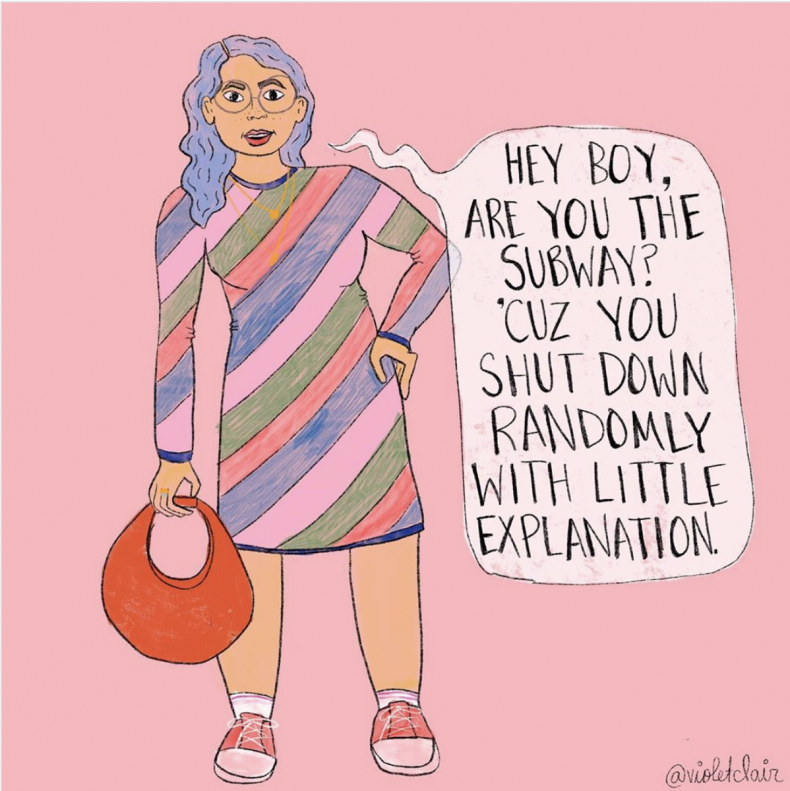 Illustrator Samantha Rothenberg has started hundreds of debates about modern dating culture through her work. Her art, and online conversations, focus heavily on dating app culture and the trial and error it requires. She produces a widely-known "screenshot stories" series on her Instagram, where singles write in their worst dating experiences and have them dissected by Rothenberg's audience, who seem to have similar horror stories.
Similarly to Sheck's analysis, Rothenberg has noticed conversations from her followers about inauthentic interactions in dating. "There's a general frustration with people feeling like they aren't being treated like humans—whether that's by someone who blasts out the same generic greeting to hundreds of matches or says something rude or objectifying that they wouldn't say in person," she told Newsweek.
Rothenberg's illustrations have also contributed to the lingo of online dating—the artist created the concept of 'paperclipping' in October 2019.
"Paperclipping" is inspired by Clippy, a Microsoft Word animation that used to appear unprompted on computer screens. Rothenberg used the nostalgic icon to illustrate a dating prospect returning to a conversation after months, or even years, of no contact.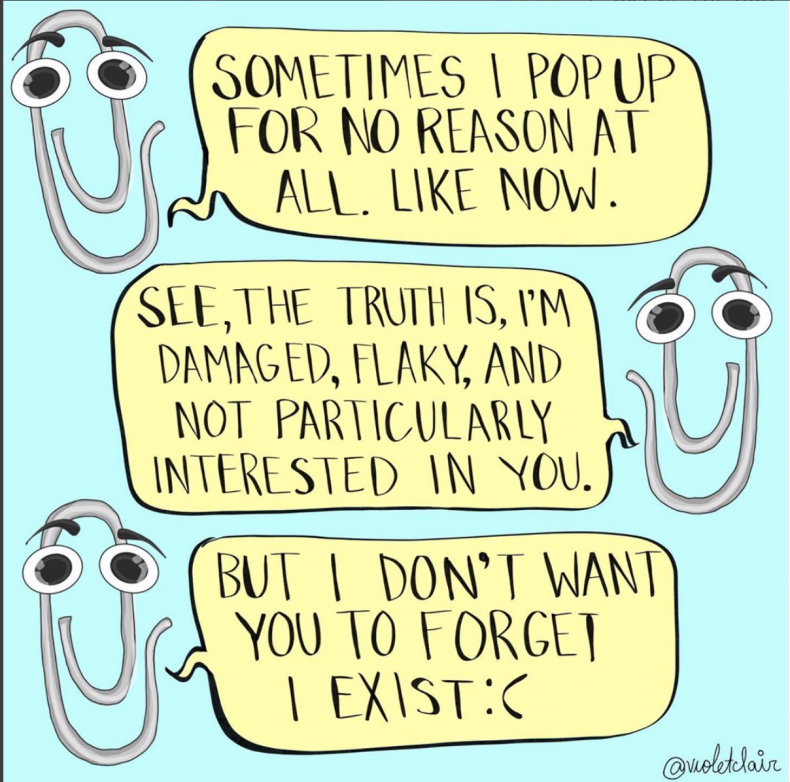 As for how new phrases are born, Rothenberg noted it becomes too much when themes overlap. "It becomes overkill when multiple terms are used to describe the same offense or the same offense with a slight variation," she said.
Though "paperclipping" isn't a top-trending term, it displays the ability for shared experiences to generate common understandings on social media. Rothenberg's illustration has been shared by a handful of publications that point to the awkwardness of online relationships and the solace found in shared frustration by those attempting to engage with prospective partners.
While online conversations have the potential to inspire new terminology, so do pop culture moments. The term "catfishing" was inspired by the documentary, and eventual MTV series, of the same name. Now in its eighth season, the show tries to unearth the real identities of lying online loves. The term is even officially defined on dictionary.com as "to deceive, swindle, etc., by assuming a false identity or personality online." According to the Pew Research survey, 63 percent of the adults asked knew what catfishing means.
Sheck noted that it makes sense for these terms to find a way into everyday conversation because of America's current reliance on social media and pop culture.
"Reality television and social media are ubiquitous these days and so terms such as 'ghosting' and 'catfishing' are of course now in our modern vocabulary," he said.
"It is unfortunate that these terms are more about avoiding intimacy and honesty. Dating then becomes about game-playing and 'winning' and avoiding the discomfort of putting ourselves out there in the dating pool. To be vulnerable is to risk being hurt and these approaches avoid the pain of rejection for ourselves yet inflict it upon others, thus perpetuating it," Sheck added.